Jones is Colerain's Catalyst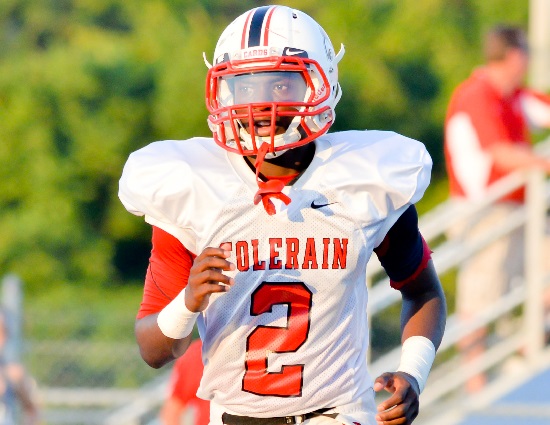 The move from wide receiver to quarterback started off a little bit rocky for Deshaunte Jones in 2014. It took the Colerain speedster a few games to get adjusted under center. The Cardinals started off 0-3 and Jones turned the ball over 12 times in the team's first five contests. Despite the rough beginning Colerain head coach Tom Bolden saw enough in Jones to keep him in the position. Bolden's instincts were right and the dividends began to pay off.
Colerain would finish '14 strong winning its last seven games during the regular season and Jones was a major reason for the turnaround. The junior caught fire and by year's end he would amass 2,475 yards of total offense (1,449 rushing, 1,026 passing) and account for 29 touchdowns (17 rushing, 12 passing). He ran for 120 yards or more seven times in 12 outings and big plays became his calling card.
The breakout performance for Jones came in Week 6 as the Cardinals won a wild affair over Lakota East, 49-48. Before halftime Jones ran for three scores of 71, 53 and 40 yards. After intermission Jones let his arm do the work throwing touchdown passes of 70, 33 and 20 yards.
Six of his 17 rushing touchdowns last fall were 53 yards or longer. Eight of his 12 touchdown passes were 33 yards or longer. Colerain ended up 8-4 falling to rival St. Xavier in the second round of the playoffs.
Jones parlayed his on field performance into offers from Cincinnati, West Virginia, Louisville, Ball State, Ohio University, Bowling Green, Kent State, Buffalo, Toledo, Navy, Air Force and Army.
FINAL TAKE: It's not that Jones can change a game with a big play. It's the short time he can do it in that really deflates the opposition. He has an uncanny knack for sticking a dagger into Colerain's foes and deflating their sails. Perhaps the best part of what Jones accomplished as a junior is how well he learned from his early season mistakes and turned those negatives into positives as the year went on. Only four turnovers (no interceptions) after Week 5 is a testament to Jones' will and desire to get better. He truly is one of the most exciting and explosive players in Southwest Ohio.