Reloading the cannon at Highlands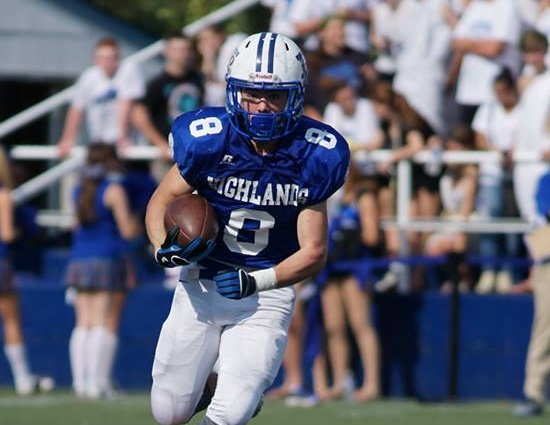 Act I of the Brian Weinrich era at Highlands concluded with a familiar ending at Highlands. The Bluebirds earned their 23rd state title in school history in 2014 by knocking off Owensboro in the Kentucky Class 4A title game in Bowling Green, rallying from a 42-21 halftime deficit to knock off the Red Devils 49-42. BYU-bound quarterback Beau Hoge's led the comeback with a five touchdown performance, including a 1-yard plunge with 2:30 to go for the game winner.
The title was Highlands seventh in eight years. As usual, the Bluebirds will contend for another state title in '15 despite graduating several key contributors, including Hoge, leading receiver Alex Veneman, leading rusher Griffin Ulrage and lineman Lou Bunning on the offensive side of the ball as well as lineman DJ Mills. Defensively gone are Andrew Abner along with a trio of linebackers in Brady Murray, Patrick Schoepf and Rocco Pangallo.
Never fear, though, plenty of talent returns in Ft. Thomas this fall. Nick Kendall is the leading returning rusher, while Mitchell Cain was second on the team in all receiving categories. Bo Hebel and Evan Richardson return to anchor the offensive line. Austin Hergott will take over the reins behind center after backing up Hoge last year.
Defensively seniors DL Tyler Robinson and DB Austin Beal will be leaders of the unit. Plenty of new faces will get their shot to rise to the occasion this season.
Highlands moves up a class in 2015 to Class 5A, along with Covington Catholic. Dixie Heights, last year's 6A runner-up, moves down a class to join the two rivals along with Grant County to form the latest makeup of Class 5A, District 5.
Class 5A, District 5
2014 Record: 13-2, 3-0 in 4A, District 7 – State Champion
Coach: Brian Weinrich (13-2 at Highlands, first year, 13-2 overall)
HONOR ROLL
Bo Hebel, Carson Haas and Evan Richardson this his senior trio of lineman will help ease the transition for the new quarterback.
Nick Kendall, Sr, RB – Ran for 684 yards and six touchdowns and also had a touchdown catch in 2014. Kendall played a big role in the 2013 state runner-up squad.
Mitchell Cain, Sr WR – Had 464 receiving yards and four touchdowns as a junior. He leads all returning Bluebirds receivers.
Austin Hergott, Sr QB – Takes over for Beau Hoge behind center. Follows in a long line of great high school quarterbacks in Ft. Thomas. Expect big numbers from Hergott as new stars emerge in this offense.
Austin Beal, Sr, DB – Had two interceptions in 2014, including a pick-six.
Tyler Robinson, Sr, DL- The leader the defensive front and one of the elite defensive players in northern Kentucky.
Jared Dougherty, Sr, LB/K/P – A model of consistency as a kicker Dougherty has converted 158/166 extra point and 4/11 field goal attempts for 170 points during his career.
STATE TITLES
23 (tied for first all time in Kentucky with Louisville Trinity) – 1960, 1961, 1964, 1968, 1970, 1975, 1977, 1981, 1982, 1989, 1992, 1996, 1998, 1999, 2000, 2004, 2007, 2008, 2009, 2010, 2011, 2012 and 2014
DISTRICT RIVALS
Highlands has knocked off Covington Catholic 13 consecutive times dating back to the 2007 season, including five playoff wins (2007, 2011-14). Covington Catholic's last win in the series was in the 2006 playoffs, a 25-15 win in Park Hills on the way to Covington Catholic's last state title. The last time Highlands met Dixie Heights, they won 61-13 early in the 2011 season, while Grant County last appeared on the Highlands schedule in the 2006, a 62-13 Highlands win.
2015 SCHEDULE
The Bluebirds will be tested with six 6A teams before they enter district play. Highlands travels to Cooper and hosts Campbell County to open the year. The next four aren't any easier with road games at Scott County and Simon Kenton, and then add in home games with Louisville St Xavier and an improved Ryle squad. Highlands opens district play in Week 7 when Dixie Heights comes to Ft. Thomas then travels to Park Hills to battle Covington Catholic in a Week 8 Saturday afternoon matchup.
90 PERCENT
Last year was the 100th season of Highlands football, and the 13-2 mark was the 90th winning season in school history.
NEW CLASS/PATH TO TITLE
Covington Catholic is the constant in Highlands world. Now in Class 5A, there will be some new foes, some familiar faces and some old acquaintances renewed for Highlands. Bowling Green, Pulaski County, and occasional postseason rival Owensboro will be expected to be contenders for the 5A crown. In 5A, District 6 Anderson County, Woodford County, Madison Southern, and Montgomery County are possibly early round playoff opponents. At the district level, Dixie Heights returns to being the Bluebirds district mates after a four year separation. Grant County is back after an eight year absence.
FOR WHOM THE BELL TOWLES
When Patrick Towles graduated from Highlands he had been the starting quarterback on three state championship teams. Hergott will become the fourth different senior to start under center since Towles departure. Donovan McCoy ('12), Drew Houliston ('13) and Beau Hoge ('14) have all guided Highlands to the state title game. McCoy and Hoge were on squads that captured the finale.