Taylor turns the corner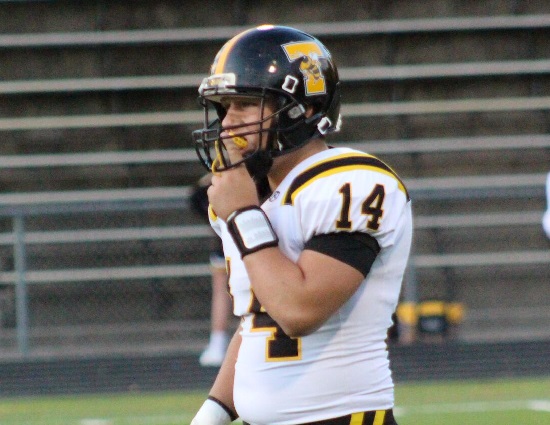 The 2014 season for the Taylor Yellow Jackets will be one that will forever be remembered in North Bend. A new school, along with a new facility and field was christened. What happened between the lines wasn't bad either as the Yellow Jackets finished in second place in the Cincinnati Hills League. That performance earned Taylor its first ever playoff appearance. They would fall in round one to CHL rival Wyoming.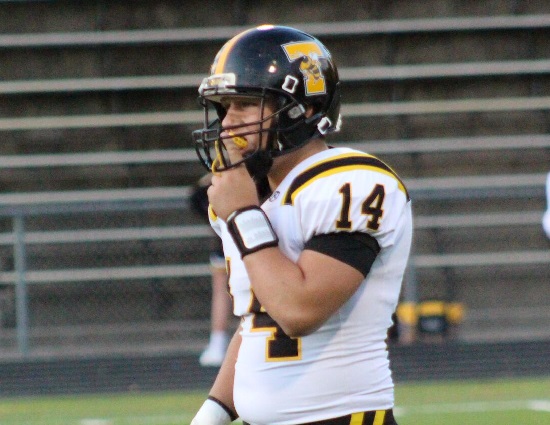 Head coach Dave Huffman enters his eighth season at the helm. Graduation hit hard as the Yellow Jackets lost eight starters on both sides of the ball including nine All-CHL First Team performers. The good new for Huffman is that there is some young talent coming back.
Junior quarterback Evan Lamb gets his chance to run the offense. A pair of senior running backs, Ethan Murray and Hunter Gillespie, should key a strong ground game. Seniors Hunter Murphy, Noah Oser and Sam Koehne will be leaders up front on the offensive line. Lamb will look to senior receiver Noah Urmston as a target in the Yellow Jackets aerial assault.
As is the case with many smaller high schools some of the same offensive standouts will be pulling double duty on defense. Murray and Gillespie will key the linebacking corps. Murphy will be a key playmaker up front. Taylor will need to replace several key contributors from a talented defensive backfield that was largely responsible for 21 interceptions. A winning mentality and the maturation of key new contributors could vault Taylor into an encore performance in 2015.
Division IV, Region 14
2014 Record: 9-2, 6-1 CHL
Coach: Dave Huffman (31-40 at Taylor, seven years, 31-40 overall)
HONOR ROLL
Hunter Murphy, Sr OL/DL – The Yellow Jackets leading returning tackler. Murray had eight sacks in '14 on his way to Second Team All-CHL accolades. He will also help key the rushing attack from the offensive line.
Hunter Gillespie, Sr RB/LB – The Yellow Jackets leading returning rusher and receiver.Gillespie had 473 yards on the ground, nine rushing touchdowns, 17 receptions for 293 yards and four receiving scores. He also had a pick-six on defense on his way to Honorable Mention All-CHL honors.
Ethan Murray, Sr RB/LB – Had two picks on defense, including one for a touchdown. Murray will be asked to contribute more on offense as a running back to take pressure off of the new quarterback. He was an Honorable Mention All-CHL selection as a junior.
OTHER RETURNEES
Noah Urmston, Sr WR/DB – Should be a primary target for Lamb at receiver.
Seniors Noah Oser and Sam Koehne are standouts on the offensive line. Expect more big numbers from Taylor rushing attack thanks in large part to these two veterans.
TOP NEWCOMER
Evan Lamb, Jr QB – Takes over the reins for All-CHL performer Nick Koehne at quarterback.
SCHEDULE
Taylor will open again with cross border rival Lawrenceburg. A road date with New Richmond follow and then a possible opportunity for big Harbin points comes with a home game against Division II Turpin to round out non-conference play. A tough conference start also awaits…hosting Mariemont, at nemesis Wyoming and home against Indian Hill are the first three CHL games out of the chute.
PLAYOFF HISTORY
(one appearance, 0-1) – 2014
FIRST POST-SEASON BERTH
Last year was the first appearance for Taylor in the Ohio post-season. A familiar foe awaited in the first round, the Wyoming Cowboys. After a tough 9-7 loss to the Cowboys at Taylor in the regular season matchup, the two CHL rivals renewed acquaintances at Wyoming in the Division IV, Region 14 playoffs. Wyoming won another close game, 23-17, despite a monster effort from Kendall, who totaled 342 all-purpose yards and two touchdowns.
WEEK 8 TEAM OF THE WEEK
One of the big reasons Taylor made their historic appearance in the playoffs was a 21-6 league win over Madeira on homecoming night. Two Kendall touchdowns in the fourth quarter iced the game.
GETTING DEFENSIVE
Taylor only allowed more than 10 points twice in '14. The Yellow Jackets had 33-0 and 40-7 leads over Deer Park before the Wildcats tacked in two late scores to make the final 40-20. Wyoming knocked off Taylor 23-17 in the playoffs. The Yellow Jackets defense only allowed 7.2 points per game. Taylor had 26 takeaways, including 21 interceptions.