Mason holds off Springboro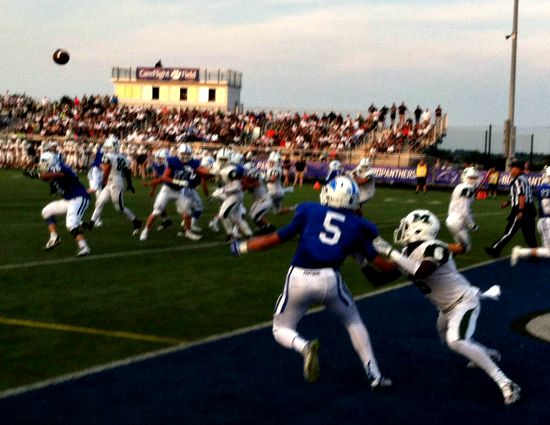 SPRINGBORO, Ohio — The Mason defense stepped up repeatedly on Friday night, leading the way to the Comets' 24-17 victory over Springboro at Careflight Field on Friday.
After fumbling on its opening drive, Springboro found the end zone on its second possession when quarterback Elijah Cunningham connected with Alex Feldman for a 5-yard touchdown, giving the Panthers an early 7-0 lead.
The Panthers threatened to score again early in the second quarter, however the Mason defense came up with a fourth-and-goal stop from the 1 yard line, keeping the deficit at seven.
With momentum on their side, the Comets struck quickly on offense. Running back Bryson White took an outside handoff 71 yards down the sideline to tie the score at seven.
The Comets forced another turnover later in the quarter when Ty Sponseller intercepted a Cunningham pass and returned it Springboro's 37 yard line.
Mason would take the lead a few plays later when Preston Hutchinson scored on a quarterback keeper.
After tacking on a field goal just before halftime, Springboro regained the lead in the third quarter when Cunningham scored from three yards out, making it 17-14.
Trailing 24-17 late in the fourth quarter, the Panthers drove down to Mason's 22-yard line. With 56 seconds remaining in the game, the Mason defense came up with another big turnover to seal the win.
This is the fifth consecutive season that these teams have played in Week 1. Mason's last victory against Springboro came back in 2011.