St. Xavier blows past CovCath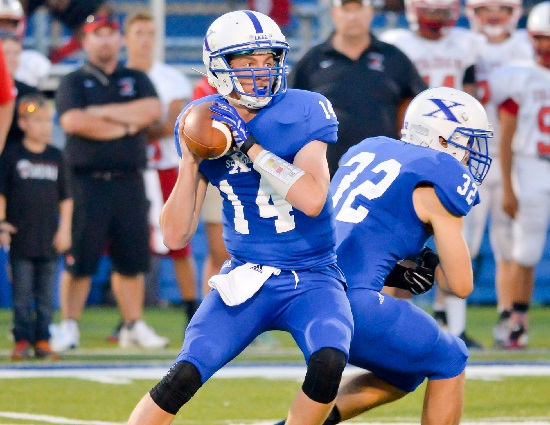 The St. Xavier Bombers scored early and scored often as they breezed by the Covington Catholic Colonels by a 57-7 margin on Friday night at Nippert Stadium as part of the Crosstown Showdown.
St. Xavier (1-0) turned a block punt into a safety at the 10:36 mark in the first quarter. They would add 48 more points before heading to the locker room, setting up a running clock in the second half.
The Bombers had 33 first-half plays and outgained Covington Catholic (0-1) by 333-7 margin in total yards in over the first two quarters of play.
Quarterback Sean Clifford completed 9-of-11 passes for 102 yards and two touchdowns in limited action.
St. Xavier had four different running backs have 38 yards rushing or more before the break with senior Sean Prophit leading the way. He finished with 60 yards and a pair of scores of just six carries.
Noah Davis, Cameron Specht and Brock Davin all had receiving touchdowns in the Bombers' victory.
The Colonels' only score came late as Logan Beagle snapped the shutout with a 2-yard run midway through the fourth quarter.
Up next, St. Xavier heads to Colerain to battle the Cardinals and Covington Catholic visits Sycamore in search for their first victory in three tries.