A Future Buckeye in Miamisburg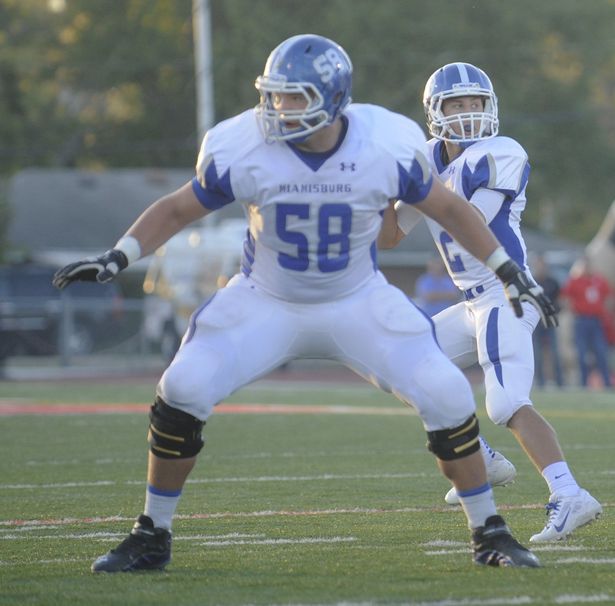 Miamisburg offensive lineman Josh Myers still has two years to sign the letter of intent, but once he visited Columbus he knew that was where he belonged.
"I knew that was where I wanted to be when I visited the school and met the coaching staff," expressed Myers.  "I visited other schools to make sure I was making the right choice. There was no reason to draw the process out and wanted to just pull the trigger."
According to Miamisburg head coach Steve Cattrell, the recruiting process moved rather quickly after he sent out the video during Myers freshman year.
"The offers started to snowball including the one from Ohio State," said Cattrell. "He made trips to Alabama, Tennessee and Ohio State, but felt Ohio State was the best place."
Cattrell expressed how glad he is that Myers is heading to Ohio State as he is part of a top recruiting class.
The 6-feet-6, 290 pound guard is considered one of the best offensive lineman in the country. Yahoo Rivals.com ranks Myers as the best player in the state of Ohio in the 2017 class and third in the nation.
"He has all the qualities colleges are looking for in size and mobility," said Miamisburg head coach Steve Cattrell. "How well his mobility is what makes him a 5-star player."
Myers comes from a family of athletes. His father, Brad, played offensive lineman at the University of Kentucky, his mother Julie played basketball at the University of Dayton, his uncle played football at Ohio University, and his brother Zach is currently a junior on the University of Kentucky football team. Zach plays center so they share that common interest, and able to work together to improve each other's techniques. Zach also helps to answer any questions about playing on the next level.
"His advice to me about playing in college is that it is not easy," expressed the Miamisburg junior.
Myers said he looked to family for advice during the recruiting process after they have gone through it.
"They told me to just stay humble, and to go about my business. Not to change who I am."
He is actually someone who is involved in the Miamisburg community. He helps with church groups and makes sure to find time to help at pee-wee practices.
"Josh is humble and down to Earth," Cattrell said. "He handles it very well. You would never know he is a high-profile student athlete."
With the recruiting process all but finalized, Myers gets the opportunity to focus on the season. Myers contribution on the field has helped the Miamiburg Vikings to a 3-0 recording, outscoring their opponent 101-48. Myers and the rest of the offensive line has helped the rushing game rank second in the GWOC conference with 320 yards.
"We lost skill guys last season, but the younger guys have stepped up and we are eliminating mistakes," Myers said. "I am happy how the season is going.