Underclassmen Making Noise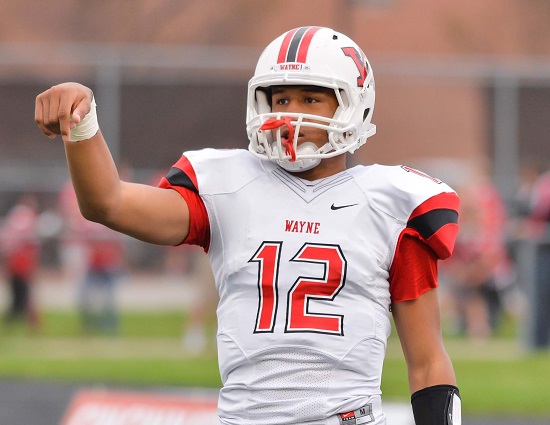 Wayne head coach Jay Minton has made Huber Heights a destination for college coaches and this will not change for two sophomores that are gaining attention.
Wide receiver L'Christian Smith has already been offered a scholarship from Kentucky, but according to Minton Smith is getting some solid looks from Ohio State, Penn State, Michigan State, Purdue and many others. Smith actually visited Michigan State on Saturday, September 12 to watch the Spartans play the Oregon Ducks.
"With his play so far and we expect that to continue, those other offers will come soon," Minton said "The question on him is, Football or Basketball"
The 6-feet-5 sophomore is a small forward and considered one of the best basketball players in the state. As a freshman he contributed off the bench and helped Wayne win a state championship. This was the second time Smith contributed in a state championship after helping Wayne get to the football championship, but the Warriors came up short losing to St. Edward.
Smith started his career as dual-threat quarterback, but Smith moved to wide receiver after Messiah DeWeaver transferred from Trotwood-Madison to become Wayne's starting quarterback this season. Now Smith and DeWeaver are building a quarterback-receiver relationship that has helped Wayne start the season 3-0, including a Week 2 win on national television against Moeller. In the game, Smith caught four passes for 77 yards and a touchdown. Minton feels this is a just a glimpse of what we are going to see from Smith as he continues his high school career.
"I truly believe that this young man will be a High School All-American Football Player by the time he is done in High School," said Minton.
Another Wayne player that turned heads on national television was defensive end Alex Reigelsperger. The 6-feet-3 end had two sacks in the 24-22 win against Moeller, and recorded two more sacks the following week against Lakota West. Reigelsperger is not getting any attention from college recruits, but Minton is confident it will not be long until he starts getting attention.
"Alex's (Reigelsperger) best quality on the field is his motor," Minton said. "He brings a natural explosiveness from the edge. Combine this with his tenacious play and we have possibly one of the best sophomore defensive ends that we have seen around here. Once he gains a little weight, which he has the frame to be very solid, no doubt that this young man will go on the national scene."
Minton is looking for Reigelsperger to get better each and every week and gain the experience on the varsity. He is also learning the role of a defensive end, and expectations the coaches have for the young athlete.
"We want him to mature in that position, and what I mean is that he learns all of the tricks of the trade, being able to use his hands better and little things like that. He uses his hands well now and has natural explosiveness and great change of directional speed," expressed Minton.
It should be just a matter of time college coaches start sending offers to both these athletes, and they follow in the footsteps of Braxton Miller, Robert Landers and other former Wayne athletes.