PA climbs, NJ falls in HSFB100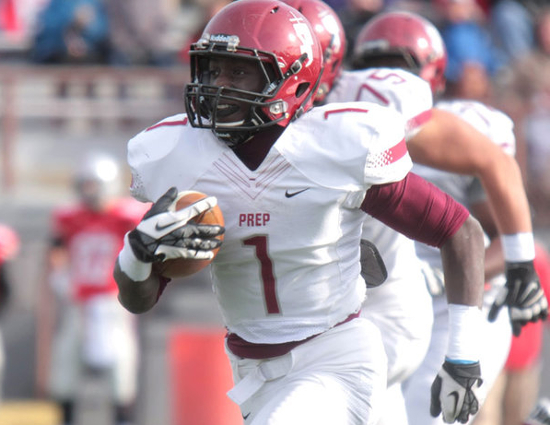 A trio of troubling results shook the status of the three presumed New Jersey power programs this week, sending each on a spin down the rankings.
Previously-ranked No. 22 St. Joseph (Montvale, NJ) was dominated in most every phase of the game against now-No. 80 St. Joseph Prep (Philadelphia, PA) in a 28-5 loss. The Green Knights fell down to No. 82 in the HSFB100 after an interesting week traveling back from Florida and a loss against IMG Academy (Bradenton, FL), losing multiple players to transfer, and adding one to take that roster space. The Green Knights had been built on its defense but that too betrayed it in the loss as D'Andre Swift gained over 200 yards rushing and scored three touchdowns. The typically anemic offense for St. Joe was stymied again as it was intercepted on its lone legitimate scoring drive. Wins over St. Edward (Lakewood, OH) and Don Bosco (Ramsey, NJ) kept the team in the poll but it is certainly trending in the wrong direction.
Past HSFB100 RANKINGS :
Don Bosco (Ramsey, NJ) also suffered a similar fall as it went from No. 29 to No. 84 after losing to unranked Paramus Catholic (NJ) for the fourth straight year, 19-16. The Ironmen were able to run the ball effectively but after losing its starting quarterback Tommy DeVito to injury it couldn't punch in a touchdown and its defense saw the Paladins go to Donald Stewart for two late touchdowns to steal the game. The final blow came on a fourth down hail mary after a fourth down pass interference kept the drive alive. Don Bosco still has quality wins over Rummel (Metairie, LA) as well as St. Joseph (Philadelphia, PA) on the season.
The third of the Jersey triumvirate actually didn't lose on the field, just in perception. Bergen Catholic (Oradel, NJ) was victorious over DePaul (Wayne, NJ) this week and did it without four-star quarterback Jarrett Guarantano. The Crusaders have to be re-evaluated without its star player as he is out for the season and as such its No. 35 ranking was simply too high for what it was going to have out on the field.
Shuffling of those rankings is expected in the next few weeks as Bergen Catholic will take on St. Joseph on Oct. 24 and then Don Bosco on Halloween. It could play its way up — or out — of the HSFB100 depending on the results.
The loss of New Jersey was the gain of Pennsyvlania as it gained three teams into the HSFB100 with the St. Joseph Prep domination of St. Joseph Regional.
La Salle (Wyndmoor, PA) is in at No. 75 with its 3-2 record. It has a quality win over Malvern Prep (Malvern, PA) — which also moved into the HSFB100 at No. 77 — and tough losses to No. 6 DeMatha (Hyattsville, MD) and No. 66 Archbishop Wood (Warminster, PA).
St. Joseph Prep checked in at No. 80 and just ahead of St. Joseph Regional as well as ahead of No. 84 Don Bosco — which defeated Prep for the fourth straight time earlier this year. The rankings ball between those teams will be wound tighter in the coming weeks.
Miami Columbus (FL), Glenbard West (Glen Ellyn, IL), Elk Grove (CA), and Destrehan (LA) were also added this week as previously ranked No. 57 Bishop Alemany (La Puente, CA); No. 68 Lee County (Leesburg, GA); No. 85 Orange Lutheran (CA); No. 87 Bolles (Jacksonville, FL); No. 88 Marcus (Flower Mound, TX); No. 89 Bellarmine (San Jose, CA), and No. 95 Vance (Charlotte, NC) all were eliminated.
Check out the complete HSFB100.
JOIN THE HSFB100 DISCUSSION: Create a user name | Post on The Varsity Board
RANK

TEAM

CITY, ST

RECORD

LW

1
St. John Bosco

Bellflower, CA

6-0

1

St. John Bosco fell behind 14-7 agasinst Santa Margarita before scoring the next 55 points to close the game, 62-14. Senior quarterback Quentin Davis was 14-of-18 passing for 386 yards and four touchdowns. The defense beat up KJ Costello and made him a non-factor in the second half.
2
Bishop Gorman

Las Vegas, NV

7-0

2

The Gaels continued to illustrate the gap in play between itself and the rest of Nevada. It beat Durango 69-7 and emptied the bench early. Biaggio Ali-Walsh rushed for 103 yards and two scores — on two carries. Tate Martell passed for three scores in the first half before sitting in the second. To reward hard-working fullback Alec Lazarou the team got him into the endzone as well with a one-yard plunge on Homecoming.

3
Colquitt County

Moultrie, GA

7-0

3

Colquitt continues to be the hammer in Region 1-6A and no matter how tough the nails try to stand ground, eventually, the pounding wears down. This week the Packers downed previously-ranked Lee County in a score that got away from the home team in the late second quarter, 54-17. Quarterback Chase Parish had two passing touchdowns and a rushing score in the game.

4
Centennial

Corona, CA

6-0

5

Centennial quarterback Anthony Catalano completed 22 of 26 passes for 307 yards as the Huskies routed Riverside King, 47-14. JJ Taylor added 116 yards and two touchdowns. The defense recorded three interceptions.

5
Allen

Allen, TX

7-0

9

Allen scored 21 points in the first quarter and another 10 in the second to push a halftime lead to 31-0 before coasting home with a 45-13 victory. It was win No. 50 in a row for the Eagles. Quarterback Seth Green threw for five touchdowns on the night.

6
DeMatha

Hyattsville, MD

6-0

4

DeMatha won a sloppy game against Bishop McNamara by a 52-47 final — a point total allowed that nearly equaled the 48 it had given up in the first six weeks of the season. The Stags trailed early for the second week in a row and fought back frmo a 14-0 deficit to take a 28-21 lead at the break. It was 49-35 by the end of the thid quarter but McNamara wouldn't go quitely. 30 penalty flags and three touchdowns taken off the board are a scar on the contest.

7
American Heritage

Plantation, FL

5-1

7

The Patriots were idle this week and maintained the No. 7 ranking in the HSFB100. With the loss by St. Thomas Aquinas the team becomes the midseason No. 1 team in Florida.

8
IMG Academy

Bradenton, FL

6-0

8

IMG Academy was better this week against lesser competition as it blanked Southern Lab (LA), 42-0. The team put up 35 points in the first half and was able to get starters out of the game later. Shea Patterson connected with Issac Nauta for a score and later with Drake Davis for another. It will take on Paramus Catholic in two weeks — which has shown signs of life after an awful start to the season.

9
Spartanburg

Spartanburg, SC

7-0

10

The game against Dorman opened as a back and forth battle but eventually, it appeared, Spartanburg had pulled safely away when it lead 41-24 late in the third quarter. Dorman continued to fight and the game came down to a fourth-and-5 inside of a minute on the Spartanburg side of the field which resulted in an interception by linebacker Connor Shugart to seal a 41-38 victory to run the Spartanburg win streak to 16 games.

10
Euless Trinity

Euless, TX

7-0

10

It is a new week and the same story — Trinity duo Tyler Natee and Ja'Ron Wilson rushed for a bunch of yards and punched in multiple touchdowns. This time the victim was Hurst Bell and the final was 56-17. The Trojans will be tested this week against No. 57 Southlake Carroll.

11
De La Salle

Concord, CA

5-1

12

De La Salle recovered a fumble on the opening kickoff and punched in a quick score versus San Ramon Valley. The team was up 28-0 at the end of the first quarter as Antoine Custer punched in two scores covering 88 yards and ended his night before halftime. The Spartans also scored a defensive touchdown to push the lead to 42-0 at halfime. The final was 48-0 though that is immaterial as the game was over before it began.

12
Cedar Hill

Cedar Hill, TX

6-0

13

Cedar Hill squashed the thought that Duncanville was set to be an upstart in the District with a 41-18 victory this week. The Longhorns have had moments of brilliance and moments of ineptitude. With DeSoto falling so far down the respect ladder, its next challenge may be at Mansfield on Halloween weekend for the District title.

13
St. Edward

Lakewood, OH

6-1

23

STOCK UP: St. Edward has, perhaps, hit its stride and is pulling away from the pack in Ohio. This week Cole Gest rushed for over 200 yards and Jimmy Keefe threw for five touchdowns in the teams 47-28 victory over now-No. 29 Mainland. Entering the year there was not much expected from the Eagles — as it was ranked No. 3 in Cleveland — but it could climb into the Top 10 if it keeps winning.
14
Grayson

Loganville, GA

6-0

16

Grayson took advantage of every mistep provided the team by Shiloh in dismantling the team, 66-3. It was gifted two safties on punt snaps sailing out of the endzone, it returned three Shiloh fumbles for touchdowns, and had its first team offense score on its handful of first half drives before taking the pads off at halftime. It was 38-0 after the first quarter as this was a classic check the box game.

15
Katy

Katy, TX

5-0

18

Kyle Porter was a dominant force against Seven Lakes, piling up 235 yards and scoring four touchdowns in just three quarters of a 40-8 victory. The Tigers came in a little rusty off of its bye week but once the team got rolling it was hard to slow down. The game was nearly a shutout but Seven Lakes punched in a meaningless touchdowns against second-teamers with 30 seconds left on the clock.

16
Chandler

Chandler, AZ

7-1

19

Chandler dominated Perry 55-7 before going into its bye week. TJ Green scored a few touchdowns and Kyree Woods got a tipped-pick-six to push the lead before halftime. This was a checked box. After a week off it will travel to a quality Brophy team before closing the season with HSFB100-ranked Hamilton.

17
Mater Dei

Santa Ana, CA

6-0

14

STOCK DOWN: Mater Dei was able to down previously-ranked Orange Lutheran but it was less than impressive as the team gave up a ton of yards and a ton of points in the game. The 49-35 final was aided by a sequence of events that would have had OLu take a 28-21 lead but an illegal block called the run back and two plays later Mater Dei took an interception return back inside the 15 of OLu and scored to take its own 28-21 lead. Quarterback JT Daniels thred for 454 yards and four scores but it wasn't what was expected coming of a bye for this team.
18
Male

Louisville, KY

7-0

17

Male was idle this week and was only jumped by one team as it buoys through the rest of the regular season.

19
Trinity Christian

Jacksonville, FL

6-0

37

STOCK UP: The advantge between human polls and computer formulas comes into play with games like this. Trinity Christian was up 28-0 after the first and 35-3 going into halftime before putting in the backups in the second half. The 56-31 final makes it look like Godby was more competitive than it was. This team is all but a lock to three-peat as Class 3A Champions.
20
Ocean Lakes

Virginia Beach, VA

6-0

20

Another week and another meaningless win for the Dolphins as it blasted Kellam, 52-6. Khalan Laborn rushed for 148 yards and four touchdowns in the game. It was the first game back for Ocean Lakes coach, Chris Scott, who was suspended six games in the offseason.

21
Gilman

Baltimore, MD

6-1

25

Gilman ran over and through St. Frances Academy to the tune of 63-12. The Greyhounds shouldn't have much issue closing out the regular season as Kasim Hill has been a solid player for the program and Spalding, Friendship Collegiate, Calvert Hall, and McDonogh not having the horses to stick with this team, this year.

22
Colerain

Cincinnati, OH

6-1

27

Colerain scored touchdowns on its first five possessions to blow Lakota West out of the water, 48-28. The final looks closer as Lakota West scored three times in the fourth quarter while Colerain was playing its seocnd and often third string players. Deshaunte Jones threw for 154 yards and ran for 88 more. The lone score against the first wave of Cardinals came when Lakota West blocked a field goal and returned it for a touchdown before halftime.

23
Roswell

Roswell, GA

6-0

38

STOCK UP: Buying a lot of stock in Roswell at the midpoint of the season. The defense is playing so fast and physical that it will make it hard for any team to keep up. Safety Xavier McKinney had five tackles and an interception while defending a solid Wheeler receiving corps this week in a 45-7 victory.
24
Klein Collins

Spring, TX

6-0

41

STOCK UP: Collins used a phyiscal attack to grind out a win against now-No. 37 Westfield, 24-19. The team had 301 total yards but did so in mythodical drives to gain 22 first downs on the night. It opened up a 14-0 lead but was chipped down to a 14-12 advantage at halftime before setting the final margin later. It was the first time Collins beat Westfield since 2009. Westfield only had 194 total yards and averaged under 2.5 yards per carry on 42 attempts.
25
Clay-Chalkville

Pinson, AL

7-0

30

Clay-Chalkville started slow with quarterback Ty Pigrome missed on five of his first six passes but in a nine minute spurt of the second quarter he connected on three touchdowns to jumpstart the scoring. Pigrome ended with 137 yards rushing and 227 passing on the night as the team piled up 594 of total offense in beating Shades Valley, 52-14.

26
Homewood-Flossmoor

Flossmoor, IL

7-0

40

Defeated Lincoln Way-East, 28-3.

27
Jenks

Jenks, OK

5-0

42

Defeated Westmoore, 48-0.

28
Archer

Lawrenceville, GA

5-1

24

Defeated South Gwinnett, 38-3.

29
Mainland

Daytona Beach, FL

6-1

15

Lost to now-No. 13 St. Edward, 47-28.

30
Cibolo Steele

Cibolo, TX

7-0

28

Defeated Wagner, 55-0.

31
St. Thomas Aquinas

Ft. Lauderdale, FL

5-1

6

STOCK DOWN: It was not a great night for the Raiders as the team fell to Deerfield Beach, 6-3. It missed a 20-yard field goal to tie as time expired. Prior to that it turned the ball over four times, was stuffed on a fourth gown, and had a punt miscue as the kick didn't even get off. In a night were literally everything that could go wrong did the team still nearly pulled out a victory.
32
South Panola

Batesville, MS

7-0

36

Defeated Hernando, 32-7.

33
Hallandale

Hallandale, FL

5-1

44

Defeated Coconut Creek, 33-22.

34
Fayetteville

Fayetteville, AR

6-0

45

Defeated Springdale, 70-21.

35
Hamilton

Chandler, AZ

8-0

47

Defeated Brophy, 38-35 (overtime).

36
Trinity

Louisville, KY

7-1

49

Defeated Eastern, 63-7.

37
Westfield

Houston, TX

5-1

32

Lost to now-No. 24 Klein Collins, 24-19.

38
Byrnes

Duncan, SC

6-1

33

Defeated Riverside, 76-7.

39
Center Grove

Greenwood, IN

8-0

43

Defeated Lawrence North, 17-7.

40
Rummel

Metairie, LA

5-1

31

Defeated Holy Cross, 21-14.

41
St. Xavier

Cincinnati, OH

5-2

54

Defeated now-No. 42 LaSalle, 24-14.

42
La Salle

Cincinnati, OH

6-1

26

Lost to now-No. 41 St. X, 24-14.

43
Manvel

Manvel, TX

5-1

39

Defeated Pearland Dawson, 49-31.

44
Mill Creek

Hoschton, GA

7-0

50

Defeated Mountain View, 42-0

45
Serra

Gardena, CA

6-1

59

Defeated now-No. 46 Bishop Amat, 41-38.

46
Bishop Amat

La Puente, CA

5-2

21

STOCK DOWN: While losing to Serra isn't a bad defeat it is a bit of a downer as now Amat has fallen to the two teams that were circled as proving games. Wins over Servite, Colony, Chino Hills, Crespi, and Notre Dame isn't the makings of a stellar resume as the season winds down.
47
McEachern

Powder Springs, GA

5-1

56

Defeated North Cobb, 35-0.

48
Eastside Catholic

Sammamish, WA

6-0

48

Defeated Bishop Blanchet, 54-6.

49
Flanagan

Pembroke Pines, FL

5-1

58

Defeated Plantation, 35-0.

50
L.C. Bird

Chesterfield, VA

6-0

52

Idle.

51
Northwestern

Rock Hill, SC

6-1

53

Idle.

52
Bingham

South Jordan, UT

7-1

55

Defeated Taylorsville, 38-0.

53
Spanish Fort

Spanish Fort, AL

7-0

46

Defeated Blount, 41-38.

54
Wayne

Huber Heights, OH

7-0

60

Defeated Fairmont, 48-6.

55
Westlake

Austin, TX

6-0

61

Defeated Atkins, 58-19.

56
South Pointe

Rock Hill, SC

6-1

63

Defeated Chester, 56-18.

57
Southlake Carroll

Southlake, TX

5-1

66

Defeated Richland, 52-21.

58
Union

Tulsa, OK

4-2

67

Defeated Southmoore, 52-24.

59
Opelika

Opelika, AL

8-0

71

Defeated Valley, 71-0.

60
Loyola

Wilmette, IL

7-0

72

Defeated DePaul, 42-0.

61
Westside

Anderson, SC

7-0

74

Defeated Easley, 39-7.

62
Lake Ridge

Mansfield, TX

6-0

80

STOCK UP: Off of a bye week there was no slowing Lake Ridge as it buried Mansfield Timberview, 49-24. The team is loaded with talent and has played its way into the Top 15 of the Texas rankings despite being in Class 5A. This is the favorite for a state title and has the players and depth to play with anyone.
63
Brentwood Academy

Brentwood., TN

6-1

86

Defeated Montgomery Bell Academy, 48-14.

64
Lake Travis

Lake Travis, TX

6-0

65

Defeated Anderson, 60-3.

65
Poly

Long Beach, CA

5-1

70

Defeated Compton, 48-6.

66
Arch. Wood

Warminster, PA

6-0

90

Defeated now-No. 75 La Salle, 27-24.

67
Camden County

Kingsland, GA

7-0

94

Defeated Lowndes, 38-19.

68
West Orange

Winter Garden, FL

6-1

73

Defeated Lake Nona, 49-13.

69
Carmel

Carmel, IN

6-2

82

Defeated now-No. 90 Warren Central, 30-20.

70
Narbonne

Narbonne, CA

4-2

81

Defeated GW Prep, 73-6.

71
Lone Peak

Lone Peak, UT

8-0

83

Defeated Lehi, 38-13.

72
Maryville

Maryville, TN

7-0

64

Idle.

73
North Shore

Houston, TX

3-3

77

Defeated Channelview, 23-14.

74
Hillcrest

Simpsonville, SC

6-1

79

Defeated Greenville, 41-29.

75
La Salle

Wyndmoor, PA

3-2

—

Lost to now-No. 66 Archbishop Wood, 27-24.

76
Columbus

Miami, FL

7-0

—

Defeated North Miami, 49-13.

77
Malvern Prep

Malvern, PA

4-1

—

Defeated Roman Catholic, 28-7

78
Armwood

Seffner, FL

6-0

69

Defeated Tampa Bay Tech, 25-20.

79
Lake Taylor

Norfolk, VA

6-0

76

Defeated Churchland, 48-6.

80
St. Joe's Prep

Philadelphia, PA

3-2

—

Defeated now-No. 82 St. Joseph Regional, 28-5.

81
Christian Brothers

St. Louis, MO

8-0

62

Defeated Christian Brothers, 28-21.

82
St. Joseph's

Montvale, NJ

4-2

22

STOCK DOWN: The Green Knights had no answers for D'Andre Swift in a 28-5 beating across state lines. Swift gained 217 yards on 23 carries and scored three touchdowns while St. Joseph — again — couldnt find its offense only gaining 61 rushing yards and being intercepted on its only legit scoring chance. The team has multiple quality wins but has seemingly gone in the wrong direction after a strong start.
83
Mallard Creek

Charlotte, NC

6-2

34

STOCK DOWN: This is a benefit of the doubt placement for the Mavericks which fell in overtime, 31-28, against Hough. Hough has played Mallard Creek tough the last two seasons and so maybe it is unwise to hold onto this belief but the team is too talented not to rebound and win the state title.
84
Don Bosco

Ramsey, NJ

3-2

29

STOCK DOWN: This is another benefit of the doubt placement in a club of three that all could have slid further. Don Bosco fell to Paramus Catholic for the fourth straight time, 19-16. The reason the Ironmen get the soft landing is the way the game played out — as well as finished. Starting quarterback Tommy DeVito was rattled then injured in the contest and after opening the game 6-of-10 with two touchdowns the offense never had a similar passing threat and stalled in the second half despite Malik Bakker piling up nearly 250 yards. The final drive of the game for Paramus Catholic was aided by a pass interference on fourth down and then sealed with a hail mary pass on a second fourth down. The HSFB100 is a ranking of the best teams and not the league standings — with this placement, it says, DBP is still the better team despite the result.
85
Bergen Catholic

Oradell, NJ

4-2

35

STOCK DOWN: News that four-star quarterback Jarrett Guarantano being out for the rest of the season gave the Crusaders a clear move down the rankings as it simply won't be as good without him. In the first game with the future Tennessee Vol on the sidelines it edged out a win over DePaul, 15-13. The team may not be long for the rankings.
86
Elder

Cincinnati, OH

5-2

51

STOCK DOWN: A week after winning a dogfight against Cincinnati St. X it lost a shootout against Moeller, 49-42. There are no upsets in the GCL this year as so many teams are balanced and with Moeller getting healthy it could play its way back into the HSFB100 as well.
87
Starkville

Starkville, MS

6-1

92

Defeated Greenville, 42-0.

88
King

Detroit, MI

7-0

100

Defeated Mumford, 58-6.

89
Apopka

Apopka, FL

6-1

78

Defeated Olympia, 46-17.

90
Warren Central

Indianapolis, IN

5-3

84

Lost to now-No. 69 Carmel, 30-20.

91
West Monroe

West Monroe, LA

6-0

96

Defeated Ruston, 28-14.

92
Glenbard West

Glen Ellyn, IL

7-0

—

Defeated Oak Park-River Forest, 34-7.

93
Elk Grove

Elk Grove, CA

6-0

—

Defeated Jesuit, 63-14.

94
Webb City

Webb City, MO

7-0

75

Defeated Ozark, 35-7.

95
Mays

Atlanta, GA

6-0

97

Idle.

96
Destrehan

Desterhan, LA

6-0

—

Defeated East St. John, 66-27.

97
Mountain Pointe

Pheonix, AZ

7-0

99

Defeated Desert Ridge, 25-17.

98
Judson

Converse, TX

7-0

91

Defeated New Braunfels, 34-7.

99
Mission Viejo

Mission Viejo, CA

7-0

93

Defeated Dana Hills, 77-0.

100
Cedar Park

Cedar Park, TX

6-0

98

Defeated Leander, 51-14.
JOIN THE HSFB100 DISCUSSION: Create a user name | Post on The Varsity Board