OHSAA releases playoff pairings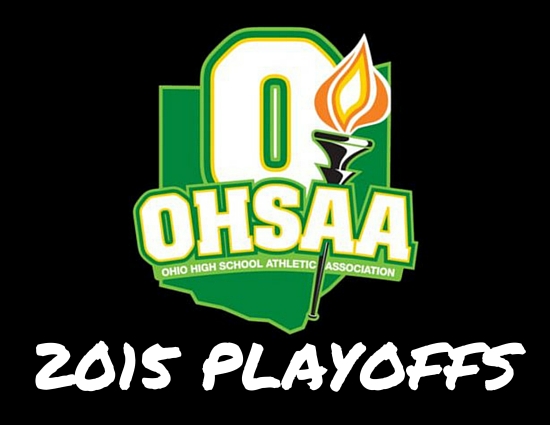 The Ohio High School Sports Athletic Association released its 2015 playoff pairings on Sunday and several local teams have had their playoff paths revealed.
There were 715 schools statewide that played varsity football this fall and now 224 are playoff qualifiers, including nine schools that are in the playoffs for the first time and another school that is in the playoffs for a state‐record 34th time.
First‐round playoff games are played at the higher seed. During the playoffs, Divisions II, III, V and VII play on Fridays at 7:30 p.m., while Divisions I, IV and VI play on Saturdays at 7 p.m.
Here are the match-ups on interest for the opening weekend in November.
DIVISION I, REGION 2
Games played Saturday at 7:00 PM
16 Dublin Coffman (7‐3) at 1 Colerain (9‐1)
15 Central Crossing (7‐3) at 2 Hilliard Davidson (9‐1)
14 Reynoldsburg (7‐3) at 3 Wayne (10‐0)
13 Hilliard Darby (8‐2) at 4 Lancaster (8‐2)
12 Fairfield (8‐2) at 5 Elder (7‐3)
11 Springboro (8‐2) at 6 Mason (8‐2)
10 Upper Arlington (7‐3) at 7 Pickerington Central (8‐2)
9 St. Xavier (6‐4) at 8 Gahanna Lincoln (7‐3)
DIVISION II, REGION 6
Games played Friday at 7:30 PM
8 Butler (7‐3) at 1 La Salle (8‐2)
7 Ashville Teays Valley (8‐2) at 2 Kings (9‐1)
6 Glen Este (8‐2) at 3 Turpin (9‐1)
5 Lima Senior (8‐2) at 4 Miamisburg (9‐1)
DIVISION III, REGION 10
Games played Friday at 7:30 PM
8 Belmont (7‐2) at 1 Wapakoneta (10‐0)
7 Piqua (6‐4) at 2 T Tippecanoe (9‐1)
6 Celina (7‐3) at 3 Trotwood‐Madison (7‐3)
5 New Richmond (7‐3) at 4 Mt. Healthy (7‐3)
DIVISION IV, REGION 14
Games played Saturday at 7:00 PM
8 Badin (7‐3) at 1 Fenwick (10‐0)
7 Wyoming (8‐2) at 2 Indian Hill (10‐0)
6 Taft (7‐2) at 3 Clinton‐Massie (9‐1)
5 Reading (9‐1) at 4 Alter (9‐1)
DIVISION V, REGION 18
Games played Friday at 7:30 PM
8 Carlisle (6‐4) at 1 Brookville (10‐0)
7 North Union (5‐5) at 2 CHCA (9‐1)
6 Bethel‐Tate (6‐3) at 3 Coldwater (10‐0)
5 Greeneview (7‐3) at 4 Milton‐Union (6‐4)
DIVISION VI, REGION 22
Games played Saturday at 7:00 PM
8 Miami East (8‐2) at 1 Marion Local (9‐1)
7 Williamsburg (8‐2) at 2 Mechanicsburg (10‐0)
6 Spencerville (9‐1) at 3 Jefferson (9‐1)
5 West Liberty‐Salem (8‐2) at 4 Cincinnati Country Day (9‐1)
DIVISION VII, REGION 26
Games played Friday at 7:30 PM
8 Fort Loramie (6‐4) at 1 Minster (8‐2)
7 Lehman Catholic (6‐4) at 2 Covington (8‐2)
6 MVCA (8‐1) at 3 Fort Recovery (8‐2)
5 Ada (6‐4) at 4 Riverside (9‐1)