Wayne cruises past Reynoldsburg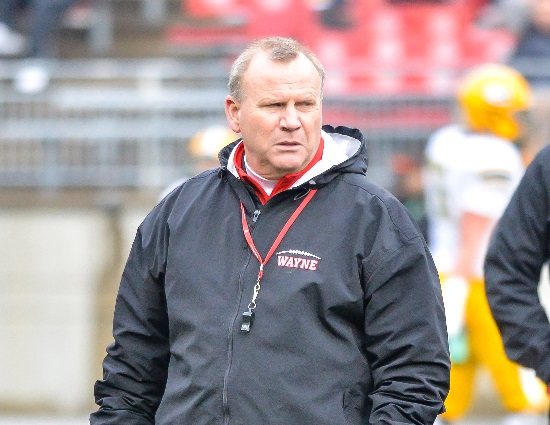 After battling to a 7-7 deadlock after one quarter, the third-seeded and unbeaten Wayne Warriors exploded past Reynoldsburg 56-14 Saturday night in the first round of the Ohio Division I, Region 2 playoffs in Huber Heights.
Wayne (11-0) amassed 530 yards of offense in the night, and held the 14-seed Reynoldsburg (7-4) to 253 total yards. The Warriors were led by senior quarterback Messiah DeWeaver, who went 18/29 through the air for 306 yards and four touchdowns.
Warriors' sophomore wide receiver L'Christian Smith caught six passes for 147 yards and three touchdowns, while junior wide receiver Matt Wilcox caught nine passes for 108 yards and a touchdown.
Smith and DeWeaver hooked up for two touchdowns in the first half, the first midway through the first quarter to put the Warriors up 7-0, and again with 3:58 left in the half to make it 21-7. Wilcox got into the act less than two minutes later to make it 28-7 Wayne.
Senior running backs Daryl McCleskey and Antwand Wilson, and junior running backs Fred Pitts and Josh Foster all had rushing touchdowns for the Warriors, who had 224 yards on the ground to go along with DeWeaver's passing yards.
DeWayne Morris had two sacks, and McCleskey and Justin Harris each had an interception for Wayne. The Warriors' defense shutout the Raiders in the second half, and allowed only five yards of rushing on 30 attempts.
Wayne will take on Springboro (9-2) next week in the second round at a site to be determined. The Region II, 11th-seeded Panthers upset Mason 42-21 Saturday on the road.