Santa surprises Sichterman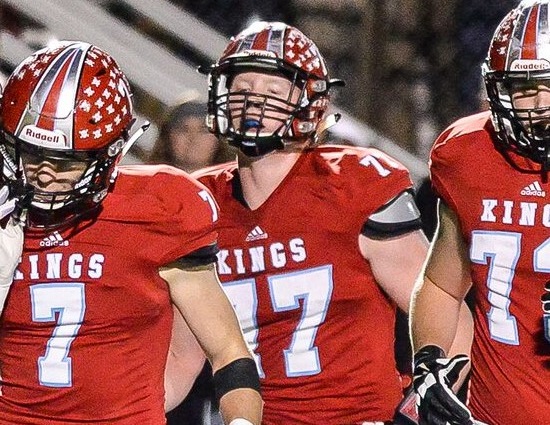 On Christmas Eve in a lot of households it is a tradition to open a present before going to bed and then let Santa do his thing overnight. Before he hit the sack at 12:15 a.m. this past Christmas Day, Kings offensive lineman Matt Sichterman answered his phone on the other end was Miami (OH) head coach Chuck Martin. He offered the junior a scholarship to play for the Redhawks. It was the first offer for the Class of 2017 rising star and a gift he will remember forever.
Sichterman continues to find presents under the tree as Cincinnati, Toledo, Yale, Pittsburgh, Wake Forest and Purdue have since made him offers. According to Kings head coach Andy Olds it makes the youngster the highest recruited player in school history. That is pretty unbelievable when you think about how many great teams the Knights have had under Olds.
"Matt's athletic ability is the difference maker when it comes to getting power five (conference) offers. He will be in the center of our offense and could very likely move around on the o-line. He is a very good basketball player at 6-foot-5 and 265 pounds," Olds says. There is no doubt that he hoops skills have benefited Sichterman on the football field.
A devoted student, as the offer from Yale indicates that Sichterman is far more than an athlete. "Matt wants to be an engineer. He scored a 30 on his ACT. He is serious about his studies," states Olds.
Kings will be a legitimate threat to win a Division II, Regional 6 championship in 2016 behind Sichterman and classmate QB Tyler Knecht. The Knights scored 68 offensive touchdowns in 13 games a year ago. Seven times they put 42 points or more up on the scoreboard.
Other top offensive lineman in Southwest Ohio who will be seniors next fall include Jake Meyers (Miamisburg), Matt Bockhorst (St. Xavier), Thayer Munford (La Salle), Jacob Gall (Moeller), Samari Sadler (Moeller), Ben Jackson (Wayne), Justin Clark (Mount Healthy) and Andrew Reenan (Northwest). Meyers and Munford also play on teams in Division II, Region 6.