Youth Movement at Franklin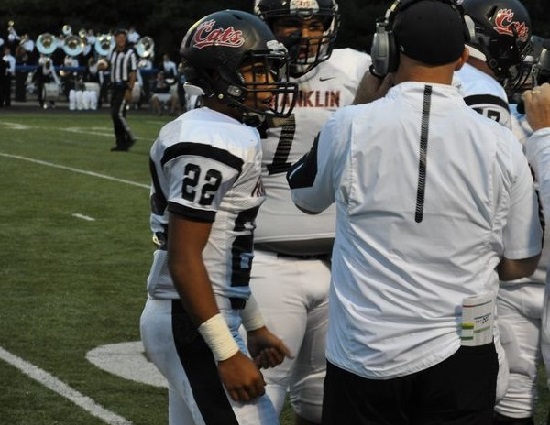 It is very rare to see two sophomores make such an impact in such a short time but that was the case last season at Franklin High School. Head coach Brad Childers saw something special in running back turned quarterback Ryan Montgomery and linebacker Payton Standifer.
In Week 4, Childers and his staff made the decision to move Montgomery to quarterback, and shift 6-feet-4 junior Noah Kremer to the perimeter. It was the first time in Montgomery's football career where he was behind center as growing up he was always the running back.
"He had a lot to overcome. Every week Ryan (Montgomery) got better and took on that leadership role," said Childers. "Ryan has the ability to run, pass, and manage the offense. He reminds me of Jalen Marshall and looks to be the leader of the offense."
In six games at quarterback, Montgomery was responsible for 1,821 yards and 13 touchdowns. Childers feels those numbers don't justify Montgomery's capabilities because he only played six games in that role, and missed the second half of the Week 10 game against Brookville with a broken collarbone.
"If you break this all down and just look at the numbers he has a good chance of setting the school yardage mark for a season," Childers said.
The school record is held by current Duke basketball player Luke Kennard with 2,545 yards, which was set in 2013.
This offseason Montgomery is looking to improve his leadership skills and focusing his technique as a quarterback. During the offseason he runs track in the spring, and the starting point guard and captain of the basketball team, which he says there are many similarities between a point guard and quarterback.
"Being the captain is obviously going to help me out as I am able to communicate with the guys on the court," Montgomery said. "After the basketball season I am going to go and learn the position by improving my IQ and learning the reads"
Unlike Montgomery, sophomore linebacker Payton Standifer remained in the same position from a year, but this was the first time starting every game.
The 5-feet-10 sophomore had 133 tackles, three sacks, 10 pressures and one fumble recovery. This was 40 more tackles than his freshman year.
"My IQ improved tremendously from sophomore to junior year, and my hands got faster," said Standifer. "I was more of a leader this season and had to be vocal"
Childers expressed how he saw a change in Standifer from one year to the next, and how he he attacked the football more.
"He is a natural football player. He has already 226 tackles so he is on pace to break the school record." Childers said. "He is an amazing football player."
Standifer was selected to numerous award teams, including the All-Southwest District First Team where he was the only sophomore selected to the defensive team.
Standifer saw time at running back last season, and is expected to see more time in the backfield in 2016.
During the offseason, Standifer works with a trainer five days a week and lifts five days a week before football weight lifting begins. He also plays indoor Lacrosse to keep himself in shape for the offseason.
"I took two days off after the football season, and started working with my trainer so it's busy, busy, busy," said Standifer.
Both these players are in the early stages of the recruiting process. Childers has begun sending out videos to various schools, and they also can be found on hudl.com. It will be just a matter of time before these two sophomores are noticed.
Stayed tuned for the next article as we discuss the current junior players at Franklin High School.