Freshman Makes Strides on Varsity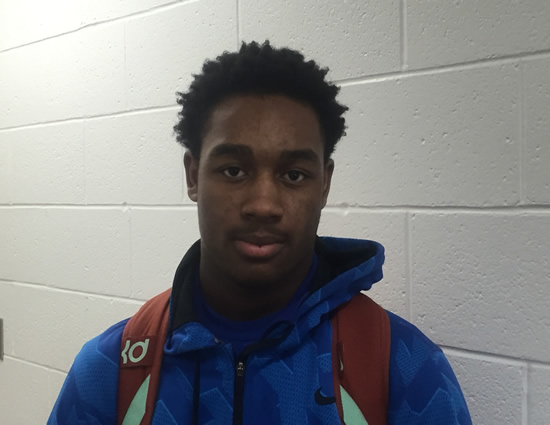 When you look over a high school varsity football roster, there might be one or two freshman that make an impact, but most do not even see the field. Most of those kids are playing Saturday morning on junior varsity, as they prepare to make the jump to the varsity level. That is not the case at Carroll High School where Fredricks Butts stepped into the Friday night spotlight and made a name for himself among opposing coaches.
Butts started as an outside linebacker and backup running back for the 5-5 Patriots. According to second year head coach Ben Rulli, the 6-feet-3 freshman started to stand out in Week 6 against Badin, after all-first team GCL running back senior Corey Hastings was out with an injury. Butts carried the ball 17 times for 54 yards, which led the team.
"We threw him into a game against a playoff caliber team in Badin and he stepped up," said Rulli.
According to Butts, he didn't feel any pressure when asked to carry the workload.
"I had to put on my big boy pants and step up."
He also caught the attention of Rulli and the rest of the coaching staff during practice prior to the season. Butts used his speed as a linebacker and stopped Hastings from hitting the hole.
"We knew Fred (Butts) could play Friday nights when Cory (Hastings) was stopped by Fred in the hole," Rulli said. "He has always been the bigger kid and athletic, but there were moments this year that he showed he gets it."
Butts feels it's not just his strength and athleticism, but how he is perceived among his peers.
"My biggest strength is being a leader and how my class looks up to me," Butts said.
During the offseason, Butts played on the freshman basketball team, and works with the strength and conditioning coach. Butts says basketball helps to improve his footwork on the football field, and keeps him in shape during the offseason.
Rulli is planning to have Butts attend one-day camps this summer at local colleges.
"We are looking to get his name out there," said Rulli. "This time next year players in his class with start receiving scholarship offers. He is going to work hard, and if he wants it enough it will be there for him."
Carroll is also returning linebackers Lamont Harris (class of 2017) and Tommy Lowe (class of 2019), and kicker Alex Story (class of 2017).
Harris led the team in tackles with 79, including 26 solo tackles. Lowe is also a freshman that played middle linebacker. His physicality helped hold Badin running back Cody Boxrucker to only 74 yards on 19 carries. Boxrucker averaged just over 97 yards on the season, so according to Rulli, it was Lowe's job to shutdown one of the top running backs in the area.
Story is an All-SW Ohio selection after going 6-for-7 on field goals last season, including two long field goals in the game against Alter. He also converted 28-for-30 extra points.
This season with this group of players returning, the Patriots are looking to improve from a 5-5 record a year ago. Every year is a challenge with Fenwick and Alter in the same division, but with these individuals returning there should be something to look forward to this fall at Carroll High School.