Best Bets: Cincinnati – Week 8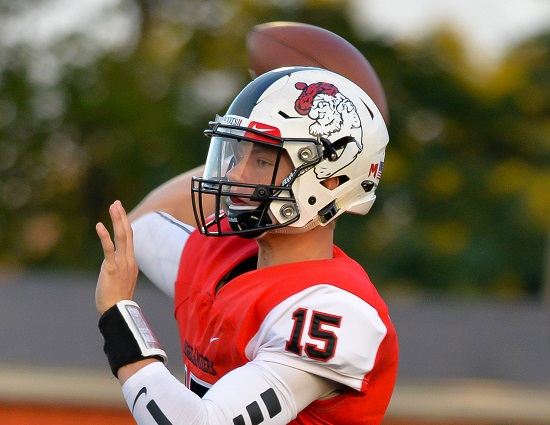 Three games remain in the regular season on Ohio, and Week 8 features several key matchups in the GMC as the teams jockey for position in the conference standings.
Three teams with one CHL loss try to hold in that conference as Wyoming leads the way with a 4-0 league record.
Here are the Best Bets for Week 8 of prep football in Cincinnati:
Fairfield (5-2) at Colerain (7-0), 7 p.m. – Fairfield is the latest to try to snap Colerain's eight-year GMC winning streak that has reached 56 games. The Indians have done it with defense, holding opponents to 15.0 points and 230.7 yards per game. Fairfield QB Aaron Carmack had a huge 356-yard passing game two weeks ago vs. Sycamore and has 1,232 yards in the air this year. As usual, the Cardinals have played old-school football, winning with defense and a solid running attack that has averaged 243 yards per game. Fairfield enters this game 3-1 in the GMC and Colerain is 4-0.
Hamilton (4-3) at Oak Hills (3-4), 7 p.m. – It's been somewhat of a disappointing season for both teams in conference play, as Hamilton was 3-0 entering the league slate and is 1-3 since. Oak Hills is 2-2 in the GMC after beating Loveland and hanging with Covington Catholic early in the season. The Highlanders' Jacob Woycke leads the conference in passing yards with 1,989 and they boast the top two receivers in the GMC in Cameron Naber (741 yards) and Jason Smith (521). Eric Jackson is a dual threat for the Big Blue with 1,137 yards passing and 886 rushing – the second best ground yardage total in the league.
Mason (5-2) at Lakota East (3-4), 7 p.m. – After losing to Colerain by a respectable two touchdowns, Mason edged Fairfield, 21-17 last week to improve to 3-1 in the GMC and the Comets vie for second place in the league. Lakota East is 2-2 with losses to Sycamore and Oak Hills and probably needs to run the table to have any shot at a playoff berth, but fortunately for the team it doesn't face Colerain this year.
Sycamore (3-4) at Princeton (5-2), 7 p.m. – Both teams are 2-2 in the GMC and need this game to get into the playoff hunt. A couple of points the other way and this could be a different season for Sycamore, which lost its first two of the season in overtime. That seemed to demoralize the Aviators, who – four weeks after losing to La Salle, 38-35 – were crushed, 52-7 by Colerain. Princeton already has two more wins than in 2015 but last week's loss to Hamilton has to be considered an upset. But the Vikings' only other loss was to Colerain.
La Salle (5-2) at Columbus St. Charles (2-5), 7 p.m. – Following a 6-0 loss to Colerain and a 13-point defeat to Christian Brothers the subsequent week, La Salle beat Winton Woods, crushed Moeller and edged St. Xavier to move into first place in the GCL South. Griffin Merritt threw for 588 yards vs. his two conference foes. St. Charles has lost three straight games against tough central Ohio competition but has always been tough to beat at home.
Madeira (5-2) at Indian Hill (6-1), 7 p.m. – Both teams are tied with Reading for second place in the CHL at 3-1. Each has lost to first-place Wyoming, so there's likely no catching the Cowboys this season for either. While Madeira was walloped, 57-0 by Wyoming last week, the Braves have recorded back-to-back shutouts including a 72-0 win over Finneytown. The Mustangs' Greg Corn leads the conference in rushing yards (1,059), and he has scored 19 touchdowns. Reed Aichholz threw just four passes in last week's blowout but completed all of them for 68 yards, including two TDs, giving him 1,341 yards in the air this season.
Mariemont (5-2) at Reading (5-2), 7 p.m. – Mariemont is in fifth place in the CHL at 2-2 but can take a step forward with a win against 3-1 Reading. The Blue Devils are currently in a three-way tie for second, but the other two teams at 3-1 – Madeira and Indian Hill – play each other, so Reading could overtake one of them with a win. Mariemont has already played and lost to Wyoming and Indian Hill while Reading faces both in the final two weeks.
North College Hill (4-3) at CHCA (7-0), 7 p.m. – These are the last two unbeaten teams in the MVC Scarlet Division, as both are 2-0. CHCA is typically in the hunt but North College Hill is not typically in the title race and is looking for its first winning season since 2012. The Trojans are all about the running game, as Franklin Steward and Courtney Woodyard have both rushed for over 500 yards. The Eagles have had success in both facets, as Danny Vanatsky is 73 of 110 passing for 1,446 yards and Kesean Gamble has 1,029 ground yards.