Week 8: TSF Rankings Update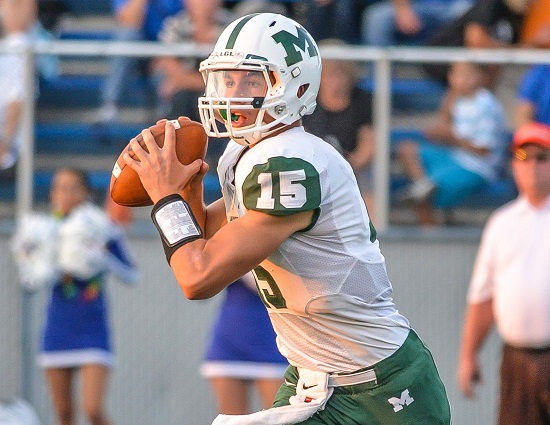 Teams are starting to rack up quality wins and building their post-season resumes. The push for the playoffs is tightening up as others have missed opportunities to cash in versus the best competition they have faced. The chances to make a dent in the win column are dwindling. Every snap is precious.
Things in Ohio are far from being settled. Indiana schools are gearing up for playoff runs. Northern Kentucky has its schools jockeying for post-season seeding as district play winds down.
Fasten your seatbelts; the ride down the stretch is going to be wild and rocky.
Here is a look at how things are shaping up in this week's update of our TSF Team Rankings:
RANKINGS – OHIO DI
The deck has been reshuffled in our big school rankings. Mason and Lebanon are up two notches while Elder flip-flopped spots with St. Xavier. Losses dropped Moeller and Fairfield down two spots.
Moeller is in a fight for its post-season life. The Crusaders killer schedule has seen them come up short the last three Friday nights against all of their GCL South rivals. Things don't get any easier for Big Moe with a pair of 6-1 squads looming in St. Ignatius and St. Edward.
Teams will need to stay focused this weekend. There are a ton of potential upsets if the elite are not dialed in. The rankings will continue to be volatile until the season ends.
RANKINGS – OHIO DII-DIII
Turpin moved up to second in this week's poll. The Spartans are one of three unbeaten squads in the top 10. They will take on Forest Hills School District rival Anderson this Friday. The Redskins would love nothing more than to knock off Turpin and bust into the rankings.
Troy was the biggest beneficiary of Princeton's loss. The Trojans are up two spots. Troy leapfrogged Trotwood-Madison, a team they beat in Week 1. The only loss that the Trojans have suffered has been to Miamisburg.
The top 10 has combined to lose just 11 games through seven weeks. Princeton and Kings have both lost to Division I Hamilton. Kings other loss was to Turpin. Both of Miamisburg's losses have come at the hands of DI teams – Wayne and Springboro.
Despite being undefeated Franklin is having a tough time moving up the poll. The Wildcats are one of three Division III teams in the rankings. Mount Healthy and Trotwood-Madison are the other two DIII schools in the top 10. Franklin has pinned the only loss of the season on Edgewood.
RANKINGS – OHIO DIV-DVII
It was another stellar weekend for the teams in our small-school rankings. All of the top 10 schools posted victories. The poll remains unchanged for a third consecutive week. It is a trend doesn't appear to be ending anytime soon.
A potential playoff matchup between Alter and Wyoming is becoming more and more intriguing. The Alter offense has scored 49 points or more in each of the Knights last six contests. The Wyoming defense is working on three straight shutouts. The Cowboys have allowed 50 total points on the year.
There are still five undefeated teams left in our rankings. The combined record of the top 10 is an impressive 64-6. All but two of those defeats have been against other teams that are ranked in this poll.
RANKINGS – NKY
Things are heating up south of the Ohio River. The teams in the rankings have been locked in for several weeks, but now movement seems inevitable with district rivalries coming up.
Ryle will be tested again this Friday after beating Cooper in a 49-42 thriller. The Raiders will face Conner for the Class 6A, District 5 title. Top-ranked Simon Kenton is on the slate after that for the black and orange.
Throw the records out the window as Covington Catholic looks for its first win against Highlands since 2006. The Colonels know that the Bluebirds are dangerous foe even though they have lost six in a row.