Big Blue beats Middletown on senior night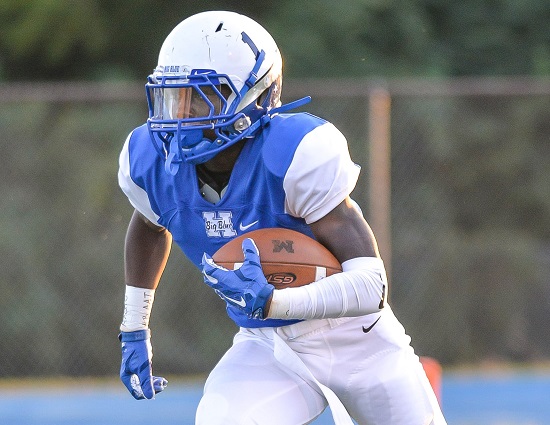 It was senior night tonight at Virgil M. Schwarm Stadium, where Hamilton beat Middletown at home 34-10.
Neither team was able to score until the second quarter, when Hamilton running back Zach Reese opened up the game with a 77 yard touchdown run.
The Middies took a 10-7 lead thanks to a Diondre Cooper touchdown run and a Cole Smith field goal, however were unable to score for the remainder of the game.
Hamilton took off on the scoreboard in the second half thanks to a 46 yard interception return for a touchdown by Domonick Johnson, and a 38 punt return for a touchdown by Johnny Jones.
The Big Blue defense came up big tonight, holding the Middletown offense to only 97 passing yards and not letting up in key moments, making them go just 3-11 on third downs.
Hamilton's rushing attack was also in full force, with quarterback Eric Jackson and Zach Reese both totaling over 100 rushing yards, with 104 and 145 respectively.
Middie quarterback Blake Marshall led his team with 98 rushing yards and 97 passing yards.
Tonight's game was the 68th meeting between the two teams, with Middletown leading the series 38-27-3.
Up next, Middletown (0-9) hosts Princeton (5-4), and Hamilton (5-4) plays at Fairfield (6-3).