Kings handles Loveland, wins third-straight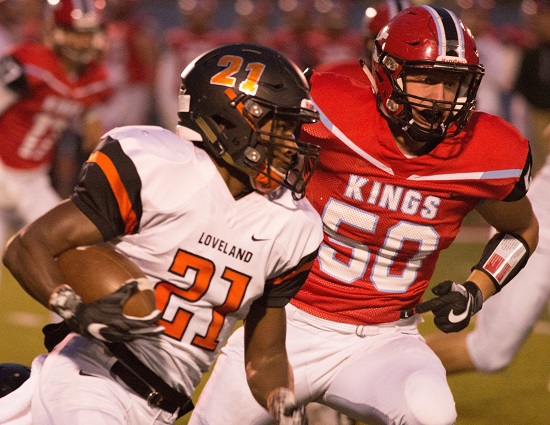 Despite allowing the Loveland Tigers to take the early 7-0 lead in the first quarter, the Kings Knights were in charge of the rest of the game, winning 35-14 and defeating Loveland for the fourth-straight year.
After Loveland (4-5) scored on a 15-yard touchdown run by running back Zion Wynn in the first quarter, Kings (7-2) scored 28-straight points to claim a 28-7 lead with 3:05 left in the third.
Only being up by seven points at halftime, however, the Knights used a scoring drive at the beginning of the second half to claim the momentum of the game.
Kings ultimately scored on a 31-yard passing touchdown from quarterback Tyler Knecht to wide receiver Clay Spivey, increasing the score to 21-7.
"Any time you can get a great drive going, it pumps our team up; it helps our defense," said Kings' quarterback Tyler Knecht. "They know they can rely on us to take the ball down the field when we really need it and we can be physical and pass the ball, and we can really balance our offense out."
The Tigers finally found the end zone for the second time in the game with just over two minutes until the final quarter when Wynn scored again on a three-yard run.
The two teams were then deadlocked at 28-14 through majority of the fourth quarter until Kings scored their final touchdown of the game with 51 seconds remaining to officially put Loveland away.
"We had a great week of practice," said Kings' offensive lineman Matt Sichterman. "We were prepared for athletic guys up front and blitzing linebackers. I think we just had a good game plan going in."
The final scoring play was a 15-yard touchdown pass from Knecht to wide receiver Nak'emon Williams ― Knecht's fourth overall touchdown of the night.
Knecht found success on the Tigers through the air and on the ground. Despite only throwing for 98 yards, Knecht scored two passing touchdowns and threw no interceptions. He also gained 65 rushing yards on 20 attempts and scored his other two touchdowns by using his legs.
Having a knack for finding the end zone this year, Knecht now has over 15 passing touchdowns and 15 rushing touchdowns on the season.
His numbers on the year are 1,856 passing yards for 16 touchdowns and only six interceptions. On the ground he has carried it for 580 yards and 17 touchdowns.
Williams also had a big game for the Knights. In addition to his receiving touchdown, he gained 134 rushing yards on 16 attempts, averaging over eight yards per carry.
This was the second-straight week Williams has ran for over 130 yards, after not carrying the ball once this season until two weeks ago against Milford when he ran for 99 yards on only five attempts.
Kings' defense dominated Loveland most of the game, only allowing them to score once each half and holding the Tigers' passing and running games in check.
Loveland's quarterback Riley Hammill finished five of 10 with only 96 yards passing and was picked off twice ― one being with 5:38 left in the game and his team only being down by two scores.
Both of Hammill's interceptions were thrown to Grant Coleman, who now has nine interceptions on the season and has picked off the opposing quarterback five of his team's last six games.
Despite Wynn rushing the ball into the end zone twice and running it for nearly five yards per carry, he was held to only 58 yards and Loveland as a team was limited to under four yards per rush.
Winning their third game in a row, the Knights remain in second place in the Eastern Cincinnati Conference stands, trailing the undefeated Turpin Spartans.
With only one game of the regular season remaining, Knecht highlighted a couple of things his team can work on.
"I would say [we need to work on] finishing every drive and just always clicking on all cylinders, sometimes we're hot, sometimes we're cold, we just got to always be hot and be scoring and have our best foot forward at all time," Knecht said.
Kings play Withrow at home for their next game at 7 p.m. Oct. 28. Loveland plays Turpin at home on the same date and time.