Bonner leads Sycamore to win over Oak Hills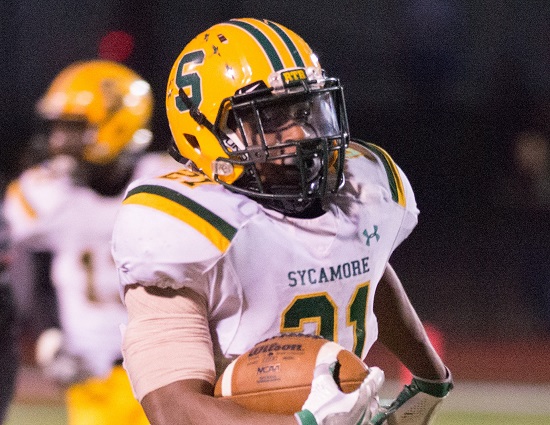 Sycamore beat Oak Hills tonight 42-22 thanks to a big performance by running back Ra'Von Bonner.
Bonner led the Aves to an early 21-0 lead thanks to 3 straight touchdown runs.
Sycamore held a 42-7 lead at the end of the 3rd quarter, which was the last time the Aves would score.
Oak Hills scored 15 points in the fourth quarter, including forcing a safety on defense, but it wound up to be too little too late.
Bonner ended the game as the leading rusher with 208 yards on 20 attempts to go along with four touchdowns.
Oak Hills' running back Kyle Montag also had a good game, with 134 yards on 23 carries and a touchdown.
The Aviator defense played tough, as they forced three turnovers, 18 passing incompletions and held Oak Hills on third down, making them go 5-15 on conversions.
Sycamore also dominated time of possession, holding onto the ball for 13 more minutes than Oak Hills.
Up next, Sycamore (5-4) hosts Mason (6-3), and Oak Hills (4-5) plays at Colerain (9-0).