Turpin stays undefeated, beats Anderson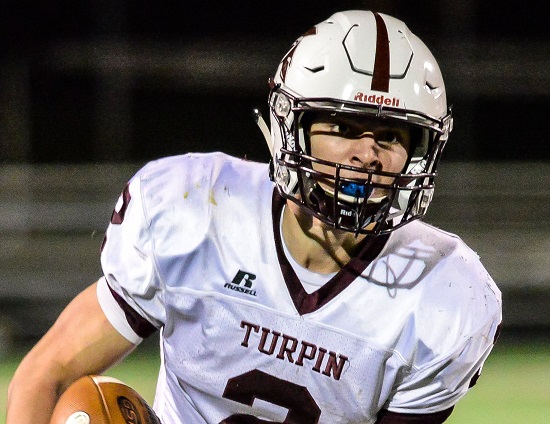 Turpin was able to get the win tonight against their ECC rival Anderson, topping them 38-21.
Turpin came into their matchup tonight against the Redskins looking to keep their undefeated season alive.
They were faced with the task of stopping Jay Volpenhein however, the ECC's leading passer.
With 2,269 yards and 29 passing touchdowns after seven weeks, Volpenhein was looking to keep up his career-best year.
The game was close after the first half, as the score was tied at 21.
The second half was all Turpin however, as the Spartans were able to shut down the high-tempo Redskin offense. They didn't allow a score for the remainder of the game.
Turpin forced two turnovers, which both came on interceptions. They also held their own multiple times on fourth down as the Redskins went 1-5 trying to convert fourth down attempts.
Anderson ended the game with only 26 rushing yards, most of which came by two long carries for 12 and 23 yards. The other 20 carries for the Redskins, went for -9 yards.
Turpin receiver Nathan Hooper finished the game with a rushing and receiving touchdown, while Spartan running back Luke Bohenek led all rushers with 137 yards on 24 carries.
Volpenhein was the leading passer of the game, throwing for 303 yards with a touchdown, as well as the two interceptions.
With the win, Turpin was able to clinch a playoff spot. They have now clinched in each of the past two seasons.
Up next, both teams have another ECC matchup, as Anderson (5-3) visits Milford (2-6), and Turpin (8-0) hosts Glen Este (1-6).