2016 All-TSF: Top Vote Getters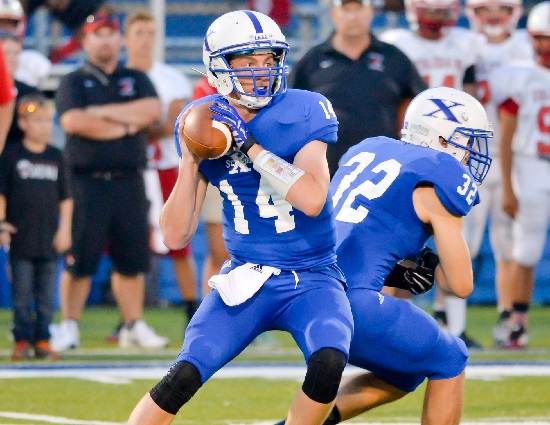 Fan voting for the 2016 Postseason All-TSF Team came to an end late Wednesday night. After three weeks a total of 154,605 votes were casted and the fans have made their voices heard.
Lawrenceburg defensive back Jake Ruberg was the top vote getter, garnering 8,145 votes. He was a key cog in the Tigers' run to the Indiana 3A state championship game a year ago.
Here's a look at the leading vote recipients by position:
QB Jonathan Hagerty (Franklin County) – 3,665 votes
RB Logan Storie (East Central) – 2,864 votes
WR Dylan Beaugard (Wilmington) – 2,716 votes
TE Alex Ripperger (Franklin County) – 2,231 votes
OL Peyton Knippenberg (Conner) – 2,890 votes
DL Sam Myres (Turpin) – 2,297 votes
LB Logan Kellione (Harrison County) – 3,377 votes
DB Jake Ruberg (Lawrenceburg) – 8,145 votes
ATH Blake Albright (Batavia) – 2,485 votes
PK Paul Young (La Salle) – 2,343 votes
P Drew Grafflin (Loveland) – 2,175 votes
RET RJ Khayo (Moeller) – 1,685 votes
The team is decided upon a combination of a fan vote (30%) and our staff votes (70%). We use a Borda Count method, which really makes every vote count.
We will announce a First-Team, Second-Team, Third-Team, along with our Honorable Mentions on Friday afternoon.
All players that make the final 2016 Postseason All-TSF Team will be recognized at our upcoming TSF Year in Review Show at Holy Grail Banks on February 20th.
This year marked our largest list of nominees for the Postseason All-TSF Team ever with 478 players from 152 schools making our ballot.
Check out the COMPLETE RESULTS of the fan vote.