TSF 2016 Indiana DPOY: Mason Parris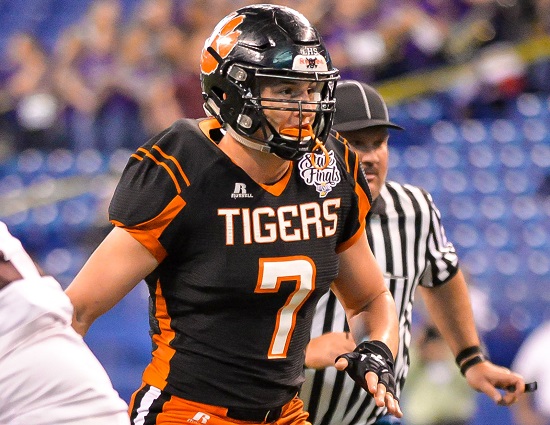 This past season the cornerstone of a Lawrenceburg (13-2) defense that was instrumental in the Tigers Indiana Class 3A state runner-up finish was junior linebacker, Mason Parris. He led the team with 191 total tackles (102 solo), had seven sacks, 17 tackles for losses, forced five fumbles and had six takeaways (three interceptions, three fumble recoveries). That performance earned Parris 2016 TriStateFootball.com Indiana Defensive Player of the Year honors as TSF paid tribute to finest from Cincinnati, Northern Kentucky, Dayton and Southeast Indiana area's high school gridiron at the Year in Review Show on Monday night at the Holy Grail – Banks, downtown Cincinnati.
Parris will head into his senior having already racked up some astonishing numbers. He has been in on 461 total tackles (218 solo), recorded 11.0 sacks, registered 45.5 tackles for losses, forced nine fumbles and has 16 takeaways (four interceptions, 12 fumble recoveries). The offers are starting to roll in for Parris with Cincinnati and Ball State getting in early for his services at the next level. Parris just won his second straight state championship in wrestling at the 220-pound weight class.
TriStateFootball.com was founded in 2005 and started its postseason awards for Indiana Defensive Player of the Year in 2011. Here the list of winners of this award all-time:
2016 – Mason Parris (Lawrenceburg)
2015 – Hunter Armstrong (East Central)
2014 – Seth Williamson (Batesville)
2013 – Colin Brown (Batesville)
2012 – Payton Stonefield (East Central)
2011 – Payton Stonefield (East Central)