TSF 2016 Indiana OPOY: Austin Bowling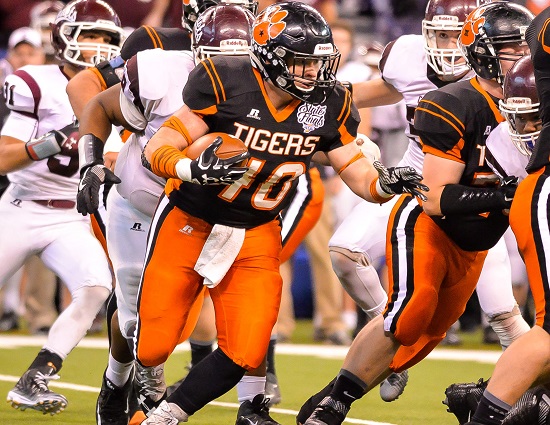 Lawrenceburg (13-2) made it known they were going to run downhill behind the charging power and strength of the "Red Rhino," running back, Austin Bowling. The Tigers senior was the driving force of an offensive attack that lit up opponents at a clip of 44.1 points per contest on their way to the state title game for the first time in 31 years. Bowling became the ninth player in Indiana prep football history to run for more than 3,000 yards in a season, finishing with 3,165. He also found the end zone 52 times on the ground including a school record seven in a game against Rushville.
That performance made it easy to see why Bowling was named the 2016 TriStateFootball.com Indiana Offensive Player of the Year as TSF paid tribute to finest from Cincinnati, Northern Kentucky, Dayton and Southeast Indiana area's high school gridiron at the Year in Review Show on Monday night at the Holy Grail, downtown Cincinnati. Over his last two seasons at Lawrenceburg Bowling combined to run for 4, 674 yards with 80 rushing touchdowns. On defense he only played on critical downs and did it at a high level recording 19 total tackles of which 15 were for losses including four sacks. Bowling will continue his career at Cincinnati Christian University.
TriStateFootball.com was founded in 2005 and started its postseason awards for Indiana Offensive Player of the Year in 2010. Here the list of winners of this award all-time:
2016 – Austin Bowling (Lawrenceburg)
2015 – Luke Patton (East Central)
2014 – Luke Patton (East Central)
2013 – Sam Fette (Lawrenceburg)
2012 – Chad Banschbach (Lawrenceburg)
2011 – Chad Banschbach (Lawrenceburg)
2010 – Connor Kelley (Batesville)