2017 Snapshot: Ryle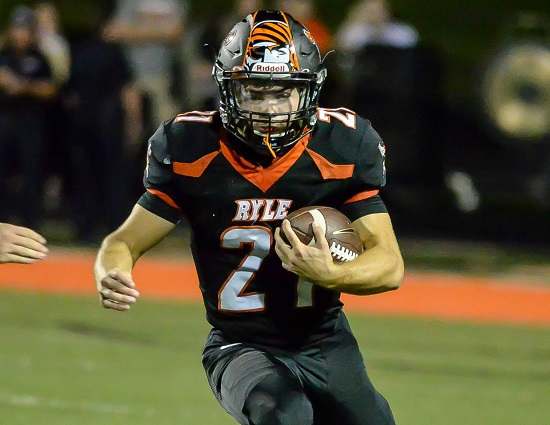 The train is full steam ahead at Ryle. The Raiders are coming off their first undefeated regular season. They tied the school record with 12 wins in 2016. Their 21 combined victories in the last two campaigns are the most in a two-year span in program history.
Entering his fourth season at the helm head coach Mike Engler has set up Ryle for long term success. "I really like what we have going into the 2017 season. It should make for an exciting year of Ryle Football," states the enthusiastic coach.
What Ryle has, is experience on both sides of the ball, attitude and winning intangibles. "Our overall team weight room strength has increased. The return of Jacob Chisholm and four offensive lineman is a big key. It should take the pressure off of a new starting quarterback. The defense returns key players and will gain size with the growth of some underclassmen," Engler says.
The big boys up front on offense will make all the difference in the world for the inexperience under center. Chisolm is the premier back in Northern Kentucky. The combination of those two things should alleviate the pressure on the young quarterback.  Defensively, depth should become an asset as the year wears on. The tools are there for another deep Raiders playoff run.
Class 6A, District 5
2016 RECORD: 12-1, 2-0 Class 6A, District 5
COACH:  Mike Engler (26-11 at Ryle, three years; 26-11 overall)
TOP RETURNEES
Jake Chisholm, Sr, RB – One of the most dynamic and productive backs in the state. Chisolm ran for 1,681 yards, caught 31 passes for 605 yards, amassed 2,770 all-purpose yards while finding the end zone 28 times (22 rushing, four receiving, two kickoff returns) as a junior. He was named First Team All-NKY for his efforts. He heads into his final year with 2,448 rushing yards, 57 receptions, 881 receiving yards, 4,020 all-purpose yards and 40 total touchdowns (31 rushing, seven receiving, two kickoff returns) in a Raiders uniform.
Parker Bisek, Sr, OL – A dominating lineman, the 6-foot-4, 275 pound Bisek is a hot commodity. He already has offers from Eastern Kentucky, Marshall and Toledo with more coming in.
Mason Molique, Jr, K – Arguably one of the best junior kickers in the country and a real weapon on special teams. Molique knocked down 56/57 extra points, 7/9 field goals for 77 points on his way to First Team All-NKY honors as a sophomore.  He heads into his junior year with 105/107 extra points, 18/22 field goals for 159 points at the varsity level.
Ryan Principata, Sr, OL – A stabilizing force up front. Principata is back for his third year as a starter.
Kevin Weber, Sr, OL – A returning starter on an offensive line that paved the way for 2,744 yards (211.1/game), averaged 7.1/carry and 40 touchdowns rushing a year ago.
Jacob Gideon, Jr, OL – A returning starter on an offensive line that provided top-notch protection for a Ryle passing game which threw for 2,840 yards and 28 touchdown passes in '16.
Easton Pilyer, Sr, WR – The Raiders top returning receiver. Pilyer had 22 receptions for 385 yards and three touchdowns as a junior. He also had 51 yards and a touchdown rushing.
Stefan Clarkson, Jr, TE – Clarkson is a nice option as a receiver and a blocker. He reeled in 17 catches for 192 yards and two touchdowns as a sophomore.
Tyler Downs, Sr, OL – The senior adds depth and experience up front.
Justin Selby, Sr, DB – Selby is back for his third year as a starter and is the leader of the Ryle defense. He is the Raiders returning tackler with 77 total tackles (53 solo). He also broke up six passes and ripped down two interceptions as a junior.
Zach Rytlewski, Sr, DB – Came up with six takeaways (four interceptions, two fumble recoveries), was in on 64 total tackles (47 solo) and broke up nine passes as a junior. Rytlewski has All-NKY talent.
Jackson Saladin, Jr, LB – Rock solid in the middle of the defense good things lie ahead for Saladin. He had 60 total tackles as a sophomore.
Joe Cripe, Sr, DL – A runner stopper in the middle of the d-line. Cripe recorded 28 tackles, five tackles for losses and two sacks a year ago.
Mason Smith, Sr, DE – A returning starter and integral part up front for the Raiders. Smith was in on 25 total tackles, had five tackles for losses and two sacks a year ago.
Charles Golden, Sr, DE – Golden brings the heat from the corner. He had 42 total tackles, eight tackles for losses and five sacks in '16.
Tahj Elmore, Sr, DE – A healthy Elmore is primed for a breakout senior campaign.
Thomas Novakovich, Jr, LB – Expect even more out of Novakovich who had 25 total tackles in his varsity debut.
Andre Riddick, Sr, DE – Riddick adds depth and leadership along the line.
NEWCOMERS
The biggest void to fill for Ryle this season will at quarterback. A trio of players will vie for playing time under center – Junior Jake Smith as well as sophomores Hunter Ahlfeld and Keegan Stanken. Ahlfeld is a transfer from Highlands and Smith could also see time at receiver.
Also looking to break into the lineup on offense are a trio of junior receivers Brandon Sodan, Caden Morgan, Max Inabnit and classmate Chad Burch will look for snaps on the offensive line. Inabnit could also see time at running back.
On defense look for sophomore Elijah Cusick along with juniors Dylan Green and Jack Cleveland to add depth in the secondary. The same can be said for sophomores Cooper White and Keegan Points on the d-line. Senior LB Spencer McKinney and sophomore Noah Brophy are also good enough to crack the starting lineup.
2017 SCHEDULE
A pair of away games to start the season will see if the Raiders can conquer Covington Catholic in the opener for a third straight year. Then it will be off to try and take down Henry Clay for the third time in Ryle's last 14 games.
The next three teams on the schedule – Boone County, Highlands, Campbell County all finished below .500 in '16. Then the preparation for the playoffs begins.
A four game stretch has the Raiders hosting Indianapolis Cathedral, on the road for the "Battle of Union" against Cooper, back at Borland Stadium versus Conner then at Simon Kenton. They finish at Dixie Heights.
THE FIRST 25 YEARS
Ryle began playing football in 1992. The Raiders went 1-4 in their initial seasons. They followed that with 3-7 and 5-6 campaigns. Then came six consecutive winning seasons where the Raiders went a combined 45-25.
Then came four losing years, the last three were all 5-6 finishes. Two years later, in 2006, the program won a career high 12 games and finished state runner-up. Ryle made a run to the state final four and matched its dozen wins four seasons after that. Last fall the Raiders won 12 games for the third time in school history.
Ryle has had 14 winning seasons. There have been 11 campaigns under .500. Six of those reaped five victories and another had just five total games (1-4). The program has compiled a 160-125 (.561%) mark in its first quarter of a century.