Wise Beyond His Years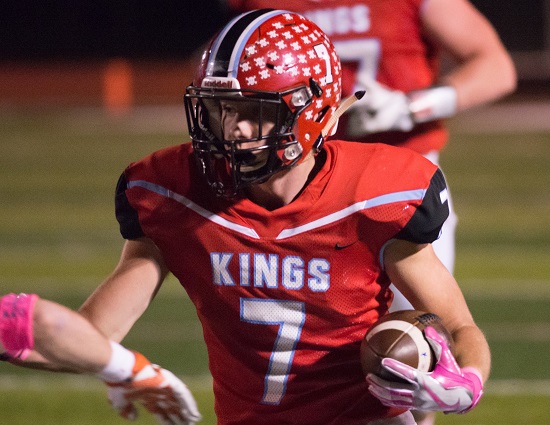 Kings WR/DB Justin Wise
The chance of getting into a varsity game at Kings as a freshman, let alone even starting or lettering is slim to none and slim has nine toes out the door. Justin Wise defied those odds for the Knights. He enters his senior season having played in 36 contests, since putting on the pads for Kings including a handful of those before ever getting his first ever high school report card.
Kings head coach Andy Olds saw that Wise was special early on. "We'd identified Justin in eighth grade as we watched him play football and basketball. We knew he could help us as a freshman," Olds laments. Despite playing in the shadows of some very accomplished Knights upperclassmen the past three years Wise has quietly put together a rock solid career.
Wise is a valued commodity in all three phases of the game. With a year left to play he is already the Eastern Cincinnati Conference's (ECC) all-time leader in receptions with 131. He has led Kings in receptions all three years he has suited up and always seems to rise to the occasion. In six career playoff games Wise has 35 receptions for 442 yards and six of his 11 touchdown catches.
Last fall, Olds inserted Wise into the defense. The junior responded with 21 tackles, four interceptions and was named Second Team All-ECC at the defensive back for his efforts. "The scariest thing about Justin is that his best position could be in the secondary. Justin won't come off the field much for us in 2017," Olds exclaims.
On special teams, Wise has been rock solid as a return man. That adds to his career all-purpose yards total of 1,898 yards (1,506, 245 kickoff returns).
As for the future, Olds says that "Justin is in a waiting game on his first offer much like Danny Sichterman (Iowa State) was. Once he gets his first, others will follow." One thing is for certain wherever Wise ends up that college program will be getting a player who is instantly ready to make a contribution the moment he steps on campus.