By The Numbers: Raveion Hargrove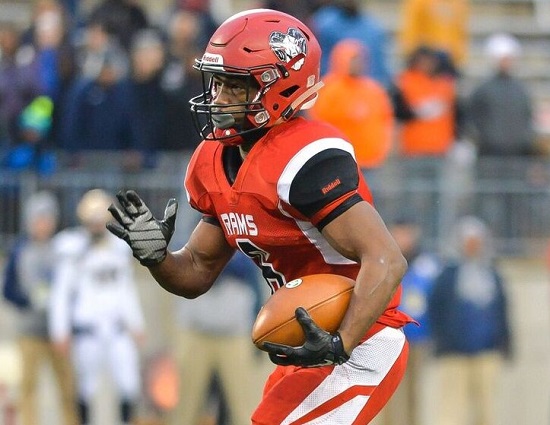 There isn't a more accomplished runner heading into the 2017 season than Raveion Hargrove of Trotwood-Madison. He moves and grooves into his senior year with more yards and touchdowns rushing than any other active running back in Southwest Ohio. Perhaps even more impressive is that more than 2,000-plus of Hargrove's yards on the ground have come in the playoffs.
Hargrove has already been named AP Division III First Team All-Ohio twice in his career. What he lacks in size at 5-foot-7 and 165 pounds the Rams runner makes up for in speed and elusiveness. That has led to offers which include Akron, Ball State, Bowling Green, Ohio and Toledo.
Here is a look at Hargrove, By The Numbers.
1 – Reception as a freshman
2 – Receptions as a junior
2 – Receiving touchdowns in his career
3 – Games with at least five rushing touchdowns in his career
4 – Rushing touchdowns as aa freshman
4 – Games with 300 yards or more rushing in his career
6 – Most rushing touchdowns in a game (at Butler 10/30/15)
7 – Games with 200 yards or more rushing in his career
8 – Receptions as a sophomore
10 – Games with at least three rushing touchdowns in his career
11 – Receptions in his career
20 – Games with at least two rushing touchdowns in his career
21 – Games with 100 yards or more rushing in his career
21 – Total touchdowns as a junior
23 – Yards receiving as a junior
24 – Career rushing touchdowns in the playoffs
39 – Rushing touchdowns as a sophomore
60 – Rushing touchdowns in his career
62 – Total touchdowns in his career
77 – Most yards receiving in a game (vs. Lebanon 9/25/15)
116 – Yards receiving as a sophomore
137 – Yards receiving in his career
362 – Yards rushing as a freshman
385 – Most yards rushing in a game (at Greenville 10/23/15)
385 – Most all-purpose yards in a game (at Greenville 10/23/15)
407 – Points scored in his career
1,699 – Yards rushing as a junior
1,722 – All-purpose yards as a junior
2,068 – Career yards rushing in the playoffs
3,039 – Yards rushing as a sophomore
3,155 – All-purpose yards as a sophomore
5,090 – Yards rushing in his career
5,237 – All-purpose yards in his career