Schedule Sneak Peek: Simon Kenton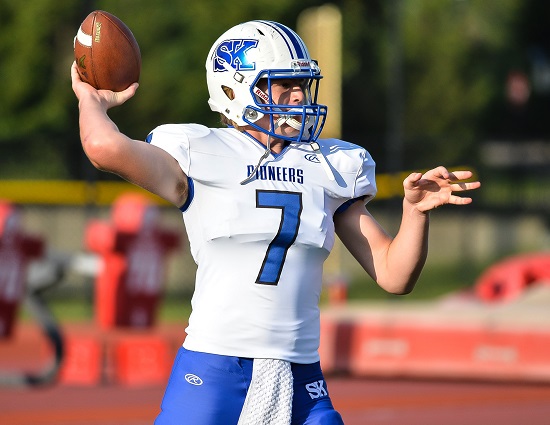 Simon Kenton QB Matt Shearer (photo by Mike Noyes/TSF)
By the time Labor Day is over Simon Kenton will have played three games, all on the road. There isn't any reason that the Pioneers can't navigate a 3-0 start. The size and depth of Simon Kenton up front should eventually win out over their first trio of foes.
Up next are Dixie Heights, Cooper and Highlands, all at home. A year ago, the Pioneers swept that group in three wild affairs by an average score of 52-29. Expect more of the same this fall.
Then it is on the road for a pair of games before finishing back at Chlorine Menefee Stadium for the final two contests. Getting to eight, nine or 10 regular season victories in '17 is going to be a bit tougher than it has been in recent years. Teams are now gunning for Simon Kenton. They want payback for the beating the Pioneers have administered to them over the past decade. Simon Kenton is going to have to keep its guard up every Friday night. There will be no time for slacking off.
Here is a look at the 2017 Simon Kenton schedule:
Fri – 08/18/17 – @Meade County – 7:30 PM
Fri – 08/25/17 – @Bryan Station – 7:30 PM
Fri – 09/01/17 – @Conner – 7:00 PM
Fri – 09/08/17 – DIXIE HEIGHTS – 7:00PM
Fri – 09/15/17 – COOPER – 7:00PM
Fri – 09/22/17 – HIGHLANDS – 7:00PM
Fri – 09/29/17 – @Beechwood – 7:00PM
Fri – 10/06/17 – @Boone County – 7:00PM
Fri – 10/13/17 – CAMPBELL COUNTY – 7:00PM
Fri – 10/20/17 – RYLE – 7:00PM
FINAL TAKE: Simon Kenton has won at least two playoff games in eight of the last nine years. The tough regular season slates have prepared them well but the "promise land" still eludes the Pioneers. A year ago, Simon Kenton was beaten and battered from that 10-week gauntlet and it showed as the playoffs progressed.
This fall, the Week 10 bye after what will be a grueling finale versus Ryle will give the Pioneers 13 days to refocus and heal before the postseason starts. That just might be the remedy for an even deeper playoff run in '17.