2017 Snapshot: Franklin County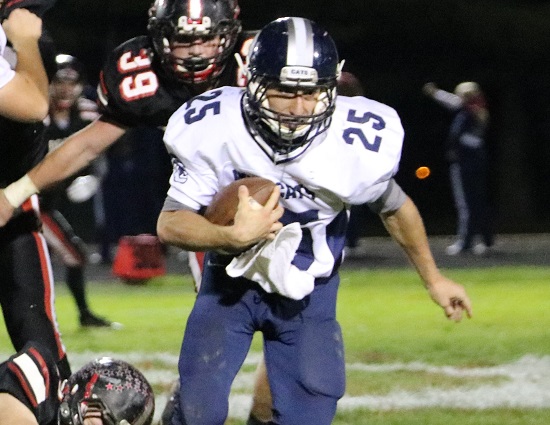 Franklin County RB Mitchell Orschell (photo by Linda Lyness Maxwell)
It has been more than 15 years since Franklin County has had three season in a row finishing above .500. The 2017 version of the Wildcats are in a position to end that dubious streak. The program is looking to take the next step in changing the culture. Becoming a consistent winner.

The trek won't be easy for head coach Kirk Kennedy and his troops. In his fourth season at Franklin County, Kennedy has seen the Wildcats progress from 5-5 to 6-4 and then 7-4 last fall. Franklin County must replace seven starters on offense and six on defense from last year's success. Most of those were three-year starters and very battle-tested.
Despite not having the luxury of experience, those who are still around have taken heed to what their predecessors accomplished. They are looking to build upon it. "We have good team chemistry. The players buy in. They are doing so with work ethic and enthusiasm," Kennedy says.

No matter who the personnel on the field is, those are the intangibles, that winning programs have year in and year out. The '17 Wildcats are in a position to leave their defining mark on the program. There is motivation to be better. As a Franklin County fan you couldn't ask for more heading into next season. Expect Kennedy's clan to have a fighter's chance every Friday night.
Class 4A, Sectional 23
2016 RECORD: 7-4, 2-1 EIAC 4A Division
COACH: Kirk Kennedy (18-13 @ Franklin County, three years, 186-117 overall, 27 years)
TOP RETURNEES
Mitchell Orschell, Sr, RB – His breakaway speed makes Orschell a threat to go the distance very time he touches the ball. He was named First Team All-EIAC for a second straight season after running for 1,085 yards with 21 touchdowns (16 rushing, three receiving, two kickoff returns) as a junior.
Noah Hammond, Sr, OT – A rock solid and steady force on the o-line. Hammond will be leaned upon heavily to help guide a group of cubs in the lair.
James Tucker, Sr, WR/DB – One of the best kept secrets in the Tri-State. Tucker is playmaker who is productive in all phases of the game. He leads all active EIAC players in receptions (51), receiving yards (704) and interceptions (seven).
Michael Bohman, Sr, TE/DE – The high motor guy that teammates feed off of. Bohman had 18 total tackles and a sack a year ago.
NEWCOMERS
There will be plenty of opportunities for youngsters to shine on both sides of the line for Franklin County. Juniors OL/DE Cole Erfman, OL Aaron Lecher and DL Tyler Woods will get their shots to fill big voids up front. Look for sophomore OL/DL Luke Moster to make his presence felt as well. Moster's classmates QB Brady Bogan (Soph) QB and LB Seth Schwartz have high ceilings.
PLAYOFF HISTORY
(39-28 overall)
Sectional Champions (5) – 1998, 1997, 1995, 1991, 1990
Regional Champions (3) – 1998, 1997, 1995,
State Runner Up (1) – 1995
2017 SCHEDULE
The Wildcats will start with a non-conference game at New Castle and end with another hosting Harrison. Those affairs are book ends to seven tiltsversus their other Eastern Indiana Conference rivals. The good news for this squad is that East Central, Greensburg and Harrison are all at home. The Wildcats lost to all three of those teams (including East Central twice) on the road, a year ago.
DYNAMIC DUO
Mitchell Orschell and James Tucker have been nothing short of sensational as underclassmen. The two have combined for 3,064 all-purpose yards (888 kickoff/punt returns), 80 total tackles and 11 interceptions at the varsity level.
TRYING TO TOP THE BAR
Franklin County is 0-4 against conference rival East Central in the Kennedy era.  The Wildcats have lost those games by an average margin of 15.5 points while giving up and average of 33 points to the Trojans.
EIAC 3A BLUES
The Wildcats are a combined 4-5 versus EIAC 3A crossover rivals Lawrenceburg, Batesville and Greensburg under Kennedy. Four of those losses have been by 20 or more points.