Schedule Sneak Peek: Springboro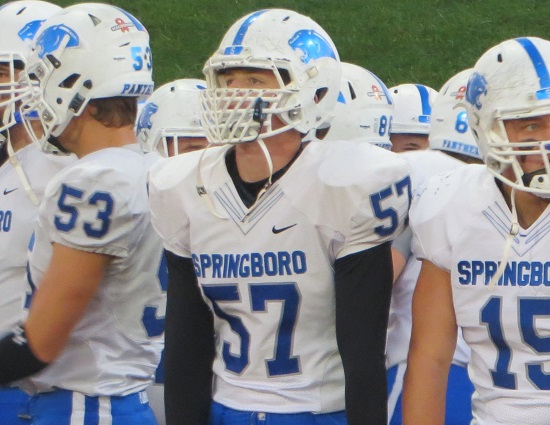 Springboro DE Quinton Webb (photo by Greg Shoemaker/TSF)
The faces remain the same as they did in 2016 on the schedule for Springboro. The Panthers will face those 10 foes in the opposite venues this fall. Springboro managed to go 7-3 against that group last fall. Three of those victories were by three points or less.
For the seventh straight season the Panthers will kick things off against Mason. How important has this game become in Division I? The team that has won the game in the last six season openers has gone on to the playoffs. Both teams have made the postseason in each of the past two campaign.  The teams have split the season opener series at 3-3.
The rest of the schedule is loaded with avenge and revenge games for Springboro. The Panthers look to avenge losses to Centerville and Northmont. A victory in either one of those contests would have allowed Springboro from having to go to Colerain for the first round of the playoffs.
Out for payback against the Panthers will be Miamisburg who fell by a point to the 'Boro in '16. Lebanon and Beavercreek are will look to make Springboro ache like they did after three point losses a year ago.
Here is a look at the 2017 Springboro schedule:
Fri – 08/25/17 – MASON – 7:00 PM
Fri – 09/01/17 – @Middletown – 7:00 PM
Fri – 09/08/17 – WINTON WOODS – 7:00PM
Fri – 09/15/17 – @Fairmont – 7:00PM
Fri – 09/22/17 – @Centerville – 7:00PM
Fri – 09/29/17 – BEAVERCREEK – 7:00PM
Fri – 10/06/17 – @Miamisburg – 7:00PM
Fri – 10/13/17 – @Fairborn – 7:00PM
Fri – 10/20/17 – NORTHMONT – 7:00PM
Fri – 10/27/17 – LEBANON – 7:00PM
FINAL TAKE: The Panthers reload under head coach Ryan Wilhite. This year should be no different. Another grueling regular season slate will have Springboro mentally ready for the playoffs. The returnees understand what it takes to win close games. They should be in a position to win every tilt after halftime. It will be in their own hands to finish.