2017 Snapshot: Fairfield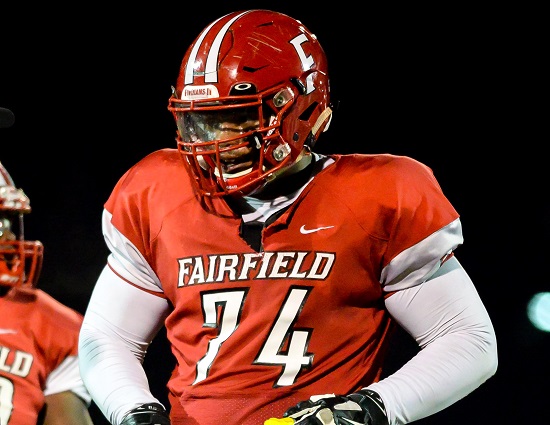 This fall the Fairfield seniors have the opportunity to do what no other class graduating football players have ever done at the school – make the postseason for a third straight year. In 2016 the Indians made back-to-back playoff appearances for the third time in program history. It was also the third time in the last four years that Fairfield has made the postseason.
Getting to November is tough. Winning in that month is even harder. The Indians haven't won a playoff games since defeating Moeller in the first round, 14-7, in '00.

This Fairfield squad has a solid foundation and is capable of doing damage in Week 11 and beyond. "We have good Experience back on both sides of the ball. We are stronger and faster than a year ago," head coach Jason Krause laments about his squad.
Like all teams the Indians have positions that lack experience. There are holes to be filled at quarterback and on special teams at kicker and punter. The unknown on offense should quickly become established behind a massive offensive line that will wear opponents down late in games. The kicking game has been an above average producer for the last decade at the school. Fairfield always seems to find a gem or two too handle those duties.
Krause will have Fairfield mentally ready for a playoff push. Talent to compete is not an issue. It will all come down to what the players are willing to leave on the field if they are to be victorious in the postseason.
Division I, Region 4
2016 RECORD: 7-4, 5-2 GMC
COACH: Jason Krause (33-30 at Fairfield, six years; 118-98 overall, 20 years)
HONOR ROLL
Jack Carman, Sr, LT – There aren't many offensive linemen in America as good as Carman is. A Second Team All-Ohio selection as a junior everyone is vying for Carman's services starting '18. Suitors include Alabama, Arkansas, Ball State, Baylor, Boise State, Boston College, Bowling Green, Buffalo, BYU, California, Central Michigan, Cincinnati, Clemson, Colorado, Colorado State, UConn, Duke, Eastern Michigan, East Carolina, Florida, Florida International, Florida Atlantic, Florida State, Fresno State, Georgia, Georgia Southern, Georgia State, Georgia Tech, Hawaii, Houston, Idaho, Illinois, Indiana, Iowa, Iowa State, Kansas, Kentucky, LSU, Louisiana Tech, Louisiana-Lafayette, Louisiana-Monroe, Louisville, Marshall, Maryland, UMass, Memphis, Miami, Miami (OH), Michigan, Michigan State, Middle Tennessee, Minnesota, Mississippi, Mississippi State, Missouri, Navy, Nebraska, Nevada, New Mexico, New Mexico State, North Carolina, North Carolina State, North Texas, Northern Illinois, Northwestern, Notre Dame, Ohio, Ohio State, Oklahoma, Oklahoma State, ODU, Oregon, Penn State, Tennessee, Toledo, UCLA, Vanderbilt, West Virginia and Wisconsin.
Malik Vann, Sr, DL – 6-3/245 – A true beast in the trenches Vann had 77 total tackles, 15 tackles for losses and six sacks as a junior. He was named Division I First Team All-Southwest District for his work. Vann's offers include Alabama, Cincinnati, Duke, Florida State, Iowa, Iowa State, Kentucky, Louisville, Maryland, Miami (OH), Michigan State, Notre Dame, Oklahoma, Oregon, Pitt, Purdue, Rutgers, Tennessee, Toledo, West Virginia and Wisconsin.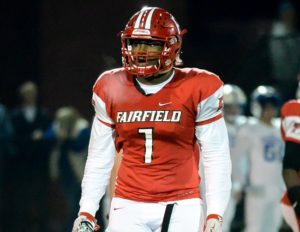 Fairfield DL Malik Vann (photo by Mike Noyes/TriStateFootball.com)
Chico Robinson, Sr, slot – One of the Greater Miami Valley Conference's top offensive threats. Robinson can do-it-all out of his slot position. He touched the ball 69 times on offense (36 rushes, 33 receptions), gained 821 yards (534 receiving, 267 rushing) and found the end zone eight times (five rushing, three receiving). He was named First Team All-GMC for his efforts.
Nashon Bell, Sr, LB – It all came together for Bell last fall. He was in on 57 total tackles with one-and-a-half sacks earning Second Team All-GMC honors.
Rudy Jones, Sr, DB – Jones was named Second Team All-GMC after registering 61 total tackles with two interceptions as a junior.
Jacob Hensley, Jr, OL – A pleasant surprise Hensley appears to be the latest in a long strand of college caliber o-linemen at Fairfield. He was a Second Team All-GMC selection as a sophomore.
OTHER RETURNEES
Erick All, Jr, TE/WR – All is adept at blocking as well as pass catching. He ended up with 15 receptions for 248 yards in '16.
Drew Bartolovich, Sr, LB – A high motor guy Bartolovich had 43 total tackles and four-and-a-half sacks as a junior.
Greg Fitzpatrick, Jr, DL – A benefactor double teams on Vann look for Fitzpatrick's sack total rise from the three he recorded last fall.
Taimar Boykin, Sr, RB – Boykin should slide into the role of the teams featured back. He gained 296 yards, had four receptions for 78 yards and scored one touchdown as a junior.
NEWCOMERS
All eyes will be on QB Jeff Tyus. The junior looks the part at 6-foot4 and with a big arm. It's all on Tyus to perform. He has plenty of options to take the pressure off of him. Junior LB Del Thomas looks to follow in Bell's footsteps with a breakout campaign in '17. A pair of transfer's, sophomore ATH Jutahn McClain and junior DB Kenyon English will provide depth for the Indians.
PLAYOFF HISTORY
(eight appearances, 5-7) – 2016, 2015, 2013, 2005, 2000, 1999, 1986 (State Champions), 1985
2017 SCHEDULE
The GMC adds an eighth league game to the regular season schedule. The Indians will face all league rivals except Hamilton. The two non-conference games will see Fairfield hosting Centerville to kick off the season followed by a road tilt against Northmont. A two week stretch in October with the Indians taking on Colerain and then at Mason could very well determine the team's playoff aspirations.
TIGHTENING UP THE DEFENSE
Fairfield allowed a grand total of 64 points (9.1/game) in its seven wins in '16. The Indians rendered 28.7s in their four losses.
WANTED: 1,000 YARD RUSHER
It is hard to believe that in the run crazy GMC, Fairfield hasn't had a 1,000 yard rusher in a dozen years. The last Indian to run for more than 1,000 yards was Antoine Moore who gained 1,517 yards in '05.