2017 Snapshot: Batesville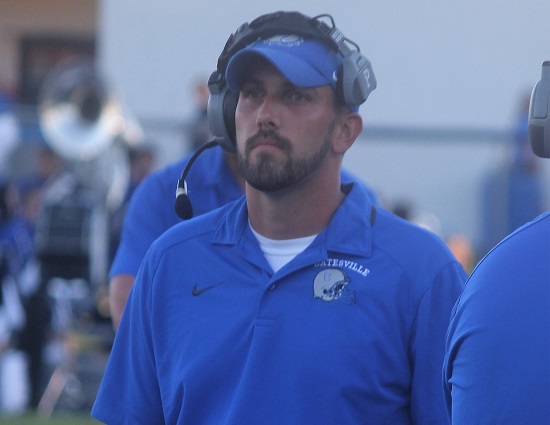 The Eastern Indiana Conference is changing and doing so fast. Speed and numbers have triggered a surge that has seen the EIAC have two state runner-ups and a final four team over the past two campaigns. That success has league members looking to step up their games and bring similar bliss to their schools.
Batesville is one of those squads trying to boost themselves into that top tier. Last fall the Bulldogs finished 5-5 in their first season under Evan Ulery. They started off 4-0 but won just one of their finally six contests. The Bulldogs were worn down by bigger foes.
"There were plenty of highs and lows from last season. The highs are what have made our players excited for the upcoming year," an enthusiastic Ulery states. "We return a lot of experience at many key positions. There is a strong bond among the players. They enjoy to be around one another and play for each other. Their unity paired with what they can bring to the field athletically makes the upcoming season something to be excited for!"
Some of the things that hampered that Batesville in '16 are still lingering around. "Our lack of overall size and depth on the offensive and defensive line is a concern. If some players develop, stay healthy, and transfer their weight room strength to the football field then this weakness can turn into the strength of the team," says Ulery. "The lows are what have driven our focus, dedication, and passion to be better in 2017. We have a strong senior class that has displayed great leadership during the offseason. Their efforts is what excites us for what lies ahead."
It has been 31 years since Batesville won its only regional championship. The Bulldogs have been to the regional title game eight times in the last 16 seasons but never gotten over the hump. Conquering this hurdle would be a monumental step for this program. Ulery's passion is unbridled and has begun to wear off on his team. Look for the Bulldogs to be a major competitor for regional crowns for years to come.
Class 3A, Section 30
2016 RECORD: 5-5, 1-2 EIAC 3A
COACH:  Evan Ulery (5-5 @ Batesville, one year, 5-5 overall)
Coach Ulery on his RETURNEES….
Trey Heidlage, Jr, QB/CB – Heidlage was named All-EIAC 3A at defensive back as a sophomore. Offensively, Heidlage will take full reigns at quarterback after splitting duties in '16. His duel threat capabilities should allow him to have a breakout junior year.
Logan Mears, Sr, H/TE/LB – Mears earned All-EIAC 3A for his play at guard as a junior. He is a two-year starter on the offensive line but will transition his play to H-Back and tight end. Mears also started on the defensive line last year but will transition as a linebacker in '17. His toughness, high football IQ, and leadership make him a key component on both sides of the ball.
Jack Kellerman, Sr, RB/OLB/S – Kellerman was named All-EIAC 3A on defense as a junior. He was having an outstanding '16 season until it ended abruptly due to injury. Kellerman is an aggressive safety who has the ability to play in the box as a linebacker. He is the leader on our special teams and plans to get a majority of the carries at running back.
Josh Maple, Sr, OL/DL – Maple was named All-EIAC 3A offense last fall for his play on the o-line. Maple plans to be vocal leader and motivator for the offensive line. He has had a tremendous offseason and is on pace for a big senior campaign.
Christian Prickel, Sr, RB/WR/DB – Prickel is a scatback. His ability to change directions quickly, start and stop is what makes him dangerous in the backfield and split out as a slot receiver. We will look to take his toughness to the defensive side of the ball in in order to maximize his talents.
Joe Bruns, Sr, OL/DL – Bruns is a returning starter on the offensive line. Although he is slightly undersized, his strength, toughness, and leadership sets him apart. He looks to have a solid senior season.
Coach Ulery on his NEWCOMERS….
Adam Bedel, Jr, OL/H/OLB – Bedel was a contributor to the varsity team most of his sophomore season and became a starter on the offensive line late in the year. His long frame and athleticism paired with his high football IQ makes him versatile both offensively and defensively.
Sam Bowman, So, OL/DL – Bowman had an outstanding freshman campaign and eventually started one game at the varsity level late in the season. He has bulked up during the offseason and plans to have a breakout sophomore year.
Dennis Sweezey, Sr, OL/DL – Sweezey has the physical strength and size to have a breakout senior season. His offseason commitment and development into leader has him primed to be a big part of the offensive success as well as adding strength to the defensive line.
Alex Love, Jr, OL/DL – Love looks to compete for a starting position on both sides of the line after not playing a down in '16. He will be a huge addition to the line with his toughness and competitive edge.
Eykis Fullenkamp, Sr, DL – Fullenkamp is an undersized defensive linemen but makes up for it with his quickness. He will compete for a starting d-line job in a defense that will be built around speed.
Austin Siefert, Jr, WR/CB – Siefert worked his way into the starting lineup by the end of the '16 season at wide receiver. He is a solid route runner and savvy with the football. His chemistry with Heidlage should provide him an opportunity to have a big junior season.
Drew McLeod, Sr, RB/OLB/S – McLeod had a huge season at the reserve level as a junior. His physical strength and relentlessness on defense will have him in a position to be compete for a starting position. His hard-nosed running style could earn him some goal line carries.
Garren Williamson, Sr, WR/CB – Williamson is a hard-nosed player who works extremely hard. He is arguably the best route runner on the team. His toughness and work ethic are contagious which will have him in position to compete for a starting position at wide receiver and cornerback.
CJ Thomas, Sr, WR/DE – Thomas has a long-frame and displays some strong athletic attributes which will have him compete for valuable time on both sides of the ball.
Eric Harmeyer, Sr, WR/CB – Harmeyer was the reserve quarterback last year. He has a solid set of skills that will have him competing for a position at wide receiver and cornerback.
PLAYOFF HISTORY
(40-33 overall)
Sectional Champions (9) – 2015, 2009, 2006, 2005, 2004, 2003, 2002, 2001, 1986
Regional Champions (1) – 1986
2017 SCHEDULE
Fri 8/18 – at Jennings County – 7:00 p.m.
Fri 8/25 – MILAN – 7:00 p.m.
Fri 9/1 – at South Dearborn – 7:00 p.m.
Fri 9/8 – RUSHVILLE – 7:00 p.m.
Fri 9/15 – EAST CENTRAL – 7:00 p.m.
Fri 9/22 – at Lawrenceburg – 7:00 p.m.
Fri 9/29 – at Greensburg – 7:00 p.m.
10/6 – FRANKLIN COUNTY – 7:00 p.m.
10/13 – CONNERSVILLE – 7:00 p.m.
10/20 – IHSAA PLAYOFFS – round one
The season will start off with the same three teams that the Bulldogs have faced every year since 2003 – Jennings County, Millan and the South Dearborn. Batesville's record versus those three clubs in that span is a combined 35-17 including 13 consecutive wins over those foes.
A four game stretch which includes road games at Lawrenceburg and Greensburg sandwiched between home tilts versus EIAC 4A rivals, East Central and Franklin County is a character building stretch for Batesville. It will tell us much of what to expect from the Bulldogs moving into the playoffs.
KEY STATS FROM 2016
Trey Heidlage – Threw for 575 yards, ran 125 yards, had 32 receptions for 254 yards receiving and accounted for 10 touchdowns.
Christian Prickel – Amassed 591 all-purpose yards (249 rushing, 333 receiving), had 36 receptions with four touchdowns (three rushing, one receiving).
Jack Kellerman – Was in on 48 total tackles, with 3.5 tackles for losses and three interceptions.
Logan Mears – Registered 44 total tackles and had four tackles for losses.
GETTING BACK ON TRACK
Batesville lost five of its last six games to end last season. Those losses weren't pretty. The Bulldogs gave up an average of 37.4 points with an average margin of defeat of 22.2 points in those losses. The 38 games prior to that, Batesville held their opponents to a combined 12.6 points per contest while going 32-6.