2017 Snapshot: Little Miami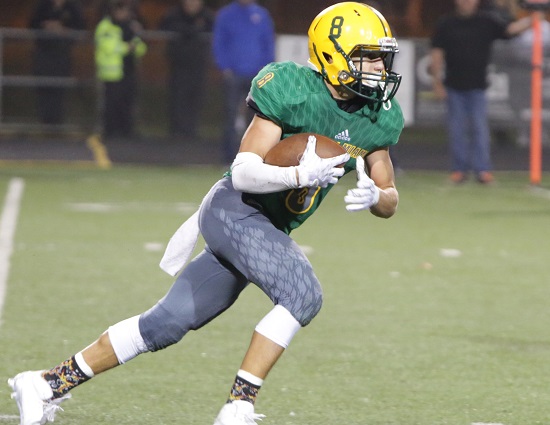 Little Miami ATH Jake Shirey (photo courtesy of LMHS)
You have to learn to crawl before you can walk and Little Miami made great progress towards standing on its own two feet in 2016. For the first time since '10 the Panthers won at least three games. It may not sound like much but considering that this program had hit rock bottom, Little Miami made great strides under Nate Mahon is his first year as the teams head coach.
The attitude and vibe around the '17 Panthers has Mahon fired up. "The senior leadership has been tremendous this offseason. This group of players has really bought into the offseason strength and conditioning program. They are focused on getting stronger and are really bonding together as a team. The coaching staff is very excited about the willingness to work and the toughness culture that they have created."
The next step is for Mahon and his troops learning how to be victorious. "Winning is contagious just like losing is. They are not used to winning so we must find ways to win and keep that going. That will create a contagious environment with our team. The program is very hungry to win. The kids are doing all the right things necessary to put us in a position to be successful."
Division II, Region 8
2016 RECORD: 3-7, 1-5 SWOC
COACH:  Nate Mahon (3-7 at Little Miami, one year; 24-19 overall, four years)
HONOR ROLL
Luke Patten, Jr, RB – In the Little Miami "Ground and Pound" offense it is Pattern that churns out the yardage. One of the elite players in the SWOC. Patten ran for 1,531 yards, amassed 1,946 all-purpose yards, found the end zone 20 times rushing and had a touchdown pass on his way to Special Mention All-Southwest District and First Team All-SWOC honors as a sophomore.
Jake Shirey, Sr, WR/DB – It was a breakout junior year for Shirey. He was all over the field finishing with a team high 20 receptions and 318 receiving yards. He accounted for seven touchdowns (three receiving, two rushing, two passing) and had 51 total tackles with an interception. That effort earned Shirey Special Mention All-Southwest District and First Team All-SWOC honors.
Grant Frith, Sr, LB – Frith was in on 68 total tackles with two sacks and two fumble recoveries on his way to being named Special Mention All-SWOC as a junior.
OTHER RETURNEES
The wars are won in the trenches and Little Miami has a large cast vying for snaps. Seniors OL/DL Michael Magill, OL/DL Cooper Privett, OL/DL Chase Adkins, OL/DL Chase Eshleman, junior OL/DL Hunter Fletcher and sophomore OL/DL Ben Blevins should bring great competition in preseason battles versus each other. That will pay dividends as the season wears on.
There are others besides Patten and Shirey that can make big plays for the Panthers. Seniors TE/DE Ryan Sellars, RB/DL David Tosh along with juniors WR/OLB Ryan Kerman and WR/DB Cordell Oeder must take advantage of their opportunities to keep opponents from keying in of Patten. Tosh recorded five-and-a-half sacks in '16. Sellars had just seven receptions a year ago but three of those went for touchdowns. Kerman and Oeder combined for 101 total tackles as sophomores.
On special teams, senior Chad Mirolo will handle the kicking duties while junior Lance Baer takes on the punting chores. Mirolo was almost perfect in '16 connecting on 28/29 extra points while hitting on all three of his field goal attempts.
NEWCOMERS
Both sides of the line will add depth with senior OT Ben Hugenberg, junior TE/DE Reid Jones, sophomores OL/DL Chase Linneman and OL Donovan Bach all fighting for snaps and playing time. Behind that front, juniors LB Gabe Huffman, TE/LB, John Frommeyer and FB/LB Spencer Aills are set to make their impact at the varsity level. Sophomores QB Brody Reder, WR Nick Carr and WR/DE Avery Harris will get their chance to energize the team and Little Miami fans with a dynamic style of play and youthful exuberance.
PLAYOFF HISTORY
(one appearance, 1-1) – 1992
2017 SCHEDULE
Three of the Panthers non-conference affairs will be against teams they did not face a year ago – West Carrollton, Richmond Heights and Troy Christian. Western Brown is the other non-con opponent. Little Miami beat the Broncos in a 28-26 thriller last fall.
The league portion of the schedule is very navigable. The Panthers should be disappointed if they can't play .500 or better in SWOC play. This is the season for them to take advantage of all the transitions that conference foes encountered over this past year.
TAKING THE NEXT STEP
The Panthers have to do a better job on defense if they want to get in the upper echelon in the SWOC. Little Miami gave up 40 points or more in five of its seven losses in '16.
CLOSING THE DEAL
Little Miami had a three game stretch a year ago where it lost to Mount Healthy by three points, Talawanda by one point and Northwest by six points. If they win those three games the Panthers would have finished the season at 4-2 in the SWOC.  That would have been good enough for second place in the league.