2017 Crosstown Showdown slate set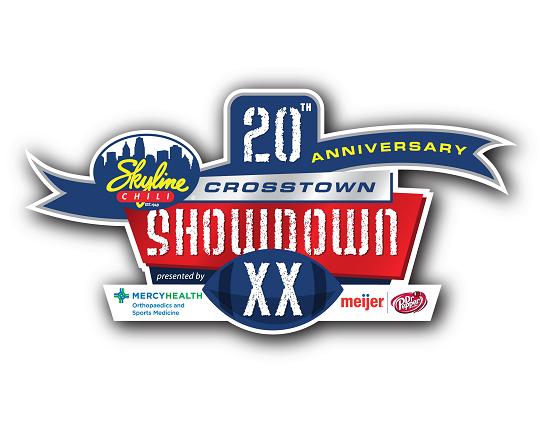 Tom Gamble and his crew at In-Game Sports have announced the schedule of games for the 20th edition of the Skyline Chili Crosstown Showdown. There are 21 games on tap over a course of 21 days and four Fridays. The marquee matchups will be played at Nippert Stadium on the campus of the University of Cincinnati on Friday and Saturday, August 25th & 26th.
TriState Football breaks it down for you, game by game.
FRIDAY, AUG. 18
East Central at Lawrenceburg, 7 p.m. – It is the only game between Eastern Indiana Conference schools that hasn't been played the past two years. Now with the success of these two programs (East Central the Class 4A state runner up in '15 and Lawrenceburg the state runner-up in '16) the stakes are too high and the gate is too big for this rivalry not to be rekindled. Lawrenceburg will give the larger Trojans a run for their money. The backfield experience of East Central could very well be the difference in this one. Lawrenceburg is "green" in its backfield. They will be tested by the Trojans pressure.
Highlands at Cooper, 7:30 p.m. – These two squads met in the '15 Crosstown Showdown and Cooper stunned the Bluebirds, 37-13. Last year Highlands returned the favor with an amazing second half comeback in a 52-42 win. Despite the victory, it exposed the Bluebirds flaws on defense as the team would finish 3-8 and give up 40 or more points eight times. The Jaguars will pull out all the stops to expose the Highlands defense in hopes of avenging last fall's loss.
WEDNESDAY, AUG. 23
Hughes at Deer Park, 7 p.m. – Athleticism should win out in this game. Hughes is looking to repeat what Aiken did a year ago, become the darlings of the SOPL and make the playoffs. The Big Red has more horses in the stable and will push their speed on the Wildcats. Deer Park has to play smart and composed if they want to win this game. They must be the more prepared team.
THURSDAY, AUG. 24
Taft at Mount Healthy, 7 p.m. – The winner here is going to pick up big time Harbin Points in this one. Taft is loaded and after and 8-3 season the Senators are hungry. Taft's only three losses were to CHCA, Wyoming and Clinton-Massie who were a combined 35-4. They know they are capable of a deep playoff run. Mount Healthy went 8-2 and missed the postseason for the first time after a run of six playoff appearances in seven years. This game will feature some eye-popping performances from the wealth of athletes on the field
Aiken at Western Hills, 7 p.m. – Aiken made the playoffs for the first time in school history in '16. With an experienced returning cast the Falcons appear destined to be playing in November again. Western Hills went 1-9 last season and never scored more than 12 points in a game. The Mustangs have to find a way to match an Aiken team that averaged 41.3 points against SOPL foes a year ago.
FRIDAY, AUG. 25
Ross vs. Badin at Schwarm Stadium/Hamilton HS, 7 p.m. – Another long lost rivalry contest looking light the flame again. Both schools are coming off 2-8 campaigns and have new head coaches – Kenyon Commins (Ross) and Nick Yordy (Badin). The two teams haven't played since '10 and Ross has never beaten Badin. They are 0-8 in this series which dates back to '80. There are so many question marks that makes this one too close to call. The winner will be oozing with a confidence that they never felt a year ago.
Centerville at Fairfield, 7 p.m. – Injuries forced Centerville to play a ton of underclassmen the past two years. Those Elks are now very experienced seniors who are hungry for a taste of the postseason. Fairfield needs to establish an identity on offense with a new quarterback and hopefully a runner who can top the 1,000 yard mark. On defense, the Indians will bring pressure with the blitz. Their secondary must not get burned by the Elks speed at receiver. Stopping the big play is a must for Fairfield.
Sycamore at Loveland, 7 p.m. – A natural rivalry, this tilt should be on the schedule every year. Both teams graduated their programs all-time leading rusher and Sycamore lost its all-time leading passer as well. Still the Aviators are coming off their first ever appearance in the Regional finals and return five First Team All-GMC selections. Loveland has to reconstruct its Wing-T offense that has many vacancies. New stars will be born on this night as production voids will be filled by fresh faces but don't expect any jaw-dropping stat lines.
Mason at Springboro, 7 p.m. – How important has this opener become? The winner of this Week 1 game in each of the last six season has gone on to make the playoffs. Last year both school received berths into the Division I, Region 4 postseason. Mason had a 14 minute advantage in time of possession in last season's 28-14 victory. They did so by rushing for 401 yards. The Comets won't stray from that recipe for victory behind the legs of senior RB Matt Sora.
Princeton at West Clermont, 7:30 p.m. – The first-ever game for the West Clermont Wolves. It is also the first game as a head coach for Princeton's, Mike Daniels. His Vikings will have a chip on their shoulder after being robbed of a playoff berth last season. Unfortunately, West Clermont just happens to be the one that has to bear the brunt of Princeton's frustrations. This could be one of those games where the home crowd and a packed house could actually make a difference and the Wolves will need it. West Clermont will take all the positive karma they can get.
At UC's Nippert Stadium
Lakota West vs. Elder at Nippert Stadium/Univ. of Cincinnati, 6 p.m. – Turnovers were the downfall of Lakota West in '16. The Firebirds allowed their opponents an average of three extra possessions a game thanks to miscues. Those are correctable mistakes that shouldn't overshadow a defense that has three of the area's most highly recruited players in seniors DL Tyler Bentley, MLB Xavier Peters and junior DL Steve Faucheux. Elder will be a blast to watch on offense. The Panthers have stockpile of proven weapons at the skills positions. Head coach, Doug Ramsey excels when he can call plays that spread the wealth between his players. He is a master of keeping opposing defenses back on their heels.
Colerain vs. La Salle at Nippert Stadium/Univ. of Cincinnati, 8:30 p.m. – What an intense rivalry this is turning into. La Salle which has won the last three Division II state titles, beat the Cardinals, 39-36 in ''15. Since that controversial loss Colerain has gone on to win 17 straight regular season affairs including a 6-0 nail-biter over the Lancers last fall. Both defenses will take center stage in this battle. Expect another low-scoring dogfight.
SATURDAY, AUG. 26
Lakota East vs. Walnut Hills at Nippert Stadium/Univ. of Cincinnati, 11 a.m. – After a 4-0 start Walnut Hills inexplicably dropped its last six games last fall. The downward spiral didn't stop there as coaching and recruiting violations put sanctions on the program this offseason. How the players handle that adversity remains to be seen. The Eagles have six players with Division I scholarship offers. It is clearly the most talent that Walnut Hills has ever had. Lakota East will look to play smash-mouth football with the run. This will be a low-scoring affair that could see 20 combined punts between the teams.
Milford vs. Oak Hills at Nippert Stadium/Univ. of Cincinnati, 2 p.m. – It has been a long time since this much attention has been paid to Milford and Oak Hills in a regular season game. Milford begins a new era under accomplished veteran coach, Tom Grippa. He will open it up. The Eagles will look very different on offense and in a good way. Oak Hills must replace a slew of skills positions players but does return QB Jacob Woycke. The senior has more than 5,000 career yards passing. The fans are going to enjoy an "air affair" that produces oodles of points.
Hinsdale Central (IL) vs. St. Xavier at Nippert Stadium/Univ. of Cincinnati, 5 p.m. – Expectations are high for St. Xavier after winning the Division I state championship last season. The Bombers showed a toughness and dexterity during their run to the title. That has been embedded into this group of returnees. Bet the house on St. X in close contests. This team knows how to thrive when facing adversity. Hinsdale Central is the equivalent of Fairfield only on steroids. Meg- huge enrollment and mega-huge football provenance. The Red Devils won't be intimidated on the road versus St. Xavier.
Hamilton vs. Moeller at Nippert Stadium/Univ. of Cincinnati, 8 p.m. – Moeller has missed the playoffs in each of the last two years. That hasn't happened for the school since '94 & '95. The Crusaders talent level is too great to have them sitting at home this November. This season will be played with a purposeful sense of urgency for the "Men of Moeller." Hamilton has had some success at its lower levels in the program in the past few seasons. Now those kids start getting their shot at the varsity level. The young Big Blue must not be overwhelmed or in awe by the name on the opposing jersey's or it will be a long night.
FRIDAY, SEPT. 1
Cincinnati Hills Christian Academy at Indian Hill, 7 p.m. – There is a great storyline in this affair. Senior QB Danny Vanatsky started as a freshman at Indian Hill before transferring to CHCA. His move paid big dividends. Vanatsky was named Division V First Team All-Ohio in '16 as the Eagles made the Regional finals. The Braves defense is big, fast and strong. They will be the identity of this Indian Hill squad, especially early on. This unit would love nothing more than to ruin the homecoming of their former signal-caller.
Turpin at Northwest, 7 p.m. – A Week 2 matchup that will see two much improved teams from seven days earlier. This game will be clean and sharply played. Turpin is a savvy, veteran team. The Spartans won't beat themselves. Northwest must play just as flawless as its opposition. The Knights can make a huge statement by pulling off the upset something that is very feasible but will need an A+ effort.
FRIDAY, SEPT. 8
Anderson at Harrison, 7 p.m. – All eyes will be focused on a pair of signal-callers who combined for 74 touchdowns passes a year ago. Anderson QB Jay Volpenhein threw 43 touchdown passes and Harrison QB Frankie Young threw 31. Harrison won last year's contest, 48-47. The teams combined for 1,162 yards of total offense including 889 passing (Young – 501). It was also a sloppily played tilt with a combined 26 penalties for 256 yards. A carbon copy of that evening is more than likely.
Covington Catholic at Kings, 7 p.m. – There won't be any jitters on this night as it will be the fourth game of the season for CovCath and the third for the Knights. Head coach Andy Olds wanted to bolster the non-conference portion on the Kings schedule and he got his wish. Covington Catholic will field one of the best teams the program has seen in years. This contest should be loaded with offensive fireworks. The team that has the ball last could very well be the victors.
Corbin at Beechwood, 7:30 p.m. – The 2016 Class 3A state semi-finalist, Corbin Redhounds make the long journey north to face the reigning Class 1A state champion, Beechwood. Everyone gets to touch the ball in the Corbin offense. The Redhounds are very balanced coming off a year where they scored 31 touchdowns rushing and 32 passing. Beechwood must play smart on defense and keep the Corbin skills players in front of them.