2017 Snapshot: Sidney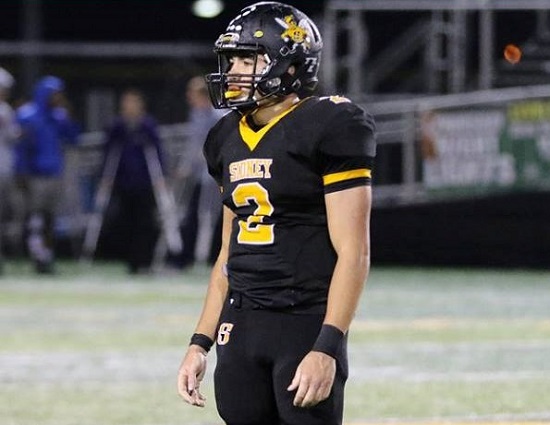 Sidney RB Isaiah Bowser (photo courtesy of ScoutingOhio.com)
Sidney football hasn't had much to be excited about over the last 25 years but that could all change in 2017. The Yellow Jackets have a great nucleus of returnees which includes some of the top players at their positions in the entire Greater Western Conference.
Head coach Adam Doenges likes what is going on with this squad but knows there are some hurdles to conquer. "We 27 return lettermen. Over 40% of the reps taken last year were by freshmen or sophomores. We only graduated nine seniors and only four were significant starters. There is lots of experience coming back. We have good depth at positions and playmakers."
Handling success is something that Sidney is not accustomed to. "We are not use to winning tough games," Doenges says. That was evident last season as the Yellow Jackets defensive created 29 total turnovers. They led the entire GWOC with 16 Interceptions of which five were returned for touchdowns. Despite the average of three extra possessions per game, Sidney still allowed 32.3 points per contest.
Putting it all together, in all phases of the game is the missing piece of the puzzle for a triumphant '17 season. If the Yellow Jackets figure out the formula, this will be one fun team to follow.
Division II, Region 8
2016 RECORD: 4-6, 1-4 in GWOC American North
COACH: Adam Doenges (20-40 at Sidney, six years; 20-40 overall)
HONOR ROLL
Devan Rogers, Sr, DL – This will be the fourth season as a starter for Rogers who is coming off a Division II Special Mention All-Southwest District performance. In his career Rogers has 212 total tackles, nine sacks and three fumble recoveries. The 6-foot-2, 285 pound lineman has offers from Bowling Green, Buffalo, Central, Michigan, Eastern Michigan, Iowa State, Kent State, Miami (OH), Ohio, Rutgers, Syracuse, Toledo and Western Michigan.
Isaiah Bowser, Sr, RB – Bowser was incredibly productive as a junior running for 1,877 yards (school record), 28 rushing touchdowns (school record), had eight receptions for 155 yards with two touchdown catches, 31 total touchdowns (school record) and 2,284 all-purpose. On defense, Bowser recorded 37 total tackles and had a pick six. That effort earned him Division II Special Mention All-Southwest District and All-GWOC accolades. Bowser has offers from Air Force, Bowling Green, Buffalo, Central Michigan, Cincinnati, Miami (OH), Navy, Ohio, Toledo and Western Michigan
Andre Gordon, Jr, QB – Before going down to injury Gordon was off to a great start as a sophomore throwing for 289 yards with three touchdown passes in two games. In 12 career games Gordon has accounted for 25 touchdowns (134 passing, 12 rushing. He has an offer from Iowa State.
Christian Townsend, Jr, DB – A Special Mention All-GWOC American North selection as a sophomore Townsend was in on 36 total tackles.
Darren Taborn, So, DB – A rising star Taborn had an awesome varsity debut as a freshman with 29 total tackles, recover a fumble and snare two interceptions with a pick six. He was named Special Mention All-GWOC American North for his work.
OTHER RETURNEES
Kelton Skelton, Sr, DB – Part of arguably the best secondary in the GWOC American North. Skelton was in on 25 total tackles and came up with four takeaways (three interceptions, one fumble recovery) in '16.
Caleb Harris, Jr, WR/DB – This could be a breakout year for Harris at receiver. The electrifying speedster had 13 touches (nine receptions, four kickoff returns) for 220 all-purpose yards (107 receiving, 113 kickoff returns) and found the end zone three times (two receiving, one kickoff return) as a sophomore.
Josiah Hudjins, Jr, DB – Hudjins will head into his junior season with six career interceptions including a pick six. He also has 42 total tackles.
Ethan Carlson, Sr, LB – In 13 varsity games Carlson has compiled 39 total tackles.
Hallie Truesdale, So, K – Earning a letter as a freshman Truesdale connected on 28/36 extra points.
PLAYOFF HISTORY
(one appearance, 2-1) – 1989
2017 SCHEDULE
All the opponents for the Yellow Jackets are the same as they were a year ago. A pair of losses to St. Marys Memorial by four and to Bellefontaine by six, to start last season were the difference between a winning and losing campaign for Sidney. It would have been the Yellow Jackets second season in the last three years over .500 which is something that hasn't happened for the program in more than two decades.
MILDLY SUCCESSFUL
There are signs of the program turning the corner under Doenges. Sidney had a modest three game winning streak last fall and a four game winning streak in '15.
STEPPING UP IN DIVISIONAL PLAY
If Sidney is to take the next step toward being a consistent winner they must do a better job on defense against GWOC American North foes. Last season the Yellow Jackets gave up 34.8 points in divisional play. Every one of those opponents scored at least 27 points. The average margin of defeat in those affairs was 12.8 points per contest.
**Photos Courtesy of mark Porter and his staff at ScoutingOhio.com