2017 Snapshot: Troy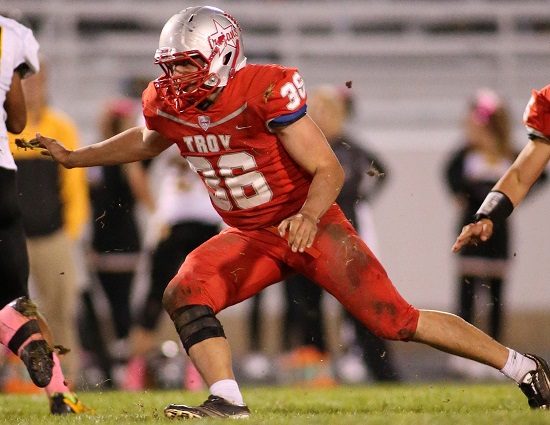 Troy DL Joah Schricker (photo by Lee Woolery, Speedshot Action Photography)
From the outhouse to the penthouse. Troy made huge strides going 10-2 last fall after a 2-8 showing in head coach Matt Burgbacher's first year in 2015. Now comes the task of maintaining those winning ways. Take away a pair of heartbreaking losses to Miamisburg and the Trojans had a spotless record. It was an amazing transformation.
With 13 starters returning including eight on defense, the Trojans are equipped to build upon what they started a year ago. "Our biggest strength as a team is the confidence they gained from last season's 10-2 record. We certainly aren't satisfied with this. We are working to improve in every facet of the game. It has propelled us this offseason and given our kids a lot of confidence from the experience of a successful season," Burgbacher states.
Burgbacher is optimistic about replacing the productivity that was lost to graduation. "Our internal competition that we will have on the practice field for playing time on Friday nights will be intense. We will have multiple guys at each position competing for spots and pushing the returning starters we have back. Competition breeds success and this will push guys to be at their best each and every day."
One thing I feel that we will have worked out by the time the season rolls around is finding our identity on offense. We will still be running our offensive scheme but need to figure out which guys will be best suited for what we want to do. We have a great feel for our returning player's strengths and weaknesses but will need to get them used to the Friday Night Lights," says Burgbacher.
Troy's dominant personality is on defense. They will need the unit to carry the team early in the season. There is talent amongst the returnees and coach is confident it can fill the voids left by last season's seniors.
"We graduated a great senior class that showed great leadership throughout the season. We need guys to step-up in those leadership roles. We've seen signs of it this offseason, but we still have work to do. I am confident we will get where we need to be when the season comes around," confides Burgbacher.
Troy's problems are good. Most teams would envy the position the Trojans are in after winning 10 games in '16. It is going to be all up to the players to perform. Clearly they are going to be very well-prepared by Burgbacher and his staff.

Division II, Region 8
2016 RECORD: 10-2, 5-0 in GWOC American North
COACH: Matt Burgbacher (12-10 at Troy, two years; 63-28 eight years, overall)
HONOR ROLL
Joah Schricker, Sr, DL – Schricker is a beast on the d-line. He registered 78 total tackles, seven-and-a-half sacks and 15 tackles for losses on his way Division II Special Mention All-Ohio and First Team All-Southwest District accolades as a junior.
John Wehrkamp, Sr, OLB – It was an awesome first year as a starter for Wehrkamp. He tallied 94 total tackles, 16 tackles for losses and two sacks while being named Division II Second Team All-Southwest District in '16.
Sam Jackson, Jr, RB/SS – A rising star, Jackson can do it all. He registered 89 total tackles, seven interceptions, five tackles for losses and a pick six as a sophomore. He was named Division II Special Mention All-Southwest District and First Team All-GWOC American North for his efforts. Jackson is the only returnee that had a rushing touchdown a year ago (Troy had 30 rushing touchdowns in '16).
Christian Nation, Sr, DL – Perhaps the best name in high school football, Christian Nation recorded 74 total tackles, had six tackles for losses and four sacks in '16. That earned him a Second Team All-GWOC American North selection.
Zach Boyer, Sr, WR/DB – A threat on both sides of the ball, Boyer was named Special Mention All-GWOC American North as a defensive back after getting in on 47 total tackles with seven tackles for losses.
OTHER RETURNEES
Three senior starters are back on the offensive line Kameron Block, Drew Smith and Rase Darrow. They will be counted on to be leaders up front. One thing Troy did well last year was spread the wealth. There are plenty of options when it comes to catching the football. A pair of juniors TE Spencer Klopfenstein and WR Kobe Feltner combined 31 receptions, for 480 yards and four touchdowns in '16. Klopfenstein had four games with three catches. In the slot, Matt McGillivary caught 10 balls for 150 yards and two scores as a junior. When healthy WR Sam Coleman showed he could be a factor. He played in just three games last season but had eight reception and had 101-yard, five catch game against Northwest.
In the trenches, on defense, senior DL Logan Hubbard had 37 total tackles a last fall. Junior DL Gage Forsythe broke onto the scene with 27 total tackles. His classmate LB Shane Shoop also had quite the varsity debut getting on 97 total tackles, with five sacks, two fumble recoveries, three interceptions, 125 interception return yards and a pick six as a sophomore. Senior LB Zach Schwausch had 49 total tackles a year ago. In the secondary, DB Derek McDonagh, had an exceptional junior campaign with 81 total tackles, 23 pass breakups and four tackles for losses.
NEWCOMERS
Even though they haven't made their mark at the varsity level, coach Burgbacher sees plenty of players vying for snaps. Bolstering an already impressive defense will be seniors DL Deven Sturgeon, LB Keiran Williams along with a trio of juniors in the middle of the field with LB Blake Burton, OLB Garrett Jones and OLB Zach Collett.
Getting the opportunity to start under center will be junior QB/DB Jacob Adams and sophomore QB/DB/K Braydyn Siler. Adams' classmate's RB Jaydon Culp-Bishop as well as OL Nathan Garber and OL Jesse Westmeyer will also get fair shots at lining up with the first team when August comes around. Culp-Bishop is very capable of having a breakout season.
PLAYOFF HISTORY
(12 appearances, 6-12) – 2016, 2011, 2010, 2004, 2000, 1997, 1996, 1995, 1992, 1989, 1986, 1985 (Regional Champions)
2017 SCHEDULE
Xenia replaces Northwest on the schedule giving the Trojans four crossover GWOC divisional games (Trotwood-Madison, Fairborn and Miamisburg as well). Troy has gotten the best of '16 Division III state runner-up Trotwood-Madison in each of the past two seasons. The have proven they are capable of beating the best in the state. The Trojans will be aided by six home games. Their furthest road trip will be to Miamisburg, a team they have lost their last six to since '12.
TURNING THE CORNER
In '15 Troy gave up 20 or more unanswered points six times in its eight losses. In '16 the Trojans gave up 21 points or less in a game nine times.
ONE FOR THE AGES
Last year's playoff game against Anderson was one for the ages. It was an "Instant Classic." On the strength of 28 unanswered points. Troy built a 41-7 lead three minutes into the third quarter. Trojans senior RB Josh Browder had found the end zone five times (two rushing, three receiving) by the time, that all occurred. Anderson came storming back scoring the game's last 29 points but fell short as the clock became the Redskins enemy by the end. The contest featured 1,097 yards of total offense. Browder had one of the most epic performances in Troy playoff history. He finished the night with 357 yards (243 rushing, 113 receiving) from scrimmage on 25 touches (22 rushes, three receptions) and the five touchdowns.