2017 Snapshot: Scott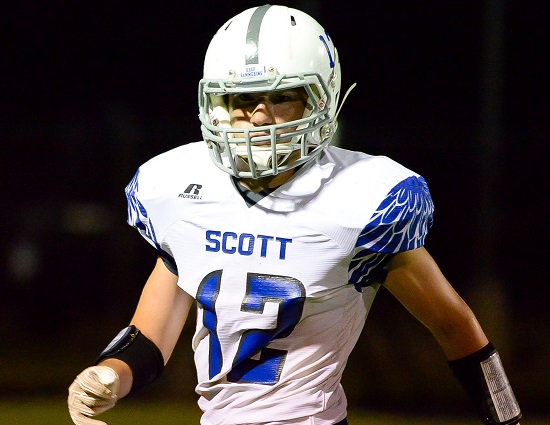 Scott RB David Patrick (photo by TriStateFootball.com by Mike Noyes/TSF)
One injury is all it takes to get a team discombobulated and that was what happened to Scott in 2016. The program was coming off its most successful three years amassing 21 wins from '13-'15. The Eagles racked up their first victory after the third game last season but it came at a huge cost. Junior quarterback Nelson Perrin was injured and would miss the rest of the season.
His loss caused a domino effect in which every skills position on offense was affected. The depleted depth took its toll. The skills positions were are all weaker and youth was asked to step up before it was ready. With Perrin under center Scott averaged 28 points per contest. They sputtered without him. The Eagles scored a grand total of 79 points over their last eight games.
Those troubles will be gone this fall. The lumps Scott took a year ago appear to be well on the road to recovery. Head coach Dan Woolley has eight to nine starters returning on each side of the ball. The stars of that show will be a quartet of runners to run Woolley's Wing-T offense. Several two-year starters on the offensive line back to open holes for those backs. The Eagles will be a combination of electrifying speed and smash-mouth power on offense.
Scott will be highly entertaining but depth will still be an issue. The Eagles could have a very prosperous year if they can stay healthy. All signs point to this being a big bounce back season if that happens.
Class 4A, District 7
2016 RECORD: 2-9, 1-3 Class 4A, District 7
COACH: Dan Woolley (30-26 @ Scott, five years; 30-26 overall)
TOP RETURNEES
Alex Thurza, Sr, RB/LB – Thurza was named the Class 4A, District 7 Player of the Year, Second Team All-NKY (LB) and was a TriState Football NKY Defensive Player of the Year finalist as a junior. Those are pretty impressive feats considering Scott went 2-9. He also ran for 410 yards and four scores. "Alex is a big, physical middle linebacker and fullback who seeks out contact," Woolley states.
Nelson Perrin, Sr, WB – Woolley is moving Perrin back to wingback. This suits Perrin's skills set best. He had 1,191 yards from scrimmage and 12 touchdowns from that position as a sophomore. "Nelson has big play potential any time he touches the ball," Woolley says.
Seth Yeary, Sr, OL/DL – A returning starter, Yeary will anchor the line on both sides of ball.
David Patrick, Jr, RB – A pleasant surprise, Patrick led the team with 570 yards rushing as a sophomore. He also found the end zone four times (three rushing, one receiving).
Quincy Perrin, So, RB – By the time the '17 season ends Perrin will be in the elite group players tabbed "he's a man playing against boys." This is the breakout season for the younger brother of Nelson. Perrin has all the physical gifts to be something very special. He ran the ball 70 times for 445 yards and four touchdowns in his varsity debut as a freshman.
Airik Barbour, Sr, WR/DB – Had a team high seven receptions for 80 yards and two touchdowns in '16.
2017 SCHEDULE
There are two newcomers to the Scott schedule. Lloyd replaces Newport and Taft (OH) supplants Simon Kenton. After a Week 4 bye, Scott should be able to gain some real momentum on the back half of the schedule, in district play. The Taft game in Week 7 will be a real test and barometer of just how good the Eagles are and could be in the playoffs.
A BULGING BACKFIELD
Scott will share the wealth in the backfield with four players getting the bulk of the carries. That group has combined for 2,419 yards with 25 touchdown's rushing at the varsity level – N. Perrin (975 yards, 14 touchdowns), Patrick (570 yards, three touchdowns), Q. Perrin (440 yards, four touchdowns) and Thurza (424 yards, four touchdowns).