2017 Snapshot: Campbell County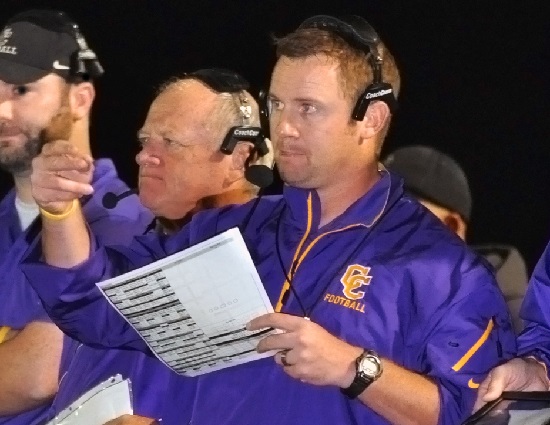 Campbell County head coach Stephen Lickert.
It has been a tough past couple of years for Campbell County. Head coach Stephen Lickert thought the program was on track at the end of the 2014 season. Then the Camels hit rock bottom going 1-10 in '15 and 4-8 last season. There are plenty of returning letterman from those squads ready to avenge the pains of those rough losses and bring the "Camel Pride" back to Alexandria.
"We are experienced and filled with two and three-year starters. Our team speed should be very good and we finally have the size to match other Class 6A teams. We are very excited about our team and look forward to the season," Lickert states.
The Camels aren't accustomed to success. How they handle it is a concern of coach Likert's. "We need to learn how to find a way to win football games. Our preparation must meet our expectations to win every Friday."
The talent level is up at Campbell County in a year in which many of the other northern Kentucky teams in 6A have huge voids to fill. That could be a very good thing for the Camels and their fans. This is a good season to get back on track.
Class 6A, District 6
2016 RECORD: 4-8, 0-2 Class 6A, District 6
COACH:  Stephen Lickert (29-40 @ Campbell County, six years; 67-78 overall, 13 years)
TOP RETURNEES
Austin Hoeh, Sr, QB – Hoeh is one of the top three quarterbacks in northern Kentucky. A breakout junior season saw him throw for 2,238 yards and 15 touchdowns. He also ran for 246 yards and five scores.

Tanner Lawrence, Jr, DL – Lawrence is becoming a special player. He was named Second Team All-NKY as a sophomore.

Mason Kramer, Sr, TE/LB – A healthy Kramer will be a real boost to the offense. He could be a real weapon at tight end.
Jack Comer, Sr, WR/DB – Rock solid was Comer's junior year. He reeled in 21 receptions for 272 yards and a pair of touchdowns. He is very dependable in the secondary as well.
Brent Mills, Sr, DL – One of the most experienced players on the team Mills is the heart and soul of the d-line.
Josh Mitchell, Sr, OL/DL – The leadership of Mitchell will be counted upon greatly in the trenches.

Logan Harrod, Jr, DB – Harrod is ready for prime time. He tied for the team lead in interceptions (two) in limited action a year ago.
Peyton Anderson, Jr, LB – Anderson is primed for a big junior season. He has All-NKY potential.
Alex Dowds, Sr, RB/LB – This should be the first 1,000-yard season rushing for Dowds. He has 1,183 and 11 touchdowns rushing in his career. Dowds should double those totals by year's end.
Nick Mayer, Sr, WR – A dual threat, Mayer had a fantastic junior campaign. He hauled in 59 passes for 1,020 yards with four touchdown catches. On special teams he connected on 21 extra points and three field goals including a last second game-winner against Highlands. Mayer is three receptions short of 100 for his career and also has 1,653 with eight touchdowns receiving.
NEWCOMERS
Campbell County is looking for the junior class to step up especially at receiver and in the secondary. Getting their shots to win snaps with the starters will be SS/WR Reid Jolly, RB/DB Grant Jolly, LB Brennen Williams, WR/DB Brady Singleton and WR/DB Gavin Terhaar.
2017 SCHEDULE
There isn't any time for Campbell County to rest on its laurels. Most of the foes are the same as a year ago. Covington Catholic replaces Henry Clay in the finale. If this teams wins six games or more during the regular season against a slate that includes Highlands, NewCath, CovCath, Ryle, Conner, Cooper and Simon Kenton it will be well earned. Take out Highlands and the other six aforementioned teams were a combined 55-21 in '16 (58-29 including Highlands).
GETTING TOUGH ON DEFENSE
In order to take it to the next level the Camels must keep teams out of the end zone.  Campbell County has given up 20 points or more in 23 of the past 24 tilts including the last 12 in a row. In that span, the Camels are allowing 33.8 points per game.
GETTING IN THE GAME
Of Campbell County's last 14 losses, seven have been by 30 points or more. Their five victories in that span have been by a combined 59 total point2 (11.8 per contest).
BUILDING A WINNER
Only four times in the last 13 seasons has Campbell County had a sub .500 record. However, the Camels have lost at least four games in every one of those years.