2017 Snapshot: Lakota East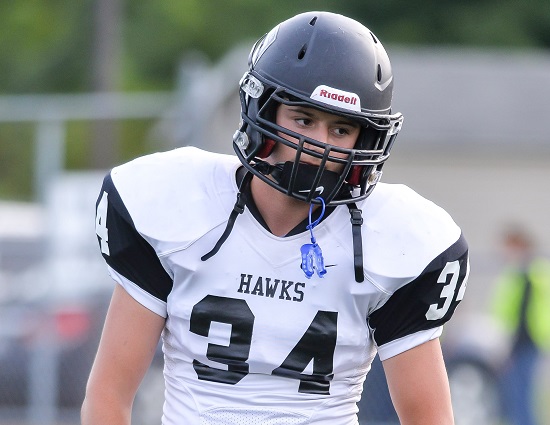 Lakota East DB Sal LaRubbio (photo by Mike Noyes/TSF)
Going 5-5 isn't viewed as great by most standards but how Lakota East got to that point last year ended up being quite the accomplishment. The Thunderhawks were sitting at 1-3 after a 30-7 loss to Oak Hills and a pair of three-point defeats at the hands of Northmont and Pickerington North. The team rebounded winning four of its last six and finished the Greater Miami Conference slate at 4-3. Lakota East is looking to continue that late season momentum in 2017.
Keeping that train rolling will not be easy as the Thunderhawks lost 15 players to graduation. Nine of those holes that need to be filled are on defense. This is not a deep squad. Injuries and size up front could be issues as '17 wears on. Leadership is a problem that needs to be addressed and answered. It will be a lead by example mind-set that keeps this squads head above water.
Head coach Rick Haynes understands controlling the ball and the clock will be to this teams advantage. Shortening the game has been a way of life under Haynes for East. This program has not panicked when things get rough. They have always played composed and been well-prepared under this front man.
Even though the Thunderhawks lack the "WOW" factor on paper, they will still be a nuisance on Friday nights. Somewhere along the line Lakota East will throw a monkey wrench into the Division I, Region 4 playoff picture. Whether its with upsets or a complete and harmonious season-long performance by the players, never count Haynes' Hawks out.

Division I, Region 4
2016 RECORD: 5-5, 4-3 GMC
COACH:  Rick Haynes (34-30 @ Lakota East, six years; 34-30 overall, six years)
HONOR ROLL
Dylan Fry, Sr, QB – In his first full year as a starter under center, Fry amassed 1,245 yards of total offense (797 rushing, 448 rushing) and accounted for 10 touchdowns (eight passing, two rushing). He was named Second Team All-GMC as a junior for those efforts.
Sam Ballman, Sr, DT –One of the most underrated d-linemen in the conference. Ballman was named Second Team All-GMC as a junior after registering 31 total tackles and a sack.
OTHER RETURNEES
Sal LaRubbio, Sr, DB – Back for his second season as a starter, LaRubbio has 60 career total tackles with an interception.
Jeff Garcia, Sr, RB – Garcia was second on the team with 12 receptions for 200 yards and two touchdowns a year ago. Look for him to be even more productive in '17.
Eddie Brady, Sr, LB – There is plenty to prove for Brady who will be asked to be a leader on an inexperienced defense.
Christopher Whitehead, Sr, FB/LB – In limited action as a junior, Whitehead showed flashes of being special. He ran for 82 yards and averaged 6.3 per carry in just four games.

NEWCOMERS
Avi McGary, Jr, FS – There is a hug upside for McGary who tied for the Tunderhawks lead in interceptions with two, in just three games as a sophomore.
Jack Dobrozsi, Jr, FB – A big bruising back, Dobrozsi could be a touchdown machine in goal-line situations.
PLAYOFF HISTORY
(two appearances, 2-2) – 2014, 2012
2017 SCHEDULE
The addition of an eighth GMC game did no favors for the Thunderhawks. The league is tougher than ever, finishing above .500 will be a tall order. Lakota East must win their two non-conference tilts to keep playoff hopes kindled. There will be big Harbin Points for the taking in conference play. More than plenty opportunities will knock. It will be up to the Thunderhawks to close the deal.
NAIL-BITER HIGH
Five of the Thunderhawks 10 contestsz in '16 were decided by seven points or less. Lakota East was 3-2 in those tilts. In their last 28 outings, 12 have been by seven points or fewer (7-5 overall).
TAKING CARE OF THE BALL
A main reason Lakota East starter last fall 1-3 was that they were minus eight (-8) in turnover ratio. The Thunderhawks reversed their fortunes going plus three (+3) and finishing 4-2 over the final six contests.