2017 Snapshot: East Central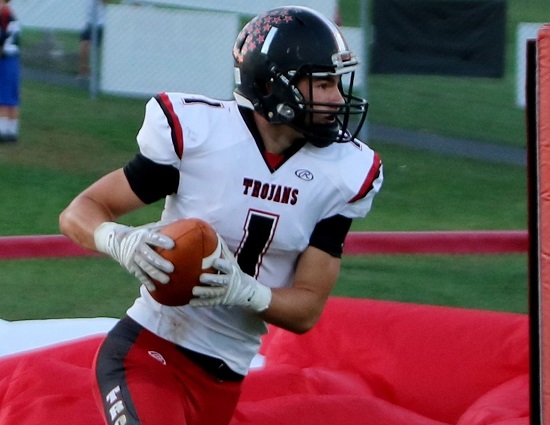 East Central RB Logan Storie (photo by Linda Lyness Maxwell)
East Central looks to make history this fall. The Trojans are coming off back-to-back regional titles. It is just the second time that has happened for the program and first in 22 years. The senior class would love nothing more than to be that special group that brings home a third consecutive title and make this the golden age of East Central football.

How good have the past two years been? In that span the Trojans lost in the state title game in 2015, fell in the state semi-finals by three points to eventual champion Roncalli in '16 while accruing 23 victories. East Central has become a force to be reckoned with.
"Our numbers are fantastic, our strength is solid again. This program is in as good of a place as it has ever been," head coach Justin Roden states." This team is loaded with talent. We will get better each week and will again be a factor in the Indiana 4A state playoffs."
Depth and experience pave the way for the '17 Trojans. Roden loves the defensive interior of this squad and believes they will be really good against the run. The only place that needs help on this side of the ball is in the secondary where the team has to replace four starters.
On offense, all of the skills position players return including junior quarterback Alex Maxwell who is a rising star. East Central will need to protect Maxwell. They lost four starters to graduation on the o-line. The good news is there is plenty of competition vying for those snaps.
Because of what the Trojans have been through the past two campaigns they are viable contender for a state championship. East Central is the real deal and the Hoosier state is now taking them very seriously.
Class 4A, District 23
2016 RECORD: 11-3, 3-0 EIAC 4A; Class 4A state semi-finalist
COACH: Justin Roden (35-17 at East Central, four years; 35-17 overall)
HONOR ROLL
Logan Storie, Sr, RB – A breakout junior campaign saw Storie run for 1,832 yards, haul in eight catches for 158 yards while finding the end zone 23 times (21 rushing, tow receiving). He was named the EIAC 4A Offensive MVP and Class 4A Junior AP All-Indiana for his efforts.
OTHER RETURNEES
Alex Maxwell, Jr, QB – Maxwell was rock solid in his first year as a starter amassing 2,151 yards of total offense (1,302 rushing, 849 passing) and accounting for 27 touchdowns (17 rushing, 10 passing) as a sophomore. He has the potential to reach the same heights as teammate Storie did last fall.
Justin Brown, Sr, TE – A huge target at 6-foot-5 and 220 pounds, Brown had 20 receptions for 244 yards and two touchdowns as a junior.
Hunter Getz, Sr, LT– The 6-foot-1, 310 pound Getz is back for his third year as a starter. He is the anchor and leader of the Trojans o-line.
Jayden Williamson, Sr, FB/ILB – A two-way starter in '16 Williamson will be a team captain this fall. He had 231 yards and a touchdown as a fullback and on defense recorded 56 total tackles a year ago. This will be Williamson's third season as a starter at linebacker.
Keegan Gindling, Sr, DT – Roden praises Gindling saying that "pound for pound he could be the toughest kid in the program." Gindling was in on 32 total tackles, had 4.5 tackles for losses and a sack in '16.
Elliot Johnson, Sr, DL – A high motor d-lineman, Johnson registered 41 total tackles, had five tackles for losses, two sacks and recovered a fumble last season.
Landon Foster, Sr, OLB – A real ballhawk, Foster registered 36 total tackles, had two sacks, six tackles for losses and forced a fumble as a junior.
Tanner Yocum, Sr, OLB – Yocum was the Trojans leader in total tackles with 88 in '16. He also recorded two-and-a-half sacks and had four tackles for losses.
Logan "Buzz" Moser, Sr, OLB – Moser recorded 75 total tackles and had two-and-a-half tackles for losses as a junior.
Eli Krammer, Sr, DB – Krammer will be asked to be a leader in the secondary. He finished '16 with 31 total tackles and had a fumble recovery.
Eric Rosemeyer, Jr, TE/P – A factor on special teams, Rosemeyer averaged 37.7 on 20 punts as sophomore.
NEWCOMERS
The pipeline of talent is not depleted within the underclassmen. "We need to replace four starters on the OL, all were three year starters. There is a lot of young talent and size, but they need time to develop," Roden says. Competing for those jobs up front on offense will be seniors OL Gabe Eckstein, OL Trevor Snipes, juniors OL Michael "Mad Dog" Medlock, OL Brian Brinkman, OL Anthony Bartholomew, OL Cole Rosfeld, sophomore OL Cody Bentley and even the 6-foot-5, 240 pound incoming freshman Luke Collinsworth.
A trio of players will add depth on both sides of the ball with senior ATH Matt Lewis, ATH Isaiah Wheat and sophomore ATH Noah Wheat. Look for senior WR Jake Seiwert to make his presence felt on offense. On defense, juniors DL Gaar Ertel, LB Brett Fox and senior DB Nathan Lloyd will get their shot to make a difference.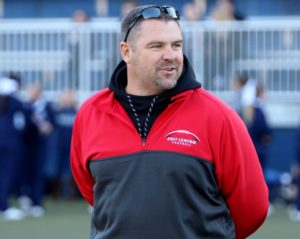 East Central head coach Justin Roden (photo by Linda Lyness Maxwell)
PLAYOFF HISTORY
(74-32 overall)
Sectional Champions (16) – 2016, 2015, 2010, 2009, 2005, 2003, 2002, 2000, 1998, 1996, 1994, 1993, 1992, 1989, 1987, 1985, 1980
Regional Champions (6) – 2016, 2015, 2003, 1998, 1994, 1993, 1985
State Champions (1) – 1994
2016 SCHEDULE
A very challenging schedule will see the Trojans get tested early on. East Central will kick off the season against Class 3A state runner-up Lawrenceburg. The Tigers are back on the slate after a two year hiatus. Lawrenceburg replaces Rushville on the slate. Up next are Ohio Division II state champion, La Salle followed by the "War on 74" rival, Harrison. Then there are five games versus EIAC foes. Then the Trojans will take on Bishop Chatard in the regular season finale. This team should be more than ready for awaits them in the playoffs. "I believe our regular season is all preparation for us to peak in October," Roden says.
RODEN ROLLING
Head coach Roden career got off to a slow start at East Central. The Trojans went a combined 4-10 in their first 14 games under him. Since that point, East Central has gone 31-7 with 11 of those victories being in the playoffs.
PUTTING TOGETHER STREAKS
Over the past three seasons East Central has had winning streaks of eight, five, five, five and four games.
THE 1,300 CLUB
One of the most impressive things about the Trojans last two regional titles is that they have had a pair of players run for more than 1,300 yards in each. The state runner-up club in '15 saw QB Luke Patton ran for 1,712 yards and RB Doug Rosemeyer scampered for 1,442 yards. Last fall it was Maxwell (1,302) and Storie (1,832) that accomplished the feat.