Newburg goes non-stop for Northmont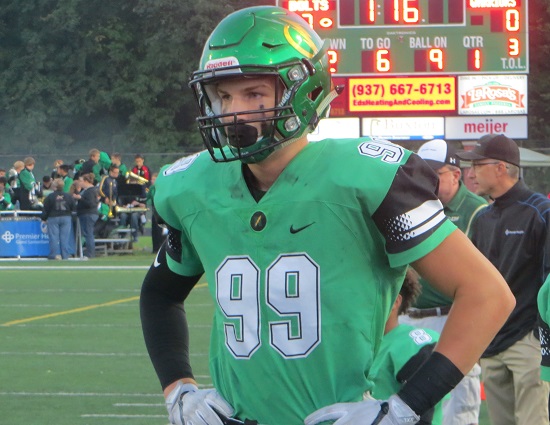 Northmont DE Gabe Newburg (photo by Greg Shoemaker/TSF)
It didn't take long for Northmont defensive end Gabe Newburg to make his presence felt at the varsity level. By Week 4 last season the Thunderbolts stood at 3-1 and sophomore Newburg was being a nuisance to foes. He had three sacks, 14 total tackles, forced a fumble, recovered and returned another fumble for a touchdown, in that span.
The rest of the year he was just as consistent. Newburg finished his debut with 46 total tackles (23 solo) and had one sack in six of Northmont's 10 games. Four of his sacks were against teams that made the playoffs (Northmont played six postseason teams in all). Two of the games in which he didn't get a sack, Newburg recovered a fumble. He recovered three fumbles on the season.
Those efforts earned him Division I Second Team All-Southwest District honors. Newburg was just one of two sophomore's to make first or second team. Linebacker Nick Straw of Lebanon was the other and he also made second team.
"Gabe is a tremendous young man with many positive attributes. His work ethic is amazing. He has a drive to be the hardest worker and to excel both on the field but also in the classroom," Northmont head coach Tony Broering says of his rising star.
The sky is the limit for Newburg. "Gabe will be one of our team leaders next season.  Gabe has the size, strength, speed, and ability to dominate a game.  We are very excited to have him in our program," Broering states.
FINAL TAKE: For fans of the Greater Western Ohio Conference the player the Newburg is most comparable to is Wayne senior and University of Kentucky commit, Alex Reigelsperger and that is a compliment to both players.  Like Reigelsperger, Newburg can be a very disruptive force in backfield. By midseason teams were running away from Newburg. That played into one of his biggest strength – running down the ball from behind. That is the gift of speed that separates Newburg from his peers.
This is a big year for the junior. He is on the cusp of being something very special. The Thunderbolts play a monster schedule and plenty of eyes (college coaches/recruiters) will be at each game on Friday night. This is where Newburg can leave a lasting impression and turn himself into a Division I recruit. Our odds are on Newburg stepping up and answering the call.