2017 Snapshot: Simon Kenton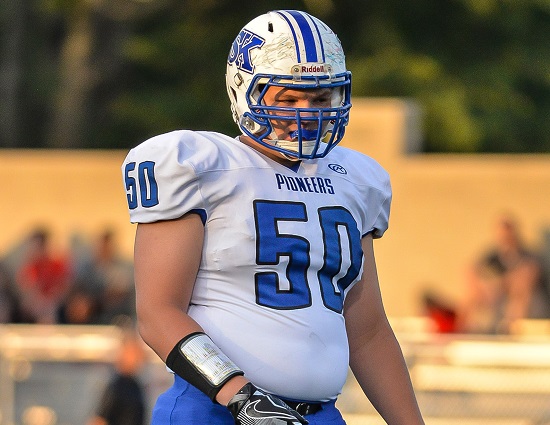 Simon Kenton OL Tanner Mueller (photo by Mike Noyes/TSF)
The current run that Simon Kenton is on very impressive. Four straight years with at least 11 wins and a combined record 47-6 in that span. Seven times in the last nine seasons the Pioneers have won at least 10 games (nine in another season). As good as it all has been the program still seeks that elusive second trip to the state title game.
It is time once again to reload for head coach Jeff Marksberry. He has this program running like a well-oiled machine. You can count on his teams having massive size on the offensive line and his quarterbacks orchestrating, with beauty, a high-scoring and wildly entertaining spread offense. Then there are the seniors whose expectations for and confidence in the program grows, year by year. They are focused on creating their own special chapters of this prosperous period for the school.
Simon Kenton must replace seven starters on defense and six on offense. The defensive side of the ball must see some newcomers step up especially on the line. Despite winning 11 games the Pioneers still gave up an average of three touchdowns per contest. "Even though we are replacing quite a bit on defense, we have some guys on that side of the ball that are really athletic and run really well, that we are excited about," Marksberry states.
The offense has proven players at the skills positions and beef up front. "Even though we lose a three-year starter at quarterback, we feel really good about new starter Matt Shearer and what he produced as a junior. Matt has an experienced line to protect him. Two quality, proven receivers to get the ball to and two solid running backs that will make his job as a first-year starter somewhat easier," Marksberry elaborates.
Only time will tell if this team has what it takes to make it to the promise land. The Pioneers will give it their best shot. This team will have a chip on its shoulder. The seniors are hungry to leave their legacy. Odds are it will be as good if not better than the ones left by the previous four classes.

Class 6A, District 6
2016 RECORD: 11-2 State semifinalist, 2-0 Class 6A, District 6
COACH:  Jeff Marksberry (124-77 at Simon Kenton; 17 years, 124-77 overall)
TOP RETURNEES

Brayden Trattles, Sr, DB – Trattles will head into his senior season with six career takeaways (five interceptions, one fumble recovery) including two pick sixes as a junior. He will also handle return duties for the Pioneers in '17.
JJ Courtney, Jr, DL – Marksberry is fond of Courtney. "He is not the biggest guy (5-foot-9, 230 pounds) but has a great motor and is a great leader." Courtney had 47 total tackles and a fumble recovery as a sophomore.
Jarren Cooper, Sr, DB – A big body in the secondary at 6-foot-1 and 195 pounds. Cooper was in on 48 total tackles and had four interceptions in '16. 

Noah Turner, Sr, OL – As a junior, Turner was named First Team All-NKY for his work up front for an offensive that averaged 438.1 yards of total offense per game. A physical blocker, the 6-foot-2, 285 pound Turner is back for his third year as a starter.
Sam Holt, Sr, OL – Holt was a large reason for the Pioneers offense scoring 83 offensive touchdowns (42 passing, 41 rushing) in '16. The 6-foot-1, 260 pound Holt is back for his third year as a starter.
Tanner Mueller, Sr, OL 6'3 250 – Mueller's move from the d-line to the o-line as a senior is going to make the Simon Kenton offense a beast once again.
Matt Shearer, Sr, QB – There aren't many backup quarterbacks in the entire country who threw for more than 1,300 yards last season but that is just what Shearer. This will be his first year as a starter but he got tremendous experience a year ago. The 6-foot-4, 210 pound right-hander threw for 1,338 yards with 13 touchdowns passing and three more rushing.
Jon Sergent, Jr, RB – The speedy Sergent gets hidden behind those big lineman and then makes the most of it. He ran for 741 yards, averaged 10.7 yards per carry and nine touchdowns as a junior.
Sam Murray, Sr, WR – Murray was second on the team with 37 receptions a year ago. He also finished with 531 yards and five touchdowns receiving. Ivy and Patriot League schools are courting Murray very hard right now so look for him to play at the next level.
Fisher Hayden, Sr, WR – Hayden has big play capability. As a junior he averaged 26.6 yards per catch with 11 of his 28 receptions (for 745 yards) went for touchdowns.
Will Parks, Sr, RB – Parks returns after missing all of '16 due to injury. As a sophomore he played in 13 games running for 189 yards and three scores. He will be a welcomed addition to the offense.
Christian Seger, Jr, K – Became a special teams weapons connecting on 53-56 extra points and 3-4 field goals for 62 total points as sophomore.

NEWCOMERS
Clay Cogswell, Jr, LB – Cogswell is a fast and strong inside linebacker.  His speed will improve the Pioneers defense.
Brandon Smith, Sr, WR – A long target at 6-foot-3, Smith will see his share of opportunities in the wide open Simon Kenton offense.
Justin Sabie, Sr, OLB – There are snaps to be had a plays to be made and Sabie gets a fair shot at capitalizing them.
PLAYOFF HISTORY
Simon Kenton has won at least two playoff games in eight of the last nine seasons. Their combined total of 19 playoff victories in that span is 10 more wins than they were able to muster during the regular seasons from 2001-04 (9-31, four years).
2016 SCHEDULE
The season starts in Week 0 at Meade County. It ends in Week 9 hosting Ryle in what promises to be and epic evening of football. Week 10 is a bye before the playoffs start. Meade County replaces Christian Academy – Louisville and Class 1A state champion Beechwood replaces Scott on the slate. All five of the other northern Kentucky Class 6A schools are on the schedule. Simon Kenton averaged 42.4 points against them a year ago.
LIGHTING UP THE SCOREBOARD
Simon Kenton has averaged 535.2 points a season over the last four years (40.1 points per game, 53 games). They have scored 50 points or more 15 times in their last 47 contests. On 16 more occasions, during that same period the Pioneers have scored 40 or more points.
FIVE FOR TEN
Simon Kenton scored 83 offensive touchdowns in '16. Five players had 10 touchdowns or more – Luke Vance (18), Dylan Hampton (14), Cameron Racke (11), Fisher Hayden (11) and Jon Sergent (10).