2017 Snapshot: McNicholas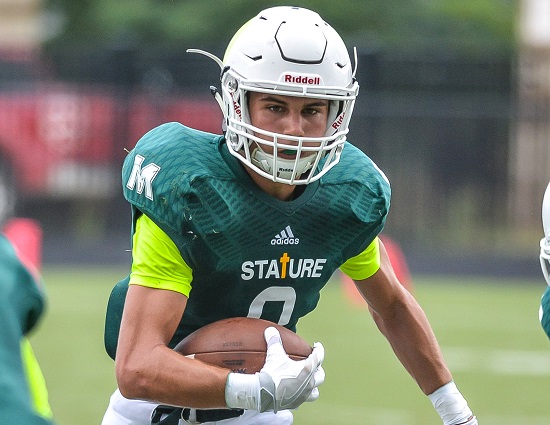 McNicholas QB Cole Burdick (photo by Mike Noyes/TSF)
Sometimes growing pains are just part of life in high school football. McNicholas had to go through that angst last fall. The Rockets finished under .500 for the first time since 2011. With that all behind them, McNick should get back on track as 16 starters returning this season.
"The majority of our starters had to have a lot of on-the-job training in '16 and experienced some adversity along the way. Hopefully we can use that as a foundation for growth moving forward," head coach Mike Orlando states.
The Rocket have the pieces to put the engine back together again but it won't be easy. Outside of their three Greater Catholic League Central division rivals who were a combined 8-22 a year ago the rest of the McNicholas schedule is very difficult. The other seven teams on their slate went a combined 55-23 (.705 winning %) in '15 with four of those opponents making the playoffs. Opportunities knock but it will be a dogfight to earn those victories.

Division III, Region 12
2016 RECORD: 4-6, 4-3 GCL Co-eds
COACH: Mike Orlando (37-28 at McNicholas, six years; 37-28 overall)
TOP RETURNEES
Matthew Isemann, Sr, LB – "Matthew returns for his senior season as the most-veteran player on our defensive unit. He will anchor our front seven. We expect for him to look like the three year starter that he will be," Orlando states. Isemann garnered Division III Special Mention All-Southwest District honors after recording 74 total tackles with two-and-a-half sacks as a junior.

Jackson Gear, Sr, DE – "Jackson proved to be our best defensive lineman last season so we hope he continues to trend in the same direction. He is a tough kid that plays with great leverage and is solid at the point of attack. He will be our leader upfront," Orlando says.  Gear was named First Team All-GCL Central after making 55 total tackles while registering three-and-a-half sacks as a junior.
Sam Martin, Sr, OL – Martin will anchor the Rockets offensive line. A great offseason and commitment in the weight room has put Martin on the path to becoming an all-district performer as a senior. He was named Second Team All-GCL Central as a junior.
Paul Rammel, Sr, OL – Like Martin, Rammel is a leader on the o-line for McNick. He was a First Team All-GCL Central selection as a junior.
Bryan Fehr, Jr, LB – It was a nice varsity debut for Fehr who was named Second Team All-GCL Central after getting in on 52 total tackles as a sophomore.

Cole Burdick, Sr, QB – Burdick played just one game as a junior due to injury. This fall he moves to quarterback. Oralndo sings the praises of his new QB. "Cole played wide receiver his sophomore and junior seasons and is the most dynamic player we have. In addition, he is an elite leader so his presence will go beyond his physical abilities." Burdick has 55 receptions for 636 yards and two touchdowns at the varsity level.
Jake Watford, Jr, RB – A dual threat out of the backfield, Watford ran for a team high 380 yards, had 34 receptions for 321 more yards and found the end zone four times as a sophomore. He earned Second Team All-GCL Central honors for his efforts.
Patrick Dolan, Sr, WR/DB – Dolan should be an integral part of the offense after catching 30 passes for 214 yards as a junior.
PLAYOFF HISTORY
(10 appearances, 9-10) – 2014, 2013, 2012, 2010 (Regional Champion), 2003, 2001, 2000, 1999, 1997, 1985, 1984 (State Runner-up)
2017 SCHEDULE
The Rockets start the season versus three non-conference foes that made the playoffs in '16 – local rivals Turpin, Anderson and then Taft. The last month of the season will be pivotal in seeing just how far this team has come. McNicholas will be at Bishop Fenwick, hosting Chaminade Julienne and then on the road against Alter to start October.
RE-ESTABLISHING THE RUN
The McNicholas rushing attack had a hard time getting it going in '16. The Rockets averaged just 47.1 yards a game and 2.3 yards per carry with just four touchdowns on the ground.
TAKING CARE OF BUSINESS IN THE GCL CO-EDS
The Rockets are a combined 25-10 versus their GCL Co-eds rivals in the last five seasons. Half of those 10 losses have been to Alter.