2017 Snapshot: CHCA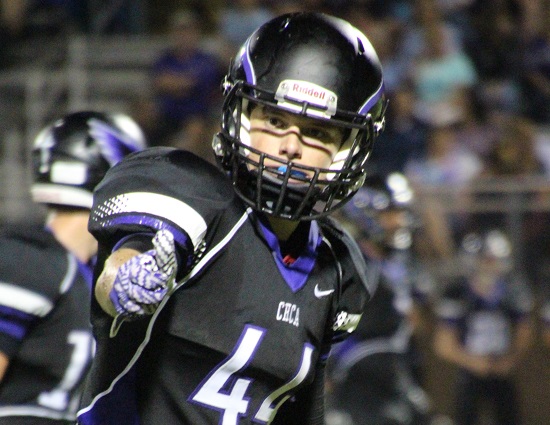 CHCA WR/DE Mason Bernhardt (photo by Dion Daniels/TSF)
The path to the 2017 Region 20 title has just been cleared for CHCA. Postseason powerhouse, Coldwater has moved down to Division VI. The Eagles have had their state championship aspirations crushed by Coldwater in each of the last three playoffs.  With a cast of seniors that has won 19 consecutive regular season games CHCA is equipped to do big things this fall once again.
The Eagles have size on both sides of the line and speed at the skill positions. Head coach Mark Mueller has very few worries with his squad heading into the season. Mueller will have to hope this team stays healthy. Like most small school depth can do real damage to a teams rotation.
Most CHCA players are always well-prepared when their number is finally called after biding their time behind their peers in front of them. It is one of the big reasons the program has been so successful. Next man up at CHCA means next win up for the school.
CHCA has made the playoffs in each of the last seven season and nine of the last 10 years. There are no reasons to think that these Eagles can't continue the flight and soar to even higher heights.
Division V, Region 20
2016 RECORD: 12-1, 4-0 MVC Scarlet
COACH:  Mark Mueller (12-1 at CHCA, one year; 81-25 overall, nine years)
HONOR ROLL
Danny Vanatsky, Sr, QB – It was a not quite flawless but almost junior campaign Vanatsky. He threw for 2,497 yards with touchdown passes and only four interceptions on his way to Division V First Team All-Ohio honors. He also ran for 237 yards and three scores.

Mason Bernhardt, Sr, TE/WR/DL – At 6-foot-5 the rangy Bernhardt can be a menace as a receiver and as a pass rusher. He was named Division V First Team All-Ohio as a receiver after catching 29 passes for 587 yards and 11 touchdowns as a junior. On defense he has 54 career tackles and five forced fumbles.
Ryan Wichmann, Sr, OL/DL – Arguably the best offensive lineman in Region 20. Wichmann was a Division V Special Mention All-Ohio selection as a junior. The 6-foot-5, 285 pound Wichmann has offers from Bowling Green, Brown, Dartmouth, Holy Cross, Mercer and Toledo.
Darian Woods, Sr, OL/DL – A special part of a defensive line that has the potential to be dominant in '17. He garnered First Team All-MVC Scarlet recognition after recording in on 45 tackles including six tackles for losses as a junior.
OTHER RETURNEES
Austin Young, Sr, CB – An inexperienced secondary will look to Young for guidance.
Peyton Breese, Sr, OL/DL – This season Breese will be called upon to provide leadership on the o-line.

Kyler Mueller, Sr, OL/DL – A returning starter and vital piece of the d-line. Mueller finished with 45 total tackles as a junior.
Paris Simpson, Sr, LB – Was in on 33 total tackles and had an interception in his varsity debut as a junior.
Kris Carnes, Sr, WR/DB – Carnes will play a larger role in the passing game as a senior. He has 42 receptions for 612 yards and three touchdowns at the varsity level.
Noah Harrison, Sr, RB/LB – A valuable commodity on both sides of the ball, Harrison is primed for big senior campaign.
Alex Barnard, Jr, RB/DB – Barnard really came on strong late in '16 running for 291 of his 488 yards on just 18 carries over the last four contests, including three playoff games. As long as he takes care of the football Barnard should be well on his way to a 1,000 yards season. He finished his sophomore year with 982 all-purpose yards and six total touchdowns.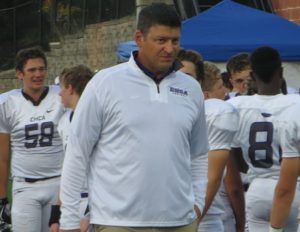 CHCA head coach mark Mueller (photo by Greg Shoemaker/TriStateFootball.com)
PLAYOFF HISTORY
(12 appearances, 14-12 overall) – 2016, 2015, 2014 (Regional champions), 2013, 2012, 2011, 2010, 2008, 2007, 2005 (State runner-up), 2003, 2002
2017 SCHEDULE
The Eagles will be challenged big time. They have non-conference tilts against Wyoming and Indian Hill. In Miami Valley Conference Scarlet play Norwood and Summit Country Day will be handfuls to deal with. Coming out of this season without a blemish will be quite a feat.
PERFECTION GUARANTEED
Three times in the last four seasons (since '13) CHCA has finished the regular season without a loss. Before that the Eagles last undefeated campaign was in '08.
LIGHTING UP THE SCOREBOARD
In the Eagles last 19 consecutive regular season wins they averaged 45.1 points per contests. They have not scored less than 33 points in any of those victories. Five times in the last 13 wins they have topped the 50-point mark.
DEFENSE WINS CHAMPIONSHIPS
Over the last 59 games CHCA has gone 52-7 and defense has been a large reason for that success. The Eagles have recorded 17 shutouts in those 52 victories. They have held 12 more opponents to seven points or fewer in that span. Five of those seven CHCA loses have been in the playoffs.