2017 Snapshot: Covington Catholic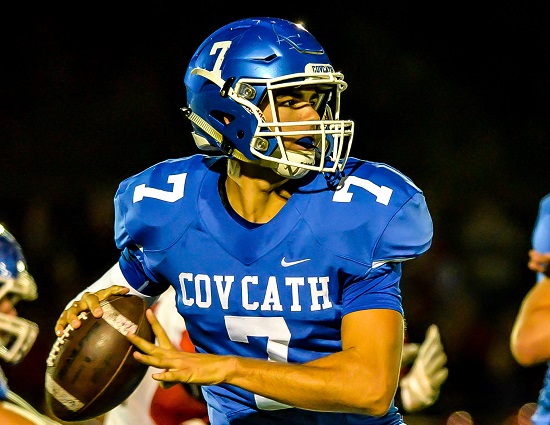 Covington Catholic QB AJ Mayer (photo by Mike Noyes/TSF)
Lights, camera, action, Covington Catholic will play night football on its home turf at Wooten Field for the first time in school history this season. There is an excitement and a real positive vibe about the program which started in 1967. The Colonels have some of northern Kentucky's top talent and there couldn't be a better time than turn the page and write the next chapter.
The team is coming off a nine-win campaign which was a four game improvement from '15 in head coach Eddie Eviston's first year at CovCath. Aspirations and expectations are high for Eviston and the Colonels after getting to the third round of the playoffs in each of his two campaigns. It has been five straight years that Covington Catholic has failed to get past the third round of the postseason. There is no better time than the present to exorcise those demons.
There are gaps to fill for this team. "One of our biggest needs is to replace the graduating seniors (12 starters total) up front on both sides of the line," says Eviston. The concern from the coach is warranted. The Colonels gave up 25.7 points a game in '16.
A big reason for the buzz about this squad is the experience that returns at the skill positions. An explosive Covington Catholic offense averaged 38.9 points per contest a year ago. The unit is led by returning Class 5A, District 5 Player of the Year, quarterback AJ Mayer. Under Mayer's command the Colonels put up 44 points or more six times in his junior season. The scary thought is that the CovCath could be even more dangerous in '17 if the line comes together. Teams will have a hard time matching them on the scoreboard.
All the ingredients are there for a magical season. Friday night lights at Wooten Field, a hungry senior class and their motivation to be special should fuel the fire and desire. The Colonels will be well prepared under Eviston and if they stick to their roles, great things are going to happen for them this fall.
Class 5A, District 5
2016 RECORD: 9-4, 3-0 Class 5A, District 5
COACH: Eddie Eviston (14-12 @ Covington Catholic, two years; 49-20 overall, five years)
HONOR ROLL
AJ Mayer, Sr, QB – Mayer was named the Class 5A, District Player of the Year and a TriState Football NKY Offensive Player of the Year finalist after amassing 2,974 yards of total offense (2,461 passing, 513 rushing) and accounting for 31 touchdowns (20 passing, 11 rushing) as a junior. The 6-foot-3, 200 pound Mayer is the complete package and has verbally committed to Miami (OH). He hast thrown for 4,469 yards, ran for 1,154 yards and accounted for 56 touchdowns (37 passing, 19 rushing) at the varsity level.
Kam Butler, Sr, TE/LB – One of the best defensive players in the bluegrass state. Butler scored three defensive touchdowns and had eight sacks as a junior. That earned him First Team All-NKY honors. He has been an absolute beast on defense with 153 total tackles, nine-and-a-half sacks, a fumble recovery for a touchdown, six interceptions and two pick sixes in his career. Butler will join teammate Mayer in Oxford, having verbally committed to Miami (OH).
Casey McGinness, Jr, RB – There was no sophomore jinx for McGinness. He took his postseason performance as a freshman and elevated it last fall. McGinness showed opponents that he could beat them in so many different ways putting up 2,197 all-purpose yards, 1,338 yards rushing, had 19 receptions for 313 yards and found the end zone 16 times (14 rushing) last fall. He was named Second Team All-NKY for his efforts.
Grant Dyer, Sr, RB/LB – One of the most underrated players south of the river. He has run for 565 yards and eight touchdowns during his career. Dyer has offer from Ivy League and Patriot League schools which include Bucknell.
OTHER RETURNEES
Malachi Pike, Sr, WR/FS – Pike averaged 20.7 yards on 18 receptions with three touchdowns as a junior. He could easily double those numbers this fall. Look for him to see plenty of snaps in the secondary as well.
Jack Maile, Sr, OL/LB – A polished and dependable veteran, Maile has 127 total tackles in his career.
Adam Schneider, Sr, DB – The leader of the secondary, Scheider was in on 30 total tackles and had two interceptions in '16.
NEWCOMERS
Michael Mayer, So, TE/DE – There is a tremendous upside for Mayer who comes from great football genes.
Lucas Jones, SO, OL – Jones has the chance to be another one of the Colonels many All-NKY linemen by the time he is finished.
2017 SCHEDULE
The Colonels will be challenged immensely. Don't expect CovCath to go through the regular season without a loss. That doesn't mean they can't go through the playoffs unbeaten after facing this grueling slate to prepare them for the postseason. The first six teams on the Covington Catholic schedule [RYLE, at LexCath, COOPER, at Kings (OH), at Beechwood and COL. DE SALES (OH)], before the teams Week 6 bye were a combined 61-17 for a .782 winning percentage in '16.
The "easy" part of the schedule is after the bye. Down the stretch, CovCath will host BISHOP CHATARD (IN) and HIGHLANDS then go on the road at Dixie Heights followed by the finale at Campbell County. All four of those schools will be improved over last season and quite possible riding high on momentum and emotion when facing the Colonels.
EIGHT OR MORE
Five times in the last six years CovCath has won eight games or more. They have 57 total victories (33 loses) since '10.
THREE OR MORE
For 23 straight years (since '94) the Colonels have lost at least three games. In that span Covington Catholic has won three state titles, a district title and have had six seasons of 10 wins or more.
SPREADING THE WEALTH
No CovCath player had more than four touchdowns receptions in '16. The Colonels had 10 different players catch touchdown passes from Mayer. Three players ran for 10 or more touchdowns accounting for 35 of team's 44 rushing scores. They had five other players run for a touchdown.