Size doesn't matter to Durso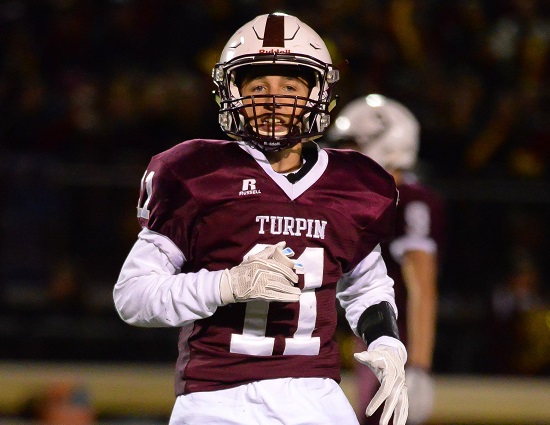 Turpin DB Griffen Durso (photo by Mike Noyes/TSF)
The Turpin roster listed defensive back Griffen Durso at 5-foot-6 and 130 pounds last fall, before his junior season. The good news is that was three inches and 27 pounds more than when he made his varsity debut a year earlier.
Despite the lack of physical tools Durso has been a starter for the Spartans for two seasons and earned Second Team All-ECC honors as a junior. What he lacks in size he makes up for with productivity. Durso heads into his senior campaign with 85 total tackles, a sack, a fumble recovery and seven interceptions at the varsity level. To put it in perspective most defensive backs average around 25-30 total tackles and a couple of interceptions per year. Quite simply the relentless Durson is a classic "undersized, overachiever."
How valuable has Durso been to the Turpin defense? Over the past two seasons the Spartans have gone a combined 21-3. In 2016, the secondary allowed just five touchdown passes and helped a stingy Turpin defense hold foes to just 12.1 points per game. Just nine times in 20 regular season contests with Durso as a starter has the opposing quarterback thrown a touchdown pass against the Spartans defensive backfield.
TSF's TAKE: Durso's credentials on the field speak for themselves. He has proven that his body can take and bounce back from blows.
Unfortunately, chances are that Durso probably isn't going to get any small school college offers because of his size and that is a shame. The coaching staff and university that is willing to take a flyer on the youngster will be pleasantly pleased. They will find out they have a class act whose relentless style and attitude is infectious. He will compete for playing time if given the opportunity and that will make others around him better.
Few players get as much out of their bodies as Durso does and that is what sets him apart from his peers. Pound for pound there aren't many better in Cincinnati than Durso.