2017 Snapshot: Taft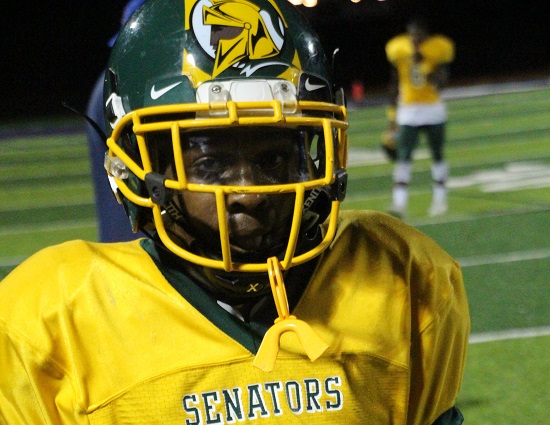 Taft RB/WR/DB Demarco Bradley (photo by Dion Daniels/TSF)
All four of the playoff appearances for Taft have come in the last seven years. The program has been able to withstand the loss of mega-stars (Adolphus Washington and Dwayne Stanford) and survived a coaching change in that span. Handling adversity is what sustainability is built upon. The 2017 Senators have the chance to do what none before them have been able to accomplish by becoming the first group to make the postseason in three straight campaigns.
"Our speed and athleticism will be our strength," head coach Jeff Cargile says. The Taft skill positions players will be the beneficiaries of the opportunities that a very polished offensive line creates for them.
There is some pause for concern. "We are young and lack of varsity experience (in some areas)," states Cargile. The Senators have to replace six First Team and two Second Team All-Southwest Ohio Public League performers that were lost to graduation. The veterans that return know how to win and have played a ton football with most having started or lettered since they were freshman. This group will be called upon to guide the youngsters. Leadership should not be an issue. It will be one of the best traits of this team.
A treacherous trek to the postseason lies ahead for Taft. The schedule is loaded with quality opponents. This is a golden opportunity for the Senators take the next step, earn the playoff berth and win in November. Very lofty but feasible goals for a Taft squad that is clearly the master of its own destiny.
Division IV, Region 12
2016 RECORD: 8-3, 6-0 SOPL American
COACH: Jeff Cargile (8-3 at Taft, one year; 8-3 overall)
HONOR ROLL
Chrisseon Stringer, Jr, WR/DB – A rising star, Stringer is an explosive offensive threat and reliable defender. He was named Division IV Special Mention All-Southwest District and First Team All-SOPL American. After hauling in 35 receptions for 539 yards with 12 receiving touchdowns as a sophomore. Stringer heads into his junior campaign with 53 receptions for 1,100 yards, 17 touchdown catches, 78 total tackles and 20 total touchdowns at the varsity level.
Demarco Bradley, WR/RB/DB – Bradley can hurt foes in so many different ways. Get the ball into his hands and magical things happen for the Senators. He touched the ball 59 times as a sophomore for 676 all-purpose yards (342 rushing, 181 receiving, 153 returns) and found the end zone nine times (six rushing, two receiving, one punt return). His efforts earned him Division IV Special Mention All-Southwest District and First Team All-SOPL American accolades.
Antoine Howard, Sr, DL/OL – The 6-foot-5, 290 pound Howard came of age in '16. He tallied 93 total tackles, had seven-and-a-half sacks, forced four fumbles, recovered two fumbles and returned one of those for a touchdowns on his way to Division IV Special Mention All-Southwest District and Second Team All-SOPL American honors.
Dashawn Lawrence, Sr, QB/WR/S – Lawrence has thrown for more than 2,400 yards with 33 touchdown tosses in his two years as a starter under center. He was a Division IV Special Mention All-Southwest District and Second Team All-SOPL American selection as a junior.
Derrian Anderson, Sr, OL/DL – A four-year starter, Anderson is a staple on both sides of the line. He was an Honorable Mention All-SOPL American pick in '16.
Antwan Travis, Sr, OL/DL – Not the biggest of linemen but work ethic vaulted Travis to Honorable Mention All-SOPL American honors as a junior.
OTHER RETURNEES
Marques Sherman, Jr, OL/DL – Look for Sherman to have a breakout '17 campaign.
Devontae Allen, Jr, TE/DL – Strong and long enough to move the opposition out of the play, Jones has all the physical tools to be special.
Breon Jones, Sr, RB/WR/DB – Played in seven games and had 27 total tackles as a junior. Look for Jones to have a bigger role in the offense after catching four passes for 66 yards and a touchdown in '16.
NEWCOMERS
Cargile is looking for a trio of juniors LB Ricold Moore, LB Izaiah Cunningham, RB/LB Anthony Murphy along with a pair of sophomores DL Antonio Williams and RB Anthony Gaulden to step up and make their presence felt. Moore came on strong in limited playing time late last fall running for 30 yards or more four times in the final five regular season contests. The 300-pound Williams was in on 15 total tackles as a freshman.
Junior Cleveland Farmer, a transfer from Woodward, brings an interesting dynamic to the Senators backfield at 6-foot-3 and 235 pounds. His presence will allow Cargile to move around Lawrence into other positions in order to take advantage of his skills set. Farmer threw for 114 yards and two touchdowns in limited time under center at Woodward last fall.
PLAYOFF HISTORY
(four appearances, 0-4) – 2016, 2015, 2011, 2010
2017 SCHEDULE
We will find out plenty about this team during the first four weeks of the season. Taft opens with three straight tough road tests – at Division II Mount Healthy, then it is off to Wyoming and wrapping it up at McNicholas. Then SOPL American play starts with Aiken who is coming off its first playoff appearance in school history.
Also on the schedule are non-conference affairs with Toledo Scott and Zanesville as well as league rival Dunbar. Seven wins versus this slate should be enough to get the Senators into the playoffs.
DEFENSE WINS CHAMPIONSHIPS
Five times in '16 the Senators held their opponents to 14 points or fewer. CHCA (33) was the only team to score more than 30 points on Taft. It is a big improvement from '15 when five teams topped 37 points or more on the Senators.
VICTORY LAPS
If you include last fall's forfeit win over Dunbar, Taft was been victorious in 15 of its past 17 regular games. The only defeats for the Senators in that span are to Wyoming by three and CHCA by six.