Schedule Sneak Peek: Taylor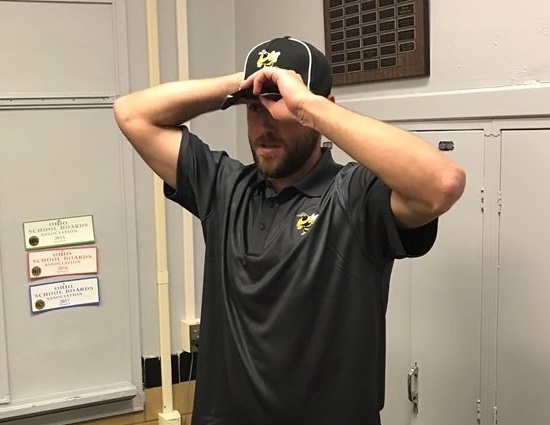 Taylor head coach Mark Miller (photo from Taylor Athletics)
A big hurdle for Miller will be getting his Yellow jackets to be competitive against upper echelon foes. Against the five teams that with winning records last season the Yellow Jackets were outscored by an average of 45.0 to 3.0 points per contest.
In the month of October, Taylor must avoid mental fatigue and physical aches and pains as their Cincinnati Hills League slate sees four hungry teams looking to take the sting out of the Yellow Jackets. All four of the final months games are against squads who all promise to be just as good if not better than they were last fall.
Here is a look at the 2017 Taylor schedule:
Fri – 08/25/17 – LAWRENCEBURG – 7:00 PM
Fri – 09/01/17 – @New Richmond – 7:00 PM
Fri – 09/08/17 – @Norwood – 7:00PM
Fri – 09/15/17 – @Wyoming – 7:00PM
Fri – 09/22/17 – DEER PARK – 7:00PM
Fri – 09/29/17 – @Finneytown – 7:00PM
Fri – 10/06/17 – INDIAN HILL – 7:00PM
Fri – 10/13/17 – MARIEMONT – 7:00PM
Fri – 10/20/17 – @Reading – 7:00PM
Fri – 10/27/17 – MADEIRA – 7:00PM
FINAL TAKE:
The is an excellent opportunity for young Miller who was the '08 Ohio Division I Co-Offensive Player of the Year and the TriState Football Cincinnati Offensive Player of the Year after he led Elder to a state runner-up finish. He ended up throwing for 3,331 yards and 31 touchdown passes that season before going on to have a fine college career at Ohio Dominican.
Miller was never fazed by the big game. He was always the "loosey-goosey" guy. It is a rare quality and is a teammate that every player loves to be around. Not every has those gifts but great teams become on field persona of their coaches. Hopefully, Miller gets enough time to see if he can get his players to "buy in" to him but '17 may not be the best season to base that judgement on. This fall is going to be trying for Taylor. Most nights the Yellow Jackets are going to be the underdog. They have to find a way to make that work to their advantage. Miller is a great choice to forge that foundation.