2017 Snapshot: Wayne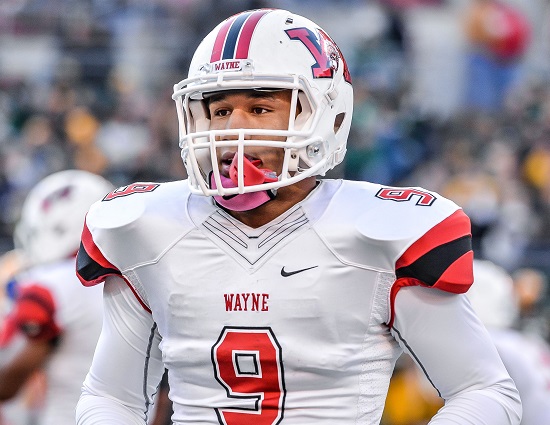 Wayne WR L'Christian "Blue" Smith (photo by Mike Noyes/TSF)
Wayne has staked its claim. The Warriors have been the best public big school football program in Ohio over the past four seasons. They are equipped to continue their success in 2017.
The merits of Wayne speak for themselves. "Over the last four years this program has gone 49-6-1 with two state runner-ups and two and two appearances in the regional finals. With that said, the efforts must exceed the expectation in order to keep producing these numbers for this program," Warriors head coach Jay Minton states.
Minton's squad will have speed and strength as its quality traits. Overe the past several years, Wayne's depth has been hurt by "pay to play" guidelines that help fund the school systems athletic prgrams. The top tier players are as good as anyone but lack of numbers has hindered competition below that level. A key injury here or there and the Warriors could be a house of cards waiting to fall.
As long as Wayne stay's healthy they will be in the hunt for another trip to the regional finals. The returning veterans have played a ton of football and know how to win. They are not in awe of any opponent and that will serve this team well as the season progresses.

Division I, Region 3
2016 RECORD: 11-1-1, 4-1 GWOC National East
COACH: Jay Minton (173-50-1 @ Wayne, 19 years; 226-74-1 overall, 26 years)
HONOR ROLL
L'Christian "Blue" Smith, Sr, WR – Silky smooth and gracefully fast are just two of the many complimentary adjectives used to describe Smith. He was named Division I First Team All-Ohio as a junior after catching 43 balls for 736 yards and nine touchdowns despite being double and triple teamed on most every play. Smith heads into his senior year with 109 receptions, 2,323 receiving yards, 28 receiving touchdowns and 2,408 all-purpose yards at the varsity level. Blue's offers currently include Alabama, Duke, Iowa, Kentucky, Michigan, Michigan State, Notre Dame, Ohio State, Penn State, Pitt, Purdue, Rutgers and Tennessee.
Alex Reigelsperger, Sr, DE – One of the premier pass rushers in the state, Reigelsperger was named Division I Second Team All-Southwest District as a junior. He has 13.5 career sacks. Reigelsperger has verbally committed to the University of Kentucky.
Rashad McKee, Jr, QB – No one expected the kind of productivity that McKee gave Wayne as a sophomore. He threw for 2,257 yards with 23 touchdown passes while also running 377 yards and a score. That effort earned him Division I Second Team All-Southwest District honors.
Demetrius Ross, Sr, DB – A pleasant surprise in '16, Ross showed he was one of the best cover men in the GWOC. He finished with 31 total tackles and two interceptions on his way to being named First Team All-GWOC East.
OTHER RETURNEES
Steven Victoria, Jr, WR – A safety outlet in the check down offense, Victoria hauled in 16 passes for 173 yards and two scores in as a junior.  He had at least one reception in 10 games but never more than 34 receiving yards in a contest.
Joel Crain, Sr, OL – The 6-foot-2 and 290 pound Crain will be the leader of the offensive line.
Joseph Crain, Sr, DE – A breakout junior campaign saw Crain get in on 41 total tackles with two sacks.
Jacob Padilla, So, OL – One of just four freshmen on last season's roster and for good reason. The 6-foot-2 and 260 pounds Padilla has all-conference talent.
Garrett Russell, Sr, K – Russell was dependable and reliable as a junior. He connected on 43/44 extra points and 6/8 field goals for 61 points.
Josh Wills, Jr, DE – A solid varsity debut saw Wills get in of 26 total tackles and recover five fumbles.
NEWCOMERS
The Warriors need some help in the secondary and will look to juniors DB Brian Hill and DB Zarik Brown to fill the voids. Also on the defensive side of the ball senior DE Brody Lundeen adds to an already deep rotation on the line.
PLAYOFF HISTORY
(19 appearances, 24-19) – 2016, 2015 (State runner-up), 2014 (State runner-up), 2013, 2012, 2010 (State runner-up), 2009, 2008, 2006, 2005, 2003, 2002, 2000, 1999 (State runner-up), 1994, 1990, 1989, 1988, 1987
2017 SCHEDULE
The Warriors start the year off with a nationally televised game on ESPN 2 at Pine-Richland (PA). The Rams are a team that mirrors Wayne with an explosive offense and a stingy defense.  The next four non-conference games are at Olentangy Liberty, then hosting Clarkson (CAN) and Miamisburg and back on the road at Northmont before GWOC National East play begins. The last two games against Springfield and Trotwood-Madison will be critical to win as it will help the Warriors playoff seeding immensely.
LIFE STARTS AT 50
Wayne lit up the scoreboard for 50 points or more five times during a 10-game stretch last fall. The Warriors have topped the 50-point mark 13 times in their last 34 tilts.
TOUCHDOWN TYRANTS
The Wayne offense has found the end zone 60 times or more in each of the past four campaigns – 61 TDs in '13, 76 in '14, 78 in '15 and 67 in '16 for a total of 282 offensive touchdowns. In that same span the Warriors defense has hit paydirt 18 times (10 interceptions returns, eight fumble returns) while the special teams has added eight more touchdowns (five punt returns, three kickoff returns).
DEFENSIVE WINS CHAMPIONSHIPS
Over the last three campaigns the Wayne defense has been stellar. In those 43 games the Warriors have posted nine shutouts, held another 10 foes to nine points or fewer and a nine more opponents between 10-17 points. Wayne is a combined 38-4-1 in that span with three of those losses in the playoffs.