2017 Snapshot: Mariemont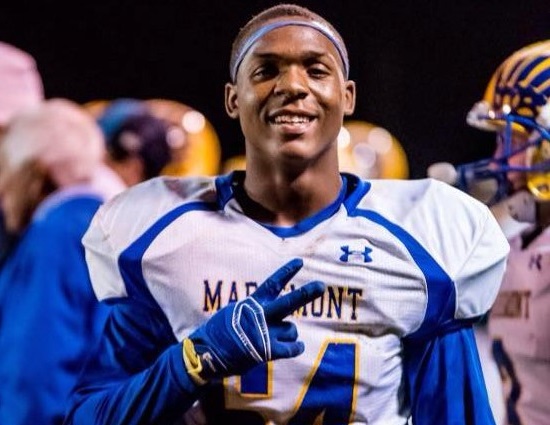 Going 8-2 and not making the playoffs is a tough pill to swallow but it is what motivates Mariemont in 2017. The Warriors are coming off a fine season that ended to abruptly. A group of battle-tested players are ready to prove that they are one of the eight best teams in Division V, Region 20.
"We have a lot of experience in trenches on both sides of ball. Our quarterback is experienced and the teams has a great work ethic," head coach Kurry Commins lament about his Warriors. Commins is just six wins shy of 100 for his career. This group of seniors would love nothing more than to get him to that mark.
Mariemont will cherish possessions and with the cast they have in the backfield they will put plenty of points up on the scoreboard. This program has won the games it was supposed in the Commins era. It now needs to solve the mystery of beating the Cincinnati Hills League's upper echelon. Winning against opponents of that caliber is the only thing stands in the Warriors way of not only getting into the playoffs but putting themselves in a position to host a first round contest.
Division V, Region 20
2016 RECORD: 8-2, 5-2 CHL
COACH: Kurry Commins (28-14 at Mariemont, four years; 94-63 overall, 15 years)
HONOR ROLL
Alec Vianello, Sr, RB/DB – The team's top running back, Vianello heads into his senior campaign with 967 yards rushing, 1,200 all-purpose yards and 12 touchdowns at the varsity level. He was named First Team All-CHL in '16. Vianello is a team captain and a three-year starter.
Jacob Gunner, Sr, OL/LB – A First Team All-CHL selection as a junior. Gunner is a team captain and a three-year starter.
Wally Renie, Jr, QB – All Renie did as a sophomore was amass 2,050 yards of total offense (1,503 passing, 547 rushing) and account 25 for touchdowns (16 passing, nine rushing) while throwing just four interceptions with no fumbles. Fr his efforts, Renie was named Division IV Special Mention All-Southwest District and Second Team All-CHL (behind '16 Division IV Ohio Offensive Player of the Year, Andrew Marty (Wyoming) and '15 Division IV Ohio Offensive Player of the Year, Reed Aichholz (Indian Hill)). That's alright the "Renie-acs" still the next two seasons to watch this rising star work his magic.
Charlie Cowart, Jr, WR/LB, – One the top sophomores in the CHL a year ago Cowart was in on 66 total tackles with a sack and two interceptions. On offense, he had 17 receptions for 226 yards and two touchdowns. Cowart was named First Team All-CHL for his efforts. zHe has already verbally committed to play lacrosse for the Air Force Academy.
Marshown Curtis, Sr, OL/DL – A Second Team All-CHL pick as a junior, Curtis is the leader of the defensive line. He has 92 total tackles and five sacks in his career.
TOP RETURNEES
Max Geers, Sr, OL/DL – Geers is back for his third year as a starter. He was a big reason why Mariemont amassed 3,407 yards of offense in '16.
Luis Hernandes, Sr, OL/DL – the 5-foot-8, 215 pound Hernandes uses leverage to his advantage. e isHeH He is a vital cog on the o-line.
Daniel Cascella, Sr, RB/DB – Despite playing in just five games last fall Cascella showed he could be a factor. He was huge against Taylor coming up with an 80-yard interception return, a 53-yard scoring catch and a touchdown run.
Brady Holliday, Sr, WR/DB – An asset in all phases of the game. On defense, Holliday had 27 total tackles as a junior. On offense, he threw a 54-yard scoring toss, caught five passes for 55 yards with a touchdown reception and ran for 60 yards. Holliday also racked up 165 total return yards including a 67-yard punt return touchdown on special teams.
MJ Griesmer, Sr, TE/LB  – Griesmer has recorded 80 total tackles in his last 14 games.
NEWCOMERS
Justin Taylor, Jr, WR/DB – Commins is looking for Taylor to become a productive member of the varsity squad.
Jake Perkins, Jr, OL/DL – Perkins emergence on both sides of the line will be a big boost to the Warriors depth up front.
PLAYOFF HISTORY
(12 appearances, 8-12 overall) – 2014, 2013, 2005, 2003, 1996, 1995 (State Runner-Up), 1994, 1991, 1990, 1984, 1980 (State Runner-Up), 1974 (Regional Champions)
2017 SCHEDULE
Mariemont has won 11 consecutive non-conference games.Winning one or both of the first two tilts on the schedule will be far harder to do than the previous 11 were. The Warriors kickoff with what should be a much improved Oakwood squad. Up next it will be an audition versus one of its peers as it is off to Blanchester. It is a crucial Week 2 game that could potentially keep the loser out of the playoffs in Division V, Region 20.  The CHL portion of the slate really only has one tough stretch, at Madeira then at Indian Hill in Week 5 and Week 6. Mariemont will host Wyoming in Week 9.
TAKING IT UP A LEVEL
The Warriors have gone 27 straight games (17 victories) without beating a team that finished the year above .500. Their last win versus a team that finished a season with a winning record was September 19th, 2014 when Mariemont beat Indian Hill (5-4), 28-17. Four of the Warriors first 11 wins under Commins came against teams that finished the year above .500.
THOSE FABULOUS 30's
Mariemont averaged 32.0 points per game in '16. In seven of the Warriors eight wins they scored at least 30 points. It was the first time in more than a decade that the program averaged more than 30 points per contest.