Woycke wields arm for big results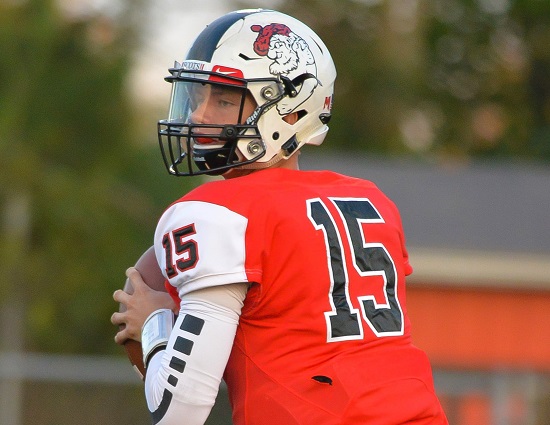 Oak Hills QB Jacob Woycke (photo by Mike Noyes/TSF)
Things haven't always been smooth sailing for Oak Hills QB Jacob Woycke (why-key) in his two years as a starter. As a sophomore, turnovers got best of the youngster but he still led the Greater Miami Conference in passing yards and touchdown passes on his way to Second Team All-GMC honors. As a junior, a new head coach, new offensive system and a year under his belt saw Woycke cut his interceptions total by 18 while becoming more efficient. He was named First Team All-GMC for the effort.
Woycke heads into his senior campaign feeling good about where he is at on this journey. He just received his first offer from Butler. There will be more to come. Football ta the next level is definitely in the cards.
The 6-foot-3, 190 pound signal-caller has put up some pretty impressive numbers in just 20 career games. Here is a look at Woycke, By The Numbers.
2 – Rushing touchdowns as a sophomore and a junior
2 – Most rushing touchdowns in a game (vs. Covington Catholic – 8/25/16)
3 – Games of 300 yards passing or more in his career
4 – Rushing touchdowns in his career
6 – Most passing touchdowns in a game (vs. Sycamore – 10/9/15)
7 – Games with three or more passing touchdowns in his career
9 – Games of 300 yards passing or more in his career
13 – Games with 20 completions in his career
13 – Games with two or more passing touchdowns in his career
15 – Games of 200 yards passing or more in his career
19 – Passing touchdowns as a junior
23 – Passing touchdowns as a sophomore
42 – Passing touchdowns in his career
45 – Most completions in a game (vs. Loveland 9/11/15)
70 – Career high rushing yards in a game (at Middletown – 9/18/15)
72 – Passing attempts in a game (vs. Loveland 9/11/15)
184 – Yards rushing as a junior
293 – Yards rushing as a sophomore
415 – Career high passing yards in a game (vs. Sycamore – 10/9/15)
459 – Career high yards of total offense in a game (vs. Covington Catholic – 8/25/16)
470 – Completions in his career
477 – Yards rushing in his career
470 – Passing attempts in his career
2,500 – Yards passing as a junior
2,947 – Yards passing as a sophomore
5,447 – Yards passing in his career
5,924 – Yards off total offense in his career