2017 Snapshot: La Salle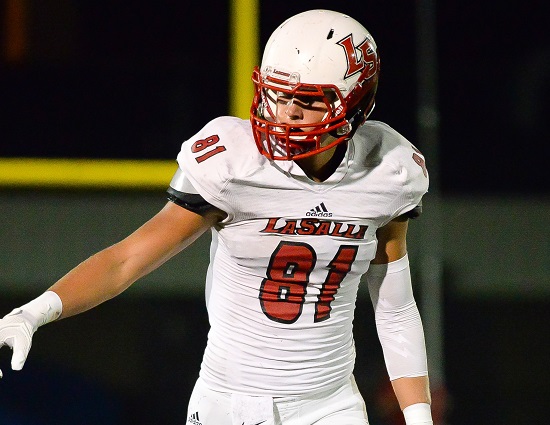 La Salle WR John Whyle (photo by Mike Noyes/TSF)
What La Salle accomplished last season will go down as one of the greatest campaigns in Cincinnati preps football history. The Lancers won their third consecutive Ohio Division II state championship. They also went undefeated in Greater Catholic League South play including beating Division I state champion, St. Xavier.
What is so amazing about the schools recent success is how the players have handle adversity through the past three years. The school has seen a change at athletic director and now the football program will be on its third head coach in the last four seasons. Former Princeton head coach, Pat McLaughlin takes over for Jim Hilvert who led La Salle to back-to-back, 13-2, state title seasons during his tenure.
Winning a fourth consecutive crown is going to be a tough trek. "We lost many talented players from last year's state championship team. We need to see if the new group can create their own identity and keep growing the traditions of LaSalle football," McLaughlin, a Moeller alum states.
In all, 12 starters are gone from the 2016 squad. Those that do return have been thoroughly battle-tested. "I like our leadership and defense. We have a good mix of young talent and experienced players," McLaughlin laments.
As with all new head coaching staffs there are concerns. McLaughlin has his. "We are installing a new offense and defense. So how fast can the players pick it up and begin to execute a high level will be key to our success." With the veterans that are back there should be no problems with adjusting. In fact, McLaughlin who is the head coach at his third school had led offenses that have been explosive and exciting right out of the gate to start seasons.
This La Salle team will have a totally differently personality that the three that preceded them. The Lancers defense will shine throughout the year. What fans can look forward to is an offense where the wealth is spread around. Expectations should be high but the way this team gets to the end result will be far different than of those that came before them. The good news is that this seems to already the character intangible already built into it. That will bode well for La Salle throughout the season
Division II, Region 8
2016 RECORD: 13-2, 13-0 GCL South (Division II State Champions)
COACH: Pat McLaughlin (0-0 at LaSalle, first year; 19-12 overall, three years)
HONOR ROLL
Josh Whyle, Sr, TE – It seems like a match made in heaven, Whyle in McLaughlin's offensive scheme. Coach is going to maximize the complete frame of the 6-foot-7, Whyle and all of his natural talents. Whether it is going down the middle field, utilizing his wing span to get separation off the line and speed to get behind a secondary for long pass or a "jump ball" pass in red zone situations, Whlye is going to find himself a primary option in this offense, plenty. He was named First Team All-GCL South after catching 40 balls for 563 yards and six touchdowns in '16. Whyle has verbally committed to Cincinnati.
Griffin Merritt, Sr, QB – A Division II Second Team All-Southwest District and First Team All-GCL South performer after throwing for 1,930 yards with 21 touchdown passes, 229 yards rushing and a pair of scores on the ground as a junior. Motivation will not be a factor for Merritt who is eager to get back and prove himself in the finals after bumpy performance last season.
Brody Ingle, Jr, LB – A rising star, Ingle had a breakout sophomore season tallying 68 total tackles and four sacks. He was named Division II Second Team All-Southwest District and First Team All-GCL South for his work. Ingle's first offer just came from Ball State. There will be many more to follow.
Zach Rumpke, Sr, OLB – The Rumpke name is synonomous with defensive excellence all across the GCL South and Zach lived up to those standards for the clan in '16. In his first year as a starter, Rumpke tallied 66 total tackles and five-and-a-half sacks. He was a Division II Special Mention All-Southwest District and First Team All-GCL selection for his work.
OTHER RETURNEES
Garrett Bledsoe, Jr, LB – Bledsoe is arguably the most underrated junior defensive player in Ohio's who has already started for two state championship teams. He is a hunting machine and as good as anyone from sideline to sideline. Bledsoe is a big reason why the Lancers gave up less than 13 points a game in GCL South play and just six per tilt in the last four games of the playoffs on the way to the '16 title. He comes to play in big games.
Jared Uran, Jr, SS – He solidifies the middle of the back seven of the defense at strong safety. Uran wreaks havoc as a blitzer coming up with three sacks out of his 50 total tackles as a sophomore.
Andrew Jaeger, Sr, C – Cut from the same mold as so many of the recent and successful "lunch pail" Lancer linemen. Jaeger, is the anchor of the offensive line. He is back for his second year as a starter.
Cam Porter, So, RB – Friday nights lights were no problem for Porter as a freshman. Porter caught 19 passes for 106 yards and ran for 99 yards in 11 games in his varsity debut. He will be a focal point of the La Salle backfield.
NEWCOMERS
Shane McNally, Sr, CB – Gained confidence in the playoffs last fall and should be an integral part of the secondary.
Craig Wills, Sr, CB – Like McNally, Wills has a chance to be a factor in the secondary as a senior.
Sam Hildebrand, Sr, FS – Here is one of those players who everyone has been waiting on to contribute and now the time has come. It is not out of the question that Hildebrand could become an all-conference performer.
Danny Hinton, Sr, OLB – Anything positive that Hinton can give the linebacking unit will be an added bonus.
Jake Siebert, So, WR/K – Siebert manage to find his way into a few games as a freshman mostly as a kicker. He hit 7/9 extra points including 5/5 against St. Charles. He also caught a pass for three yards and had a four-yard run in the Lancers blowout of Moeller.
PLAYOFF HISTORY
(seven appearances, 15-4) – 2016 (State Champions), 2015 (State Champions), 2014 (State Champions), 2010, 2004, 2002, 1985
2017 SCHEDULE
It's essential that La Salle takes care of business over the first five weeks of the season. The schedule sees the Lancers playing all three of their GCL South games over the final five weeks. They do not want to be sweating out a playoff berth during October.
La Salle opens with Colerain at Nippert, then goes to East Central followed by a trio of home games against West Clermont, Scott County (KY) and Winton Woods. The league play begins with a pair of road games versus Moeller and St. Xavier. After that it is up north to Akron St. Vincent-St. Mary followed by two home tilts with Columbus St. Charles and Elder to end it all up.
DEFENSE WINS CHAMPIONSHIPS
La Salle heads into '17 on an 11-game winning streak. A big reason for that success was how well the Lancers defense played in '16. They allowed 14 points or less 11 times including two shutouts. They also held four other teams to seven points or fewer.
TURNING THE TABLES
Since losing their final seven regular season games of 2013, La Salle has gone 40-5 including 15 consecutive playoff wins. They have scored 40 points or more in 22 of those victories.
DIVISION II DOMINANACE
La Salle has not lost a game to an Ohio Division II team since moving down from Division I four years ago,  The Lancers are 23-0 versus Division II teams from the Buckeye state in that span.

A PLAYOFF POWERHOUSE
In La Salle's 15 postseason triumphs over the past three years they have scored at least 42 points on 10 occasions and 34 or more three other times. The Lancers averaged a combined 41.3 points in those 15 victories.